National Park Guide
Malaysia has many big reserved parks and islands that have been declared as national parks. This national park guide page will explore in greater details where one can go to experience the protected species of this tropical country. Malaysia's forest are among the oldest in the world and will continue to hold this record as many of them have been gazetted as National Parks. Many of the national parks have been established as early as the 21st century.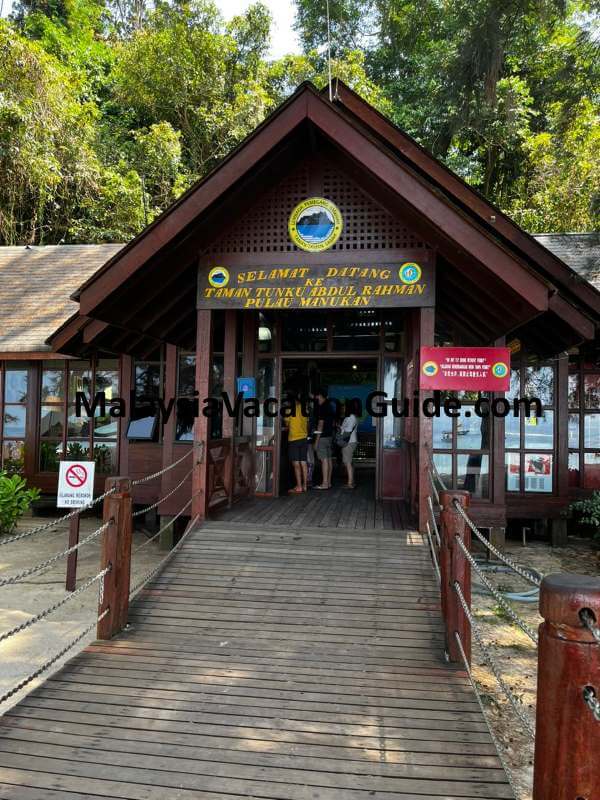 Entrance to Manukan Island in Tunku Abdul Rahman Marine Park.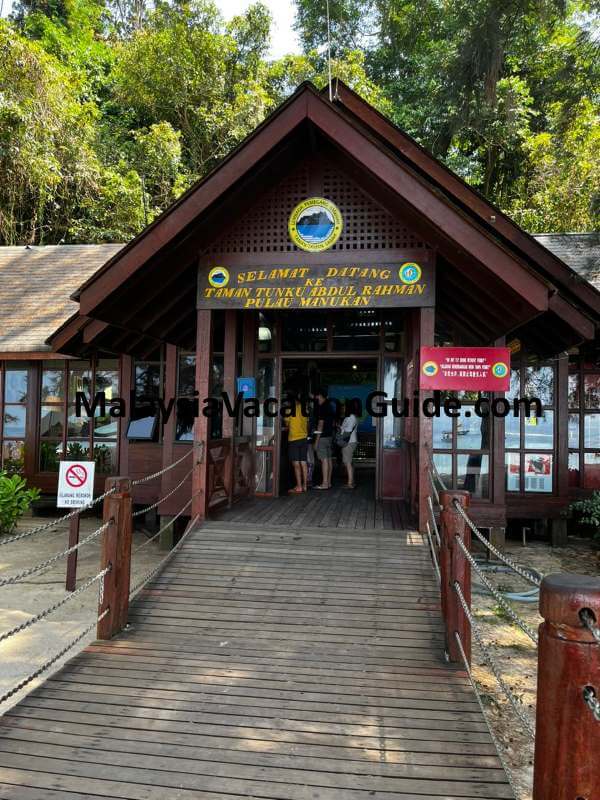 The country has a warm tropical climate with a temperature range of 16 °C in the highlands to 30 °C in the lowlands.The annual rainfall average is in the range of 200 cm. The abundance of sun and rain have enabled many greenery to grow and enveloped the undisturbed parks of the country, only waiting to be explored by the curiosity of the human mind.
If you are fortunate, you will be able to see Rafflesia, the world's largest flower in Kinabalu Park. The Koompassia excelsa, the tallest tree in the world is also found here. For those who enjoy the sea, there are many national marine parks for you to enjoy the clear blue sea, corals, colorful fishes, turtles and other sea creatures.
As with any national parks, fishing and littering are prohibited and one is required to pay a small fee that goes towards the conservation of the parks.

Come and discover Malaysia's rich natural heritage. Do come back to this national park guide page for more articles on the latest happenings in the various national parks in Malaysia.
Find some articles on the various national park guide below.. 
Bako National Park
Bako National Park 
See the unique rocky headlands with unique arches and seastacks coloured patterns, the proboscis monkeys, the 7 complete ecosystems and other wildlife in this oldest national park of Sarawak. 


Endau Rompin National Park 
This pristine and undeveloped tropical rainforest located in Johor and Pahang is for those who are into adventure. Sumatran Rhinoceros can be found here.


Kinabalu National Park 
The Kinabalu National Park is located in Sabah, approximately an hour and a half drive from the city of Kota Kinabalu. Covering an area of 754 square kilometres, the highest mountain in South East Asia called Mount Kinabalu is located here. This granite mountain is 4093 metres above sea level and is the focal point of this park. 


Labuan Marine Park 
This park is good for scuba diving, snorkeling, swimming and picnic. There are four popular wrecks here.


Penang National Park 
While in Penang, use this National Park Guide and try to visit the smallest national park in Malaysia.


Poring Hot Spring 
Poring Hot Springs is a must for any visitor who goes to Kinabalu Park. It is about half an hours drive from Kinabalu Park. You will pass the town of Kundasang and Ranau on your way here. The local Kadazan people call bamboo "Poring". 



Pulau Tiga Park 
This quiet and peaceful island off the southwest coast of Sabah were the location of the "Survivor" reality show in 2001.


Tunku Abdul Rahman Marine Park 
If you are looking for a family holiday with your children, Tunku Abdul Rahman Marine Park in Sabah is worth considering going. Located about 20 minutes away by speed boat from Kota Kinabalu, this marine park consists of five islands and coral reefs. 


Redang Marine Park 
Redang Marine Park which is located at the island of Pinang is just south of the main island. A popular beach for snorkelling and looking at the marine life here. 


Perhentian Island 
Perhentian Island off the coast of Terengganu is another island that is part of Redang Marine Park. This island is popular with back packers as there are many budget chalets here. 


Taman Negara 
Enjoy your eco adventure in Taman Negara using the national park guide here. It is the oldest national park in Malaysia. Plenty of activities to do here.


Tanjung Piai National Park 
The Tanjung Piai Johor National Park is also located at the southernmost tip of mainland Asia. Visit this park if you are in Johor. 
Tioman Island 
Visit this island for scuba diving, snorkelling, hiking or simply enjoy the sea and beaches around this island.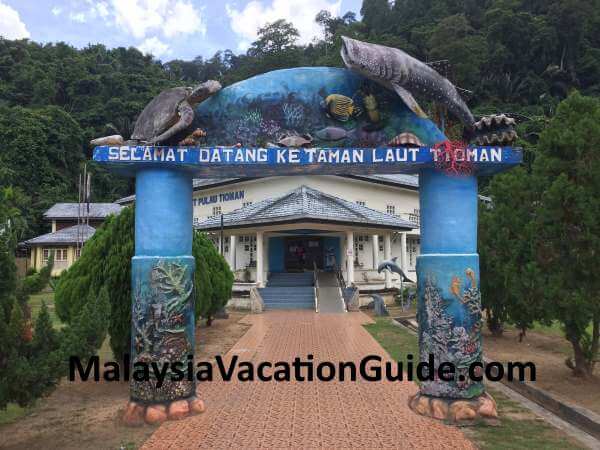 Tioman Island Marine Park Information Centre
Turtle Islands Park Sabah 
Book in advance to visit this marine park north of Sandakan. You will be able to see the Hawksbill and Green turtles.
---
Other recreational parks besides the national park guide above that one can enjoy and take a break from the stress of life...
Botanical Garden in Putrajaya 
Visit Taman Botani, a tropical botanical garden in the new Federal Government Administrative city of Putrajaya.
Bukit Kiara Federal Park 
This park is well-maintained with lakes, streams, workout stations and jogging tracks for public use. You can also also hike here.
Bukit Nanas Forest Eco Park (now called Kuala Lumpur Eco Forest Park) 
Visit this forest reserve near Kuala Lumpur Tower in the heart of Kuala Lumpur. Jogging trails, activities field, open gymnasium, birds watching areas and lookout platform are of the facilities available here. The name of this park has been changed to Kuala Lumpur Eco Forest Park.
Forest Research Institute Of Malaysia 
FRIM Kepong is a must for nature lovers or a day of family outings. Canopy Walkway at 30m above sea level is one of the main attractions here. 

KLCC Park 
If you are in KLCC, take a break from shopping and go to KLCC Park for a time of relaxation. 
Kepong Botanical Gardens 
This park is part of FRIM and has good landscaping and a big lake.
Kota Damansara Parks
If you are in Kota Damansara, head for the KD Community Forest Park for hiking or Taman Rimba Riang for simple stroll on the well maintained park.
Kuala Lumpur Orchid and Hibiscus Garden 
Visit the Orchid and Hibiscus Gardens. Make sure you bring along your camera to capture some colourful flowers as a momento.


Kuala Woh Recreational Forest
This recreational forest is located about 12km away from the town of Tapah, Perak. Stop by if you are using Tapah as your gateway to Cameron Highlands.

Melaka Botanical Garden
Visit this botanical garden which is located in Ayer Keroh. Try the zipline, visit the bee gallery and rent a buggy to go around the park.
National Botanical Garden Shah Alam 
National Botanical Garden is located in the city of Shah Alam. The 1,258 hectare park have an abundance of paddy fields, cocoa, oil palm, coconut, spice and beverage garden and fishing lakes. The four season house is a must for first time visitor. 


Perdana Botanical Gardens
Spend 2-3 hours walking, jogging or strolling at this gardens which is located near Tugu Park.


Shah Alam Lake Gardens 
Shah Alam Lake Gardens in the city of Shah Alam is a favourite retreat for residents here. Water World theme park and floating seafood restaurant are some facilities available here. 


Taman Tun Dr. Ismail Lembah Kiara Recreation Park 
Lembah Kiara Recreation Park in Taman Tun Dr. Ismail is a good location for early morning or evening stroll. Toilet facilities and car parking bays are available here.
Taiping Lake Gardens 
If you are in Taiping, drop by this lake that was awarded the most beautiful public garden by the Government in 1996.
Tugu Park or Taman Tugu 
This is a relatively 66 acres new park that has been developed and open to the public two years ago. It is located near Tugu Negara, Kuala Lumpur.
Tugu Park
Universiti Malaya Rimba Ilmu 
This botanical garden is located at the main campus of Universiti Malaya in Kuala Lumpur. Learn the many living plants and visit the exhibition hall here.