Cameron Highlands
Cameron Highlands is a well developed hill resort which is located in the state of Pahang in Peninsular Malaysia. It was named after a British surveyor, William Cameron who discovered it in 1885 during a mapping expedition. Since 1920, the hill has undergone various development that makes what it is today - an excellent place for tourists to spend their holidays.
Its temperature ranges from 10 °C to 25 °C hence a favourite place for one to escape the heat of the cities. One can easily take a slow drive up or down the highland depending on which route one takes and stop by the many strawberry farms, vegetable gardens, cactus gardens, bee farms and rose gardens. Buy some of the products that are sold as you visit the farms.

Tea Plantation
A neatly planted tea plantation.
Its attraction include the neatly planted tea plantations where one can go and see how the tea leaves are plucked and processed. The beautiful view overlooking the plantation is excellent for a picture album. The major ones that one can visit are the BHARAT tea plantation, BOH tea plantation and Blue Valley tea plantation.
Visit any one of them and try the freshly brewed tea and enjoy the tranquility of the mountains. Among the 3 tea plantations, the one that is conveniently located beside the road is the BHARAT tea plantation. You will not miss it as it is located between the town of Habu and Tanah Rata.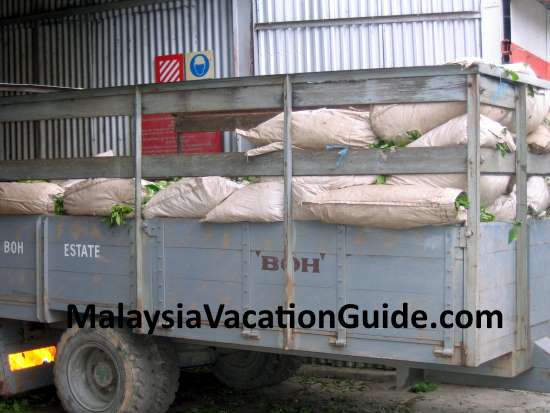 Transporting tea leaves to the factory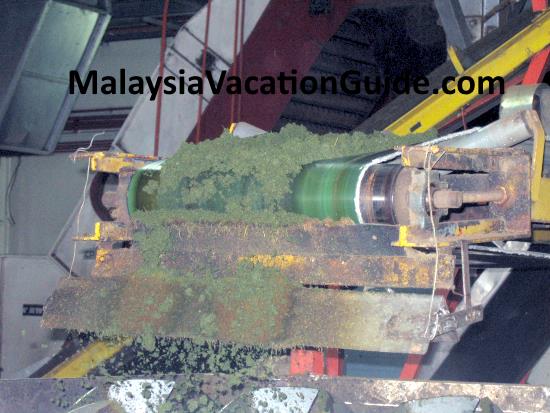 Tea leaves being processed at the factory

Different grades of tea leaves after being processed
Cactus Garden
Some of the cactus that are on sale.

The many array of cactus that are on sale at Cactus Point in Brinchang town. Entrance to the farm is free of charge and there are many different type and budget cactus that you can choose to purchase.



Bee Farm
The Highlands Apiary Farm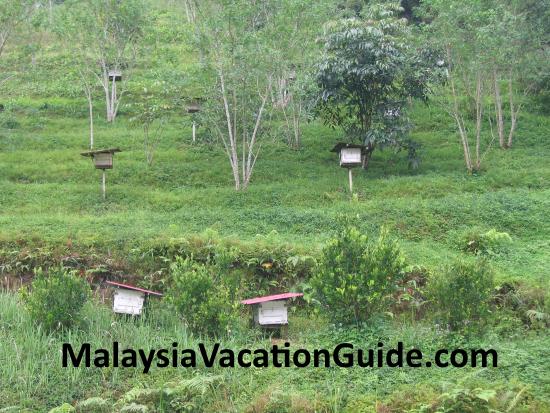 Bee farm

A typical bee farm. Here you will be able to sample and taste the honey produced from this farm and purchase some if you want to. Even if you do not intend to purchase the honey, dropping by the farm and taking a walk around it is an experience itself. You will be able to see the many beautiful flowers that are planted as nectar for the bees to make honey.



Brinchang Mountain
Gunung Brinchang Observatory Tower
For the more adventurous, take a drive or book a tour to Brinchang Mountain 6666 feet above sea level, the second highest mountain in Cameron Highlands.You will be able to see the beautiful landscape on your way there. As the road is quite narrow, be careful when you drive.

Try to go when the weather is not too misty or you may not be able to see a good view of the valley when you reach the mountain. If you can, jungle trek and you will see the many beautiful plants of the mountain but make sure you get a good guide so as not to get lost in the jungle.
Accommodation
Smokehouse Hotel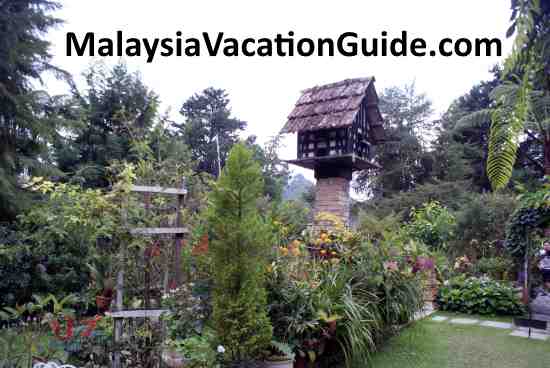 Compound of the hotel
There are many budget, middle and high end hotels that you can choose to stay. The high end hotels include Cameron Highlands Hotel, Smokehouse Hotel and Equatorial Hotel. For those who like to experience the Tudor Style hotel, there is the Lakehouse hotel which is located in Ringlet.

Personally, we would like to recommend The Lakehouse which had been refurbished but still maintain its unique Tudor style. It has a big garden where one can sit and enjoy the mountainous scenery surrounding it. For those who is on a tighter budget, Rosa Pasadena is another reasonably priced hotel with basic amenities.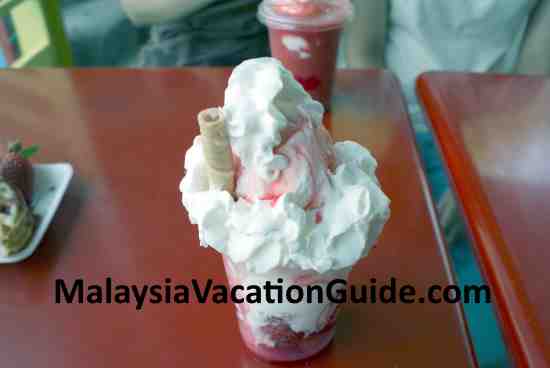 Strawberry Ice Cream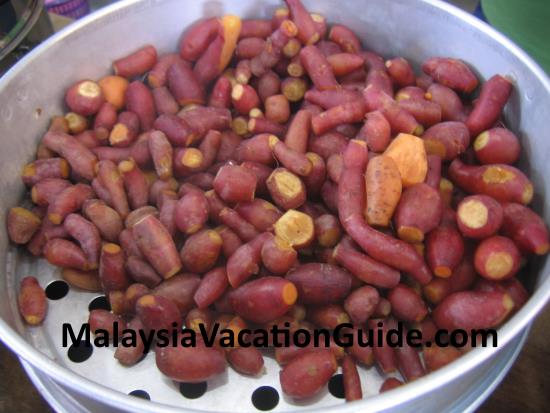 Sweet potatoes on sale at one of the stalls at Kea Farm
Getting To Cameron Highlands 


If you are coming from the city of Kuala Lumpur, there are basically 2 ways to reach Cameron Highlands. The old and traditional way is driving through the narrow road via the town of Tapah. Though the journey up is winding, you will be able to see many beautiful plants that abound here.
The other easier way is using the NKVE Expressway and exit at Simpang Pulai instead of Tapah. The road from Simpang Pulai to Cameron is a new road which was opened to the public recently. It is wider and less winding compared to the traditional route. This route takes approximately 51 km to reach Sungai Ikan.
If you are adventurous, we would recommend that you go up using the traditional way via Tapah and coming back using the Simpang Pulai way. We can assure you that you will enjoy both of your trips.
There are also Tapah-Cameron Highlands bus services from Tapah Bus Station. The Tapah to Cameron Highlands bus schedule is 8:30am, 11:00 am, 1:30 pm and 4:00 pm. Tapah Bus Station GPS Coordinates are N04° 11.821' E101° 15.616'.

See Also 


Agro Technology Park
Visit this park managed by MARDI and you will see many herbs, vegetables, fruits and flowers being planted here.


Boh Tea Plantations
Visit Boh Tea Estate or Sungai Palas Boh Tea Estate and you will not regret it. Go for the factory visit, take your snacks at the cafeteria and purchase some tea at the gift shop.


Bharat Tea Plantations
Visit also Bharat Tea Estates and enjoy a cup of freshly brewed tea. 


Strawberry Farms
See how strawberries are cultivated and enjoy the strawberry sundae and juices while you are here.

Food
You may want to consider Chinese food for lunch, scones for tea break and charcoal steamboat for dinner.

Other Activities
If you have the time, you may want to visit Water Cress Valley, Gunung Brinchang and Parit Waterfall.