Tunku Abdul Rahman
Marine Park
If you are looking for a family holiday with your children, Tunku Abdul Rahman Marine Park in Sabah is worth considering going. Located about 20 minutes away by speed boat from Kota Kinabalu, this marine park consists of five islands and coral reefs. It is named after Malaysia's first prime minister, Tun Abdul Rahman.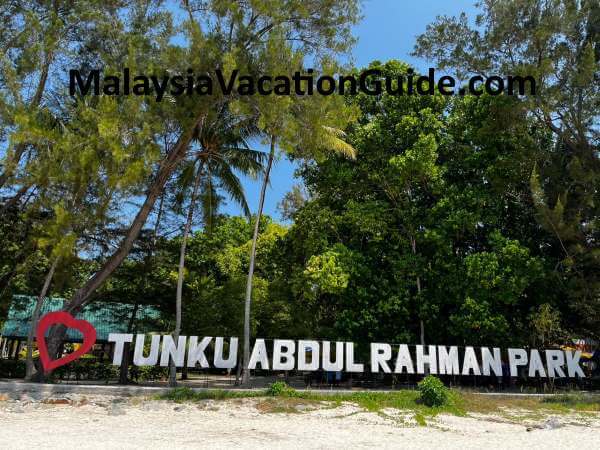 Welcome to Tunku Abdul Rahman Marine Park
The five islands that formed this park are Gaya Island, Manukan Island, Mamutik Island, Sapi Island and Sulug Island. Gaya Island is the biggest island in the park and has been a forest reserve since 1923.
There is a Marine Ecology Research Centre on the island. The headquarter of the park is located at Manukan Island. This park was gazetted as Sabah's second national park in 1974 and covers an area of 50sq km.


Tunku Abdul Rahman Marine Park Islands
Manukan Island is the second biggest island in this park and is the recommended island to go for snorkelling, diving and swimming. There are many coral reefs and plenty of colourful fishes that will make your snorkelling fun especially if you are taking your children along with you. Do remember to wear a safety vest to enable you to float if you are not good at swimming. You can rent one at the beach.

Manukan Island is the most developed island with 20 units of chalets, clubhouse, restaurants and a diving centre. If you are staying here, you can enjoy other facilities such as squash, tennis courts, swimming pool and even a football field.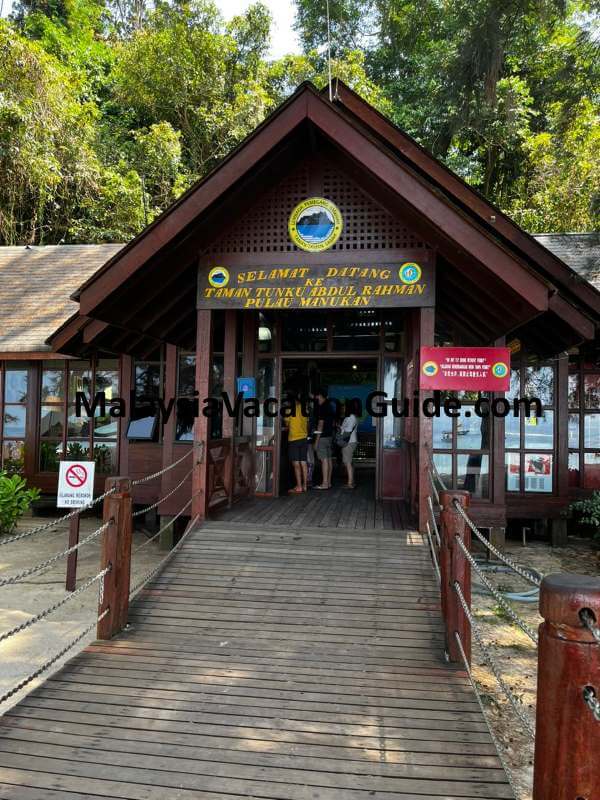 The entrance to Manukan Island Marine Park at the jetty.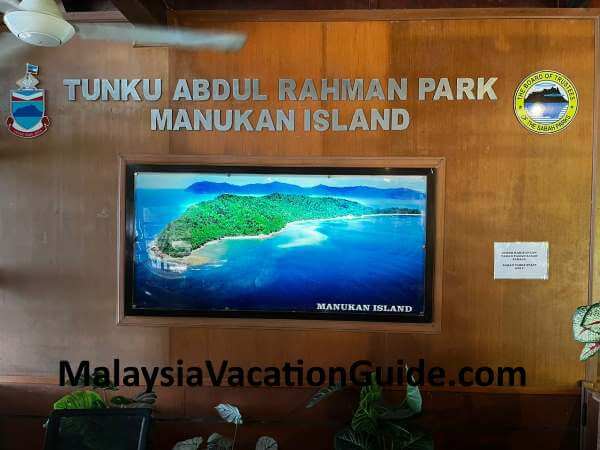 Watch the video for more information of this marine park. It is open daily from 9am to 3pm but closes on every Monday.
If you are not keen to stay here, you can always take a day or half a day as a family outing to this island. Many visitors stay at the city and travel here for half a day's trip before going back in the afternoon. The higher end hotels include the Sutera Harbour Resort, The Magellan Sutera and The Pacific Sutera. Other hotels at the city include Gaya Centre Hotel, Holiday Inn Express, Hilton and Hyatt Regency Kota Kinabalu.
The budget hotel Tune Hotel is located further away from the city centre but is at the 1Borneo Shopping Mall. The 1Borneo Mall is the largest shopping mall in East Malaysia.
Check the hotels and compare the rates here.
Manukan Island Beach
The crystal clear beach for you to do your snorkelling, diving or swimming.
Manukan Island Jetty
Remember to bring along your snorkelling and diving gears. Otherwise, you can also rent them at the beach.

Though it is the smallest island in the park, Mamutik Island or Pulau Mamutik has some good beaches and coral reefs for you to see and enjoy. Limited facilities such as rest house, toilets, changing rooms, barbeque pits, fresh water and electricity are available.
Sapi Island is located at the South West of Pulau Gaya. It has one of the nicest beaches in the park for tourists to do snorkelling and scuba diving. It too has basic facilities such as barbeque pits, changing rooms and toilets.
Gaya Island is the biggest island that has more than 20km of marked trails and a plank-walk across the mangrove swamp. This is the island to go if you are into hiking. Scuba diving and snorkelling are also ideal here as there are plenty of coral reefs around the island. Gaya Island Resort located here is a luxurious resort owned by YTL Hotels.
If you are looking for a quiet place to go far away from the crowd, Sulug Island is the island to go. Not as developed compared to other islands, there are good reefs and beautiful fishes to see.

Getting To Tunku Abdul Rahman Marine Park, Marine Park Fees & Operation Hours

You can get your tickets for island hopping tours at Jesselton Point Jetty Terminal. The price of the tickets depend on the number of islands you go to. The standard island transfer only go to Manukan, Mamutik, Sapi and Gaya Islands.
One Island -  RM35/adult and RM30/child
Two Islands - RM45/adult and RM40/child
Three Islands - RM55/adult and RM50/child
Four Islands - RM65/adult and RM60/child
If you are staying in Sutera Harbour Hotel, the Sutera Harbour Jetty is located just beside the hotel. There are regular boats that go to the marine park of which you can book in advance. 
The park operation hours are from 8am to 5pm daily.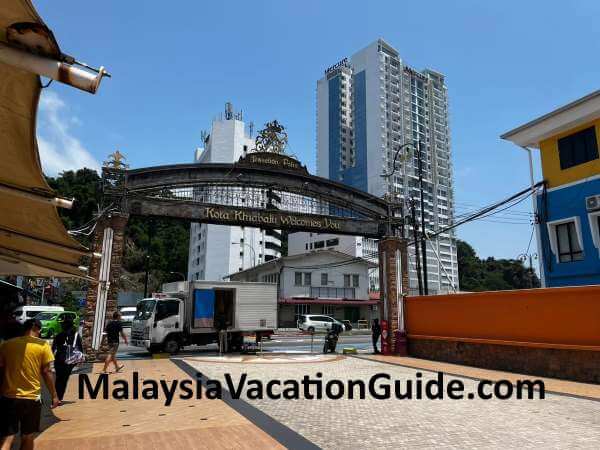 Jesselton Point Jetty
Sutera Harbour Jetty
For Malaysian, the Marine Park entrance fees are RM8/adult and RM5/child(13-17 years old). Entrance fee is free for senior citizen (60 years and above) as well as children 12 years old and below. 

Non-Malaysians fees are RM25/adult and RM20/child(17 years old and below). Entrance fee is RM20 for senior citizen (60 years and above). 
You only need to pay once even though you will be doing island excursion within the park.