Redang Marine Park
Even though the clusters of islands in Redang Island have already being gazetted as a marine park, the island of Pulau Pinang is often referred to as Pulau Redang Marine Park. The main reason is because the Terengganu Marine Park office is located on this island with facilities for the staff to stay.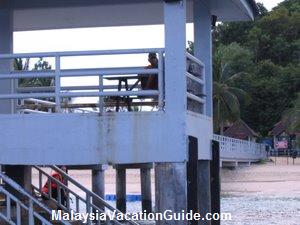 The jetty at Pinang Island, a small island south of the main island. Takes you approximately 10 minutes to arrive from the main island jetty.
This island is located just south of the main island and near the main island jetty. If you are coming here with your family for the first time and would like to have a snorkelling experience, this island is where most tour operators will take you.
If you are staying at any of the resorts on the main island, you can rent the snorkelling equipment for RM10 to RM20 per day. Guests of Berjaya Redang Beach Resort has good packages with price ranging from RM30/adult for a 2.5 hours trip inclusive of all snorkeling equipment. Laguna Beach Resort also has their own boat to take you here.
However, if you prefer a brand new mask and the tube, you should purchase your own from any of the supermarket in the city before coming here. Price of a snorkelling adult set excluding fins range from RM60/set onwards. Life jacket is recommended to be worn at all times during your snorkelling here especially if you have children.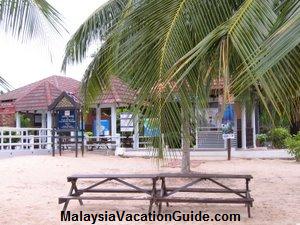 The many benches that you can sit near the beach where you will be snorkelling.
Remember to bring some bread with you before you go into the water. The instant you throw the bread into the water, there will be many colourful fishes that come to you. Fishes species that abound here include the various kinds of rabbit fish, parrot fish, grouper, scissor tail sergeant and the moon wrasse. For safety reason, there is an area that is cordoned for you not to go beyond it in your enthusiasm of looking at the marine life here.
Towards the right hand side of the park, you will be able to see a shipwreck which you can go to. However, it is quite a distant from the beach and is not recommended for children who are still new to snorkelling. Corals and anemones can be seen thriving at the marine park. While snorkelling, be careful not to step on them as you could destroy them and hurt yourself in the process. Most tour operators will take you here for a total time of 2 to 3 hours. This place could be quite crowded during the peak season from June to September.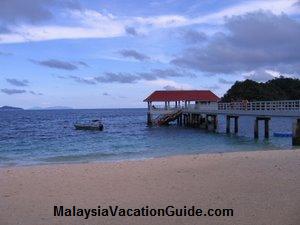 The snorkelling beach just beside the jetty. Notice the crystal clear water and white sandy beach as you enjoy your time here.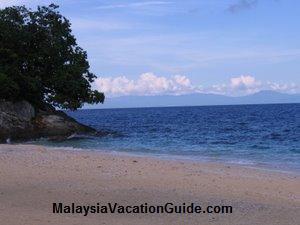 Another view of the Redang Marine Park at Pulau Pinang beach to the left of the jetty.
Other Facilities
Other facilities that you can expect from this marine park are:
Information Centre
Washrooms
Open air bathing facility for the guys
Benches