Performances and Concerts
There are many venues of performances and concerts that you can go to in Kuala Lumpur. Some of them are modern show with high tech ambient and excellent acoustic hall while others are cultural dances from the various ethnics group of Malaysia that you can enjoy.
The state-of-the-art Petronas Philharmonic main reception.
One of the most popular concert hall is called the Petronas Philharmonic Hall which is located in Petronas Twin Towers, KLCC. This high tech building is the home of Malaysia Philharmonic Orchestra or MPO which performs here as well as overseas. They have won many awards for their outstanding show The schedule of show here include the chamber music, contemporary music and commissioned works.
Details of Petronas Philharmonic Show
Dress Code:
Gala and Evening Concerts - Long-sleeved batik or lounge suit.
Sunday Matinees and Others - Smart Casual
No jeans, shorts, T-shirts, sneakers and slippers are allowed at any time. The hall is equipped with state-of-the-art facilities and the price of tickets ranges from RM10 to RM532.
Address and Contacts
Petronas Philharmonic Hall
Ground Floor, Tower 2 
Petronas Twin Towers 
Kuala Lumpur City Centre

Tel: +6 03 2051 7007
Istana Budaya

Istana Budaya at Jalan Tun Razak is another venue for concerts. It has one of the best performing arts in Malaysia with many talented musicians and artists. The National Symphony Orchestra, National Youth Choir and National Choir are the main orchestra that perform here. The show here include cultural and musical of Malaysia. Ballet, concerts and international musicals are also featured here throughout the year. It has 1392 seating capacity auditorium fully equipped with state-of-the-art facilities.
Dress Code: Formal Wear - Lounge Suit, batik or Long-Sleeved Shirt.
Tel: +6 03 4026 5555
Tickets: Can be purchased at the Box Office counter Mondays- Fridays from 9am - 6pm.

KL Tower
If you are visiting Kuala Lumpur Tower , the details of the show are as shown below:

Day: Tuesdays, Thursdays, Saturdays, Sundays

Time: 11 am - Gamelan Performance, 4.00pm - Multicultural Dance
Tickets:
Malaysians
RM8 (Adults 
RM3 (Children 4-12 years old)
RM6 (Senior Citizens 55 years and above)

Non-Malaysians
RM20 (Adults 
RM10 (Children 4-12 years old)
RM17 (Senior Citizens 55 years and above)

Tel: +6 03 2020 5444

Nelayan Restaurant
This restaurant is located in Jalan Temerloh, Titiwangsa and is a good place to go if you like Malay cuisine. The cultural show will be on from 8:30pm - 9:00pm daily except Mondays.
Dinner: RM25/adult (Tuesdays - Thursdays), RM28/adult (Fridays - Sundays)

Tel: +6 03 4022 8400

Malaysia Tourism Centre

Malaysia Tourism Centre at Jalan Ampang is another venue where you can enjoy the cultural performances that are held here.

Day: Tuesdays, Thursdays, Saturdays, Sundays

Time: 2.00pm - 2.45pm

Tickets: RM5 (Adults), children below 12 years old is free of charge

Tel: +6 03 2164 3929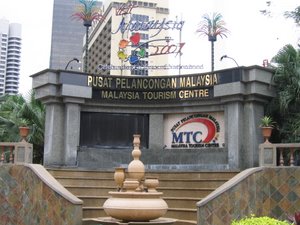 Malaysia Tourism Centre in Jalan Ampang.
Eden Seafood Village
Located at Chulan Square in Jalan Raja Chulan, you can enjoy your international style dinner while enjoying the cultural performances of Malaysia.
Day: Fridays, Saturdays and Sundays.
Time: 8:30pm to 9:30pm
Tel: +6 03 2141 4027