MyRapid Card
Get a suitable MyRapid Card/Travel Pass for your travel around Kuala Lumpur and Klang Valley on buses, MRT, LRT, BRT and monorail. Get a suitable card/ travel pass and stretch your ringgit. Here are some options for you to consider.
MyCity 1-Day Pass and MyCity 3-Day Pass
You can now purchase the travel on MRT, LRT, BRT and Monorail with unlimited rides for 1 day or 3 days using the MyCity Pass which was launched on 22 April 2019.  The 1 day pass costs RM25 inclusive of RM5 purse value in the Touch N' Go card. The 3 days pass costs RM55 inclusive of RM5 purse value in the Touch N' Go card.
Take note that you will need to have a minimum RM5 stored value in order to use the cards.
You can get the cards at any MRT, LRT, BRT and Monorail stations. 
If you have your own Touch N'Go card, you can activate the pass for  a fee of RM15 for 1 day pass and RM45 for 3 days pass. 
For Malaysians, you can also activate the Touch N' Go in your MyKad to purchase the MyCity Pass. The costs is RM15 for 1 day pass and RM45 for 3 days pass.
My100 & My50 Unlimited Travel Pass
The My100 and My50 Unlimited Travel Pass for 30 days are for all Malaysians and took effect from Jan 1, 2019. 
The My100 allows you to travel on MRT, LRT, BRT, RapidKL buses, Monorail and MRT feeder buses for RM100.
The My50 will enable you to travel on all RapidKL buses & MRT feeder buses for RM50.
You can activate the pass at the customer service counters of all MRT, BRT, Monorail and LRT stations. It can also be done at the bus hubs at Pasar Seni, Sri Nilam, Seksyen 2-Shah Alam, Greenwood and Terminal Kajang.
Remember to bring your MyKad or MyTentera for the activation. It uses the Touch 'N Go chip in the MyKad/MyTentera card.
MyRapid Card - Concession Cards
Apply for concession card if you are a Malaysian citizen aged 60 years and above,  a Malaysian who is disabled or a student. With this card, you will enjoy 50% discounts for RapidKL bus, LRT, BRT and Monorail.

Get the application form at Concession Registration Counter, Pasar Seni Bus Hub. Take the Kelana Jaya Line LRT and get off at Pasar Seni Station. Take the stairs down to the bus station and you will be able to see the office. Bring along your original and a copy of identity card. Counter will be open from 9am-5pm, Mon-Sat.
The registration counters office are located beside Pasar Seni Bus Station.
If you are applying for disabled card, make sure you bring along your OKU card.
If you are a college or university student, bring along your student card and original student confirmation letter as well. Make a copy of your identity card and student card for submission together with the registration form that can be obtained at the office. The original confirmation letter from the college that states that you are a student there must also be submitted.
KL TravelPass

If you are coming to Malaysia through KLIA or KLIA2 international airports, you may want to purchase the KL TravelPass that will allow you to travel on KLIA Express Airport Transfer, MRT, LRT and Monorail. 

KL TravelPass Single 
Single Trip using KLIA Express Train Airport Transfer
2-day unlimited rides on LRT, MRT and KL Monorail Lines
RM75/card
KL TravelPass Return 
Return Trips using KLIA Express Train Airport Transfer
2-day unlimited rides on LRT, MRT and KL Monorail Lines
RM120/card
You can purchase also purchase the cards at:

MyRapid Card - MyRapid Smart

You will enjoy discounts on LRT, BRT, MRT and Monorail if you have this type of Myrapid card. There are two types of card.
MyRapid Smart 7 Weekly. This card is valid for 7 days of travel.
MyRapid Smart 30 Monthly. This card valid for 30 days of travel.
The Smart 30 Monthly will give you better discount. These cards can be purchased at any LRT or Monorail stations as well as Rapid KL Customer Service Office.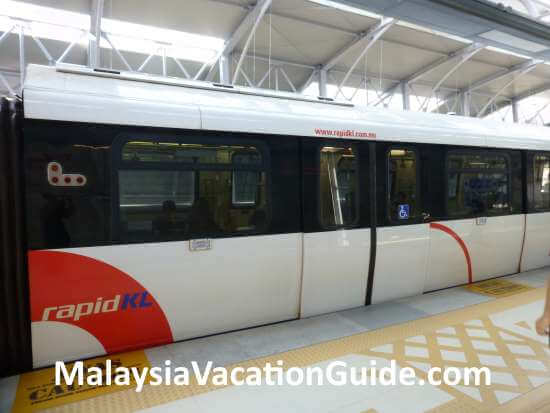 LRT Train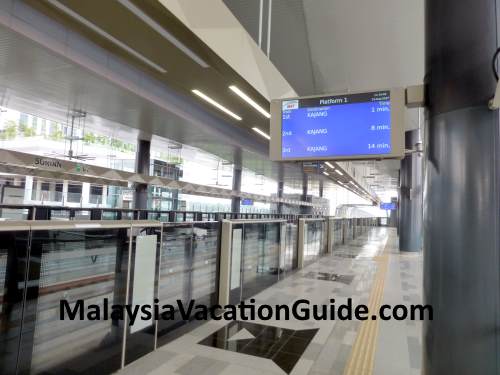 MRT Platform
BRT Bus
Monorail Station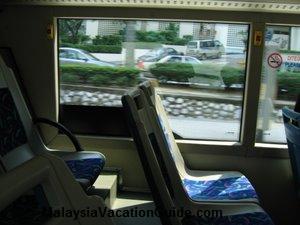 Rapid KL Bus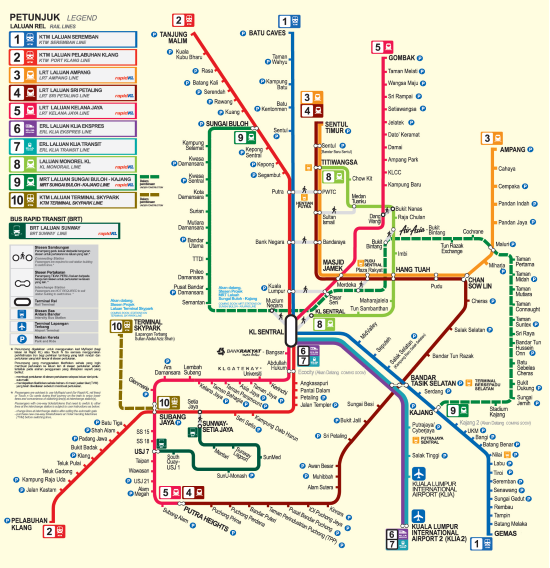 KL Integrated Transportation System. Click to enlarge.
The following are the types of transportation that you can utilize depending on the type of myrapid card you purchase.
LRT

Ampang Line LRT which runs from Ampang to Chan Sow Lin. Sri Petaling Line runs fro Sri Petaling to Putra Heights. The Kelana Jaya Line LRT which runs from Gombak to Putra Heights.
This line runs from Sungai Buloh to Kajang, with 31 stations in total. The end to end journey time is 84 minutes covering a distance of 51km.
BRT

This elevated bus rapid transit line runs around Sunway and Subang Jaya. Check out here for more information.
KL Monorail
This monorail has 11 stations and runs from KL Sentral in Brickfields to Titiwangsa Station in Jalan Tun Razak, operating from 6am to 12 midnight daily. The cost of the tickets range from RM1.20 to RM2.50 one-way.
Get the details of the monorail routes here.
RapidKL Buses
Effective 1 Dec 2015, the entire Klang Valley bus network has been overhauled to provide better services and less waiting time for passengers.
Pasar Seni Bus Station. There are many RapidKL buses and GOKL buses that you can take to other parts of Klang Valley.
 The routes have been divided into 8 corridors. 
Jalan Ipoh (Bus No: 100-199) - Kepong, Segambut, Sentul, Rawang, Selayang, Sungai Buloh
Jalan Pahang (Bus No: 200-299) - Jalan Genting Klang, Gombak, Taman Melawati, Wangsa Maju, Setapak, Keramat, Semarak
Ampang (Bus No: 300-399) - Jalan Ampang, Pandan Mewah, LRT Ampang, Ampang Point, KLCC
Cheras (Bus No: 400-499) - Kajang, Pandan Indah, Taman Maluri, Taman Indah, Cheras
Sungai Besi (Bus No: 500-599) - Putrajaya, Serdang, Seri Kembangan, Desa Petaling, Bandar Sungai Long
Klang Lama (Bus No: 600-699) - Puchong, Klang Lama, Petaling Jaya Selatan, Subang Jaya
Lebuhraya Persekutuan (Bus No: 700-799) - Petaling Jaya, Subang Jaya, SUbang Suria, Shah Alam, Alam Megah, Sri Muda, Bandar Klang, Banting, Kuala Selangor, Meru
Damansara (Bus No: 800-899) - Damansara, Bandar Utama, Taman Tun Dr Ismail, Damansara Utama, Pusat Bandar Damansara, Kompleks Kerajaan Jalan Duta, Bangsar, Pantai Dalam and Pantai Hill Park