KLIA2
KLIA2 is the new low cost carrier hub in Kuala Lumpur and has been operating since 2 May 2014. It replaces the previous LCCT which has now become a cargo warehouse. This new "Next Generation Hub" is bigger, more comfortable, has better facilities, able to cater for 45 million passengers and is located about 2km away from KLIA.
AirAsia is the main tenant here with smaller no-frills airlines Cebu Pacific Air, Lion Air and Tigerair also operating from here. Malaysia Airlines(MAS) and other full-fledged airlines operate from KLIA.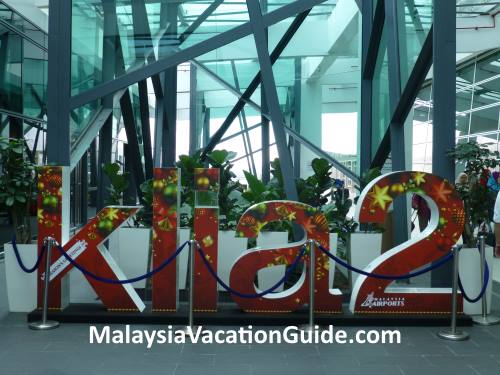 KLIA2 Facilities
As passengers, most of us would like to know how we can make our travel as comfortable as possible. This new airport has facilities to cater for a wide range of travellers.
Parking bays, lockers and storage centre, shopping mall, hotel, Plaza Premium Lounge and transportation to the cities are some of the basic facilities that are all within the airport to make your travel convenient and pleasant.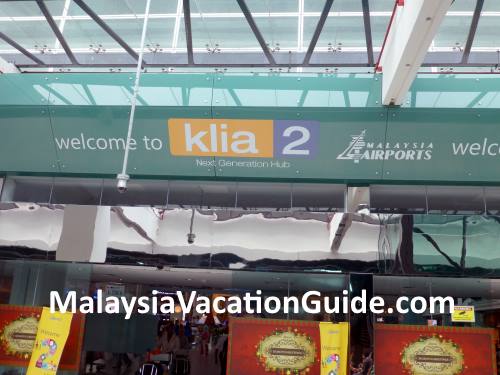 Parking Bays
There are thousands of parking bays available for you to park your vehicles. The parking bays near the airport at the 8 storey building, Block A and B is RM4.00 per hour (first 3 hours or part thereof) followed by a slightly lower rate subsequently. The daily maximum rate is RM46.00.
Effective 1 Aug 2015, the parking rates at GATEWAY@klia2 had been revised to provide convenience to travellers who intend to park more than 3 days at the airport. The price for the first 3 days will be RM46/day but will be RM20/day from fourth day onwards. Hence if you are parking for sixth days, the rate will be RM198 instead of RM276.
Valet parking is also available but at a much higher rate. Pay your parking at the automated machines before leaving. You can also park your car at Long Term Car Park or LTCP for RM32/day or RM2.50/hour. Motorcycle parking is RM1 per entry. 

However, the LTCP car park is located further away from KLIA2 but nearer to KLIA. There is a FREE shuttle bus that will take you to KLIA or KLIA2 at 15 minutes interval if you decide to park here. This parking is managed by Mesra Indah Jaya. Further information can be obtained by calling +603 8787 4113 or +6019-3711897.
Gateway@KLIA2

You will pass by this building where the shopping mall is located as you walk to the Main Terminal Building to check in your luggage. Called Gateway@KLIA2, this building is an integrated complex with shopping mall, hotel, transportation hub and parking bays facilities. It is opened to the public with shops such as Jaya Grocer, KK Supermart, Burger King, Texas Chicken, Baskin Robbins and Vincci all located within the same building.
Hence it is a good idea to arrive early at the airport and do some last minute shopping before you leave Malaysia. A good place to spend time with your friends or family members who are sending you off.
Satellite Building
This is another building that serves international departure gates P and Q. Shops such as McDonalds, Burger King, Chicken Rice Shop, The BAR and Wellness Spa are located here. ATMs and money changer facilities are available at this building as well though the number of shops are not as many as at the Gateway. Sama Sama Express Hotel is located in this building.
Arrival and Departure Schedule
You can check the arrival and departure status of the flights provided by Malaysia Airports, the operator of the airport. Check the daily schedule here.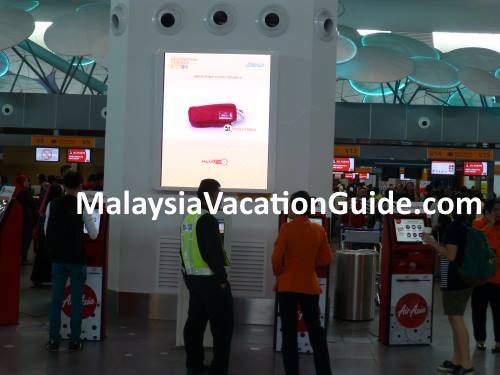 Plaza Premium Lounge
If you prefer to relax at the lounges, Plaza Premium Lounges are located here. There are three location that you can go to.

Level 2M, Gateway@KLIA2. This lounge is located before the immigration. 

Level 2, near Gate L8 International Departure. You will need a boarding pass to Gate L8 to enter this area.
Wellness Spa, Mezzanine Level, Satellite Building, International Departure Area.
There is a fee charged to use these lounges but if you are holding a credit card such as CIMB Preferred, you are allowed to use the lounge for a certain number of times per year. Check out with the banks that issued your credit cards to confirm whether you can use the facilities.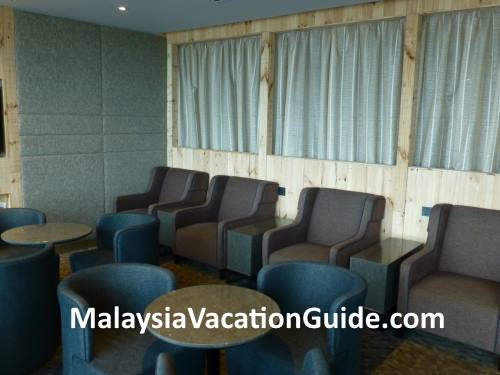 Hotels
Within the airport, you can stay at Sama Sama Express Hotel or Capsule by Container Hotel if you really need to.  Sama Sama Express is located at the Satellite Building whereas Capsule by Container is located at Gateway@KLIA2 Building.
Lockers & Storage
If you are looking for lockers or storage for your luggage, there is one at Level 2, Gateway Building. The other one is located at the Arrival Hall of the Domestic Gates. The price to store your luggage per item vary from RM13 to RM48 depending on the number of days and the size of the bag.
The price of a locker range from RM30 to RM48 per day depending on the size and duration that you are renting the locker. Call Talasco Dagang, the service provider at +603 8775 2667 or +603 8776 5035 if you need more detail.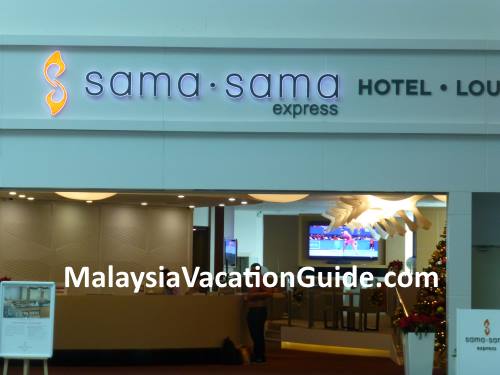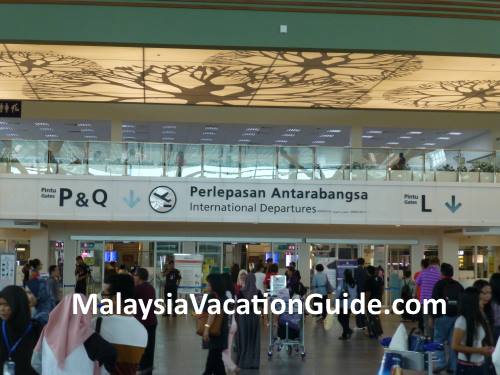 Taxis
Once you arrived at the airport, get your passport stamped and claim your baggages. If you intend to take a taxi to your next destination, take note that you need to go to Level 1 of the Gateway Building and purchase the coupon before proceeding to exit at Door 4 to take your cab. There will be personnel directing you to the taxi. You have three options of choosing the type of taxi you want to take.
The Metered Taxi is serviced by taxis from town where the amount you have to pay will depend on the reading of the meter plus toll charges. All you need to do is to purchase a RM2 coupon at the counter and pass this coupon to the taxi driver at Door 4. Tell the driver your destination and you will be on your way in no time.
The second option is using the Budget Coupon Taxi where you purchase a fixed price coupon based on your destination at the counter. Exit through Door 4 and you will be directed to the right taxi.
The third option known as  Premier Taxi is a more luxurious way to travel but is more costly is to take. Price is usually two times compared to if you were to use the Budget Coupon Taxi.
Buses
If you are a budget traveller, there are many buses from KLIA2 that you can take to reach your next destination. 
Aerobus route includes going to KL Sentral, Genting Highlands, Klang and Petaling Jaya.
Airport Liner goes to Nilai Komuter Station where you can take the Komuter train to the north or south of Nilai. It stops in places such as Inti College, Salak Tinggi and Kota Warisan.
Cityliner goes to Banting, Nilai and Seremban.
Jetbus goes to Terminal Bersepadu Selatan, a bus transporation hub to the southern parts of Malaysia such as Melaka, Johor and Singapore.
Skybus goes to 1 Utama Shopping Centre and  KL Sentral.
Star Shuttle goes to Puduraya and Jalan Ipoh.
Transnasional goes to Melaka Sentral as well as KLIA.
YoYo goes to Ipoh, Taiping, Yong Peng, Johor Bahru and Bercham.
KLIA Express/Transit Train 
Another convenient way to travel to KL Sentral is to use the KLIA Express/Transit Train which costs RM55/adult one way or RM100/adult return. Travel time using the Express Train (1 Stop at KLIA Airport) is about 33 minutes and the Transit Train (4 Stops - KLIA, Salak Tinggi, Putrajaya/Cyberjaya and Bandar Tasik Selatan) is about 39 minutes. The station at the airport is located at Level 2, Gateway Building.
Mitsui Outlet Park
If you want to buy branded goods at discounted prices, head for Mitsui Outlet Park which is about 20 minutes away using the free shuttle bus provided by the management of the mall.