Kedah
The state of Kedah consists of mainland and Langkawi is located at the north west of Peninsular Malaysia and is the most ancient state of the country with civilization dates way back to the 4th century AD. The archaelogical discoveries in Lembah Bujang or Bujang Valley showed that this valley was the cradle of Hindu-Buddhist civilisation in 1136, before Parameswara founded Melaka in 1402.
It was one of Southeast Asian trading centre from 4th to 12th century AD. Close to 1,000 artefacts have been escavated and are now being exhibited at Bujang Valley Archaelogy Museum.
This state is also the main producer of rice and produces up to one third of the rice in the country, hence is known as the Rice Bowl of Malaysia. You will notice the panoramic view of the paddy fields as you travel to your places of interest.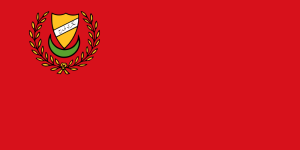 The flag of Kedah. The red color signifies prosperity.
The capital of the state is Alor Star. Spend a day while at the capital and visit the 165.5 m Alor Star Tower where you will be able to see a panoramic view of the city. Try to look out for Gunung Jerai and Straits of Malacca on a clear day. Plan to go and get some souvenirs and foodstuff at Pekan Rabu, a bazaar style market. Holiday Villa Hotel is the only prestigious hotel in the capital city.
Make sure you try the traditional cakes and local food while you are here.State Museum is another place you can go to know more about the Kedah royal family and Tunku Abdul Rahman, the country's first Prime Minister. Visit also Mahathir's Home, the fourth Prime Minister of Malaysia birth place built in 1900.
The main tourist attraction of the state is Langkawi Island. This duty-free island has been developed as a tourist destination with many international hotels built here.
Coming here is easy as Langkawi International Airport is connected to major cities of the world. Places of interest include the Geopark, a UNESCO status site. Go to Pulau Payar Marine Park for a time of snorkelling, scuba diving and shark-feeding, see the panoramic view of the island from the cable car.
Island hopping to Pulau Dayang Bunting, Pulau Beras Basah and Pulau Singa Besar. Shop also at the many duty free shops at Kuah Town.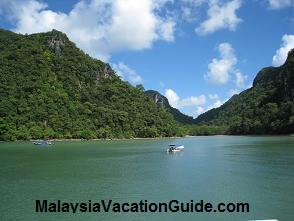 The quiet Dayang Bunting Island.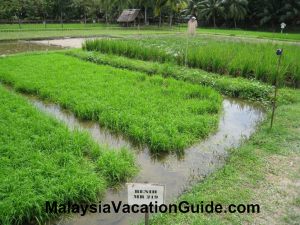 The Laman Padi, Langkawi where you will learn everything about paddy.
The less visited places at the mainland include the Sungai Sedim in Kulim where you can try the white water rafting with 13 rapids that stretch 17 km. While here, you can also go for a Tree-top Walk at the 950 m canopy walk 50m above ground.
Ulu Legong Hot Springs in Baling has pools with temperature from 35°C to 50°C that you can soak yourself into. This place is 2 hours away from Alor Star and is opened 24 hours. Admission fee is RM3 per adult and RM1 per child. Overnight stay can be arranged as there are chalets and hostels available for booking.
Ulu Muda Eco Park, Sik is a wildlife sanctuary for reptiles, fish, elephants, tigers, bears, tapirs, seladang and other endanger species. Over 200 species of birds have been spotted here as well.
For a time of peace and tranquility, head for Pedu Lake, close to the border of Thailand where chalets are available as accommodation. This man-made lake is about 80 km from Alor Star. This secluded place is where you can try to spot wildlife such as elephants, wild boars, birds, bears and deer.
Kedah Accommodation
In recent years, many new international hotels have been built in Alor Setar. Grand Alora Hotel, Holiday Villa City Centre Hotel and TH Hotel & Convention Centre are some of the more established hotels here.