Bako National Park
Bako National Park was established in the year 1957 and is located about 37 km away from the capital city of Kuching, Sarawak. It is named after the mangrove tree, Rhizophora or Bakau and is the top destination among all the national parks in Sarawak.
It is the smallest and oldest national park in Sarawak covering an area of 27 square km. This is one national park where you will be able to see long stretch of sandy beaches, rocky headlands with unique arches and sea stacks coloured patterns that were formed by iron deposition over a period of time and an abundant of tropical rain forest all within the vicinity of this small park.
Bako National Park
One view of the park.
These undisturbed environment has enabled the flora and fauna here to thrive, hence a perfect place for you to come and enjoy the nature in its most natural surroundings. Over 16 well marked trails have been established to enable you to see the various flora and fauna in this park.

Bako National Park Flora & Fauna
This park has lush vegetation that represents the 7 ecosystems with an abundant of Dischidea Raffesiana, a plant with special expanded hollow leaves. Other plant life that you will discover here include the carnivorous pitcher plants, sundews, and the bladderworts. The 7 complete eco systems that are represented here are:

Beach Vegetation
Cliff Vegetation
Kerangas or heath forest
Mangrove forest
Mixed dipterocarp forest
Grasslands vegetation
Peat swamp forest
You do not have to go far to see these eco systems as the park headquarters at Telok Assam has most of them.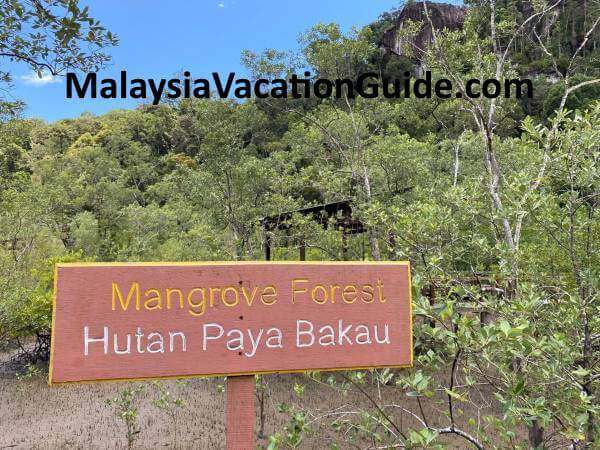 Bako National Park Mangrove Forest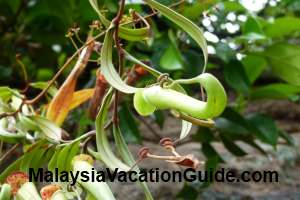 The pitcher plant.
There are many animals that you can see roaming in the wild here. Of particular interest is the proboscis monkeys which which are protected species and can only be found in the island of Borneo. If you are in Kota Kinabalu, go for the Garama River Cruise and you will be able to see them as well. They are also known as the Dutchman due to their reddish brown in colour.

They live on trees and are generally shy animals compared to the more common long-tailed macaques or the silver-leaf monkeys.
The recommended time to see the wildlife is the time just before dusk or at dawn. Look out for other animals and insects that you may encounter which may include:
Borneo Bearded Pigs
Otters
Monitor lizards
Squirrels
Over 150 species of birds that include Hill Myna, woodpeckers, kingfisher, sandpiper and ashy tailorbird.
Flying lemur or culago
Mouse deer
Palm civet cats
Slow loris
Pangolin
Bats
Tarsier
Silver leaf monkeys
Long-tailed macaques
Proboscis monkeys
Snakes
Mudskippers
Crabs
Shell-dwelling hermit crabs
Frogs
Owls
Cicadas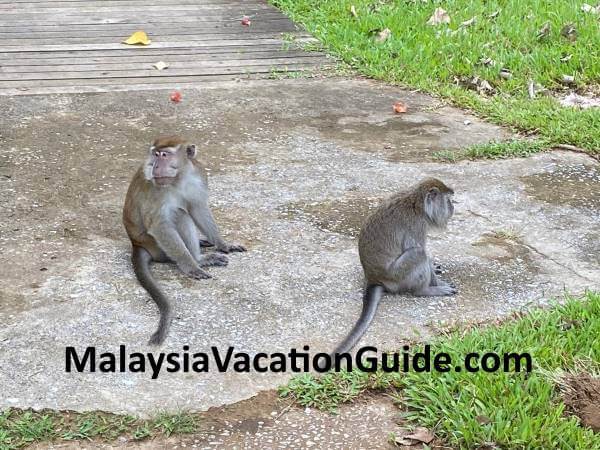 Monkeys at Taman Negara Bako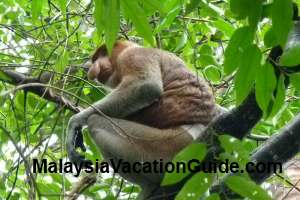 Look out for the proboscis monkey among the trees.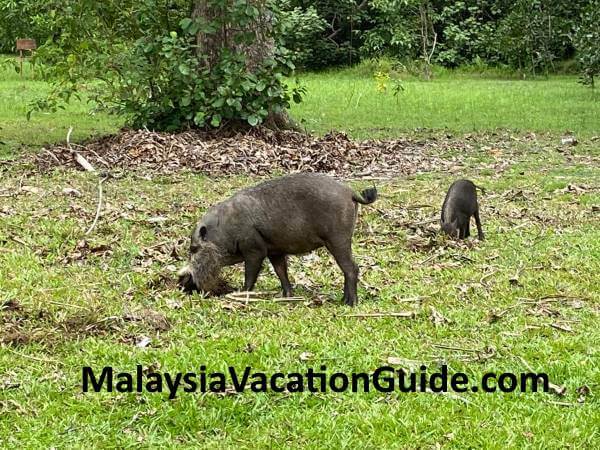 Borneo Bearded Pig. Commonly found looking for food around the chalets and beaches. Used to people and may follow you around.
Trails
Walking along the more than 16 colour coded trails is the best way to observe and enjoy the flora and fauna here. Guides are also available for a small fee. The shortest route is Paya Jelutong with trail of 0.2 km and the longest trail is Teluk Limau Trail with a total trail of 5.75 km.

If you are on a day trip, try the Jalan Lintang trail which is located near the Park Headquarters in Telok Assam. You will go on a circular path covering a distance of 5.25 km. Total time taken is approximately 3.5 hours. Plenty of nepenthes or pitcher plants to see along this trail. You will reach the Tajor Waterfalls and after that Tanjung Rhu. Beautiful sea stacks can be viewed from here.
Ulu Palas trail takes you to the swampy forest. Look out for the Palas Palm. After about an hour of hiking, you will have a panoramic view of the Mount Santubong and Teluk Assam bay. Take a rest and some pictures here.
Bako National Park Trail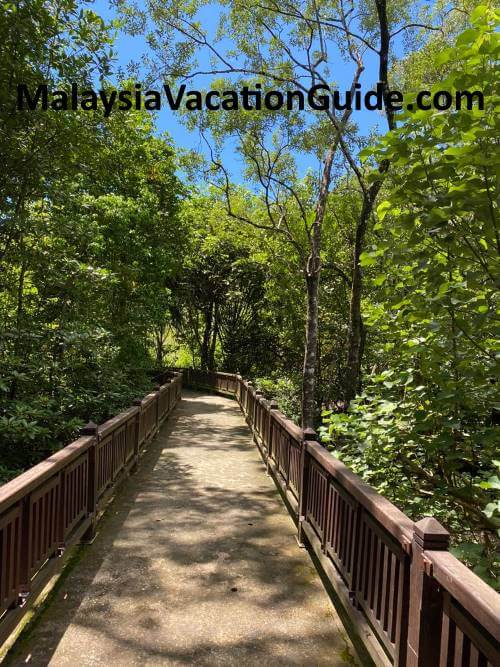 Properly constructed walkway
Beaches
Telok Pandan Besar is a good beach that you can go near the headquarter. However, you will need to charter a boat as this bay is not accessible by land. Further away from the park is Telok Limau, a more secluded and isolated beach.

The Jalan Telok Limau trail which takes 10 hours will bring you to this beach. You will have to arrange for a boat to pick you up or camp near the beach. Remember to inform the park management as this trail is recommended only for the physically fit visitors.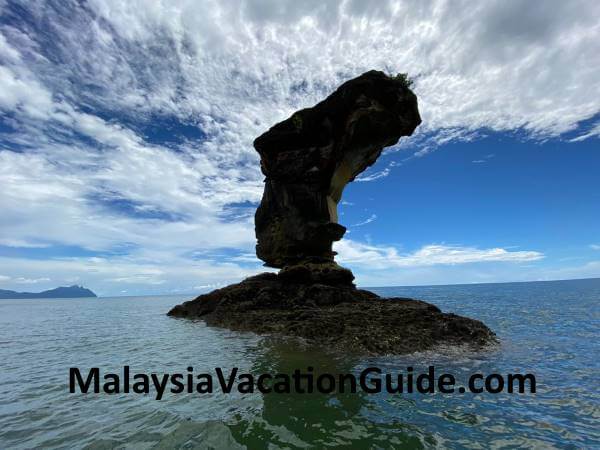 Bako National Park Sea Stack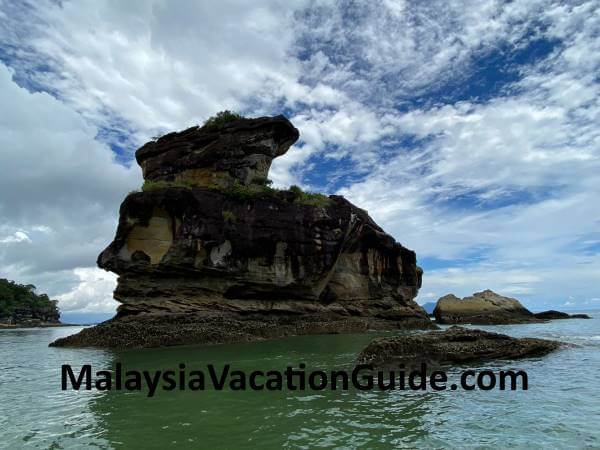 Explore the park with its many eco-systems.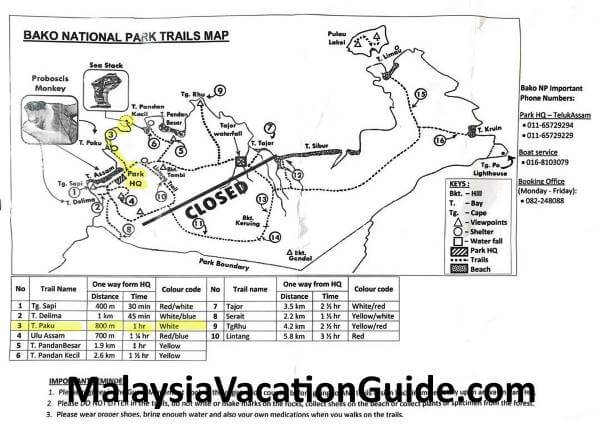 Map of Taman Negara Bako
Accommodation
You can choose to stay in chalets, hostel or camp at Bako National Park. Two to three room chalets with price ranging from RM50-RM100 are available for bookings. Enquiries and bookings can be done at the National Parks Booking Office in Kuching.

National Parks Booking Office
Visitors Information Centre
Jalan Tun Abang Haji Openg
93000 Kuching Sarawak

Tel:+6 082 248088 Or +6 011 225 049
Mondays-Fridays: 8am to 6pm
Saturdays, Sundays and public holidays: 9am to 3pm
You can also stay in Kuching and do a day trip here. There are more choices of accommodation in the state capital.

Check and compare Kuching hotels rates here.
Getting To Bako National Park
Take a bus from Kuching to Bako Bazaar in Kampung Bako. Petra Jaya Bus No. 6 depart for the village every 40 minutes near the market in Kuching. The journey will take you 45 minutes. From here, take a 25 minutes boat ride to the Bako National Park Headquarter in Telok Assam. You can share a boat with others who are also going there if there are not enough people to charter the entire boat.

The best time to go is from March to October when the sea is not rough due to the monsoon season that occurs from November to March. Day trip to the park is also possible.
Check the Day Tour to this park here.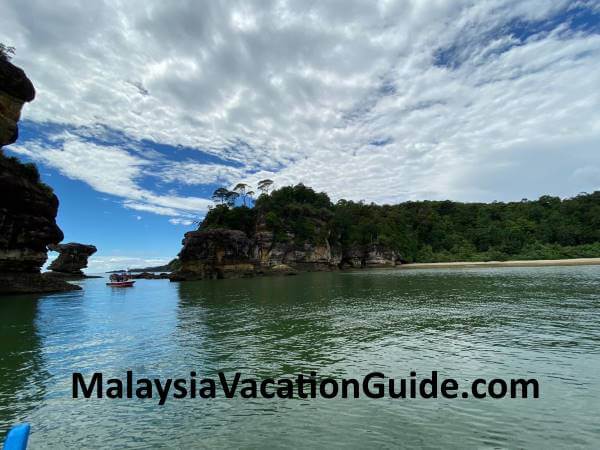 Taman Negara Bako Boat Ride

Videos of Bako National Park

Introduction and getting to Bako National Park from Kampung Bako.

Trails, Wildlife, Beaches and Vegetation.

Wildlife
Proboscis Monkeys and Bird Watching