Malaysia Theme 
Park Resorts

There are a few theme park resorts in Malaysia that you can go for a time of fun with your family. Many of these resorts are equipped with modern facilities and built-in safety features that will make your time a memorable and an enjoyable one.
There are many activities that you can do over here. Depending on which theme parks you go to, some of them have family friendly fun rides, thrilling roller coaster ride, train ride, musical fountain show, snow house, live show, water based theme park etc.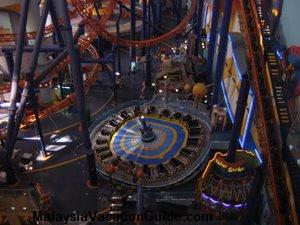 The huge and modern facilities for a day of fun and enjoyment with your family.
Cosmo's World Theme Park Resorts


If you are in the capital city of Kuala Lumpur, you may want to go to Cosmo's World Theme Park at Berjaya Times Square building. Located on the 5th, 7th and 8th Floors, this is the region's biggest indoor theme park that boasts an area of 380,000 square feet. There are many thrilling and family-friendly rides that cater for children as well as adults.
For the adult who want to experience an indoor roller coaster challenge, try the 800m long Supersonic Odyssey, the world's longest indoor roller coaster.
The opening hour is 10am to 10pm daily with children's ticket priced at RM15 and RM25 for adults.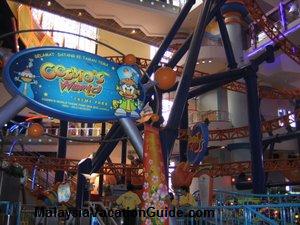 The entrance to the Cosmo's World Theme Park at Berjaya Times Square.
Genting Highlands Theme Park


The Genting Highlands Theme Park is about 1 hour drive away from Kuala Lumpur. This mountain is the place where most tourists will go for a time of refreshing where the temperature is about 15 °C 24 °C. Family with children will enjoy the First World Indoor Theme Park here. Take note that the Genting Outdoor Theme Park had been closed permanently and will be replaced by the Twentieth Century Fox World in 3 years time. The casino is also located here.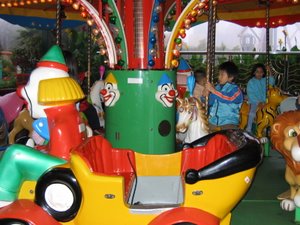 A Famosa Resort 

A Famosa Resort in the state of Melaka is a resort that you should not miss if you are looking for a good time of fun and play with your family. Enjoy the animal show at Animal World Safari where the elephants, the birds and other show will keep you on your toes. If you are into water play, enjoy the many rides that abound here.
The bold ones will want to try the 7-storey high water slide that takes you to the ground in a few seconds. There is also the Cowboy Town where you will enjoy going back to the days of the wild wild west with Red Indian show and the animal parade. Call it a night by enjoying the colourful fireworks that lights up the sky. 

Sunway Lagoon Theme Park Resorts 

Sunway Lagoon Theme Park is located at Bandar Sunway, Petaling Jaya approximately 30-40 minutes drive away from Kuala Lumpur. Itis one of Malaysia's premier theme park and you will be able to spend the entire day here as there are many attractions that are featured here. This lagoon with an area of 80 acres has many themed sections. The Waters Of Africa has many thrilling and exciting water slides that reminds you of unspoilt and wild continent of Africa. The Wild Wild West brings you back to the old American days of cowboys and Butch Cassidy.
There is also the suspension bridge that you can walk with a length of 428m that give you a breathtaking view of the entire lagoon.
The adult entrance fees ranges from RM45 to RM65 depending on which package you choose. Online booking will be cheaper. Opening hours is from 11am - 6pm (Mondays to Fridays), 10am - 6pm (weekends, public holidays, school holidays). The park is closed on Tuesdays.

Shah Alam Wet World


The Wet World Shah Alam water theme park resort has been in operation since its opening in year 1996. It has become an ideal place for both children and parents as well as anyone who is young at heart to enjoy the various rides that are available in this park.
Rides include the Fountain Of Youth, the Giant Slide, Neptune Challenge, Lighthouse Escape, Atlantis City, Cascading Waterfall and Enclosed Tube Slides. The Monsoon water coaster is reputed to be the longest uphill water coaster in the world and the first in Asia with a length of 225m.

Mines Wonderland Theme Park


The Mines Wonderland theme park has less attractions now as some of the attractions such as the train ride, road tram, cultural show and ice factory are no longer there. However, you can still enjoy the musical fountain, mini zoo, wa-wa splash duck tour and cruising on the vast lake. 


Port Dickson Tiara Beach Resort
Outside of Selangor, Port Dickson Tiara Beach Resort which is located in the state of Negeri Sembilan is an ideal place to go if you want to spend a night or two with your family. This resort recently won the Travelrama and Libur magazines' Best Family Holiday Destination 2006 awards.
The main attraction of this theme park resort is the 5 acres man- made water theme park which is approximately the size of two soccer fields. Other facilities include a few inflatables for children to play by the man-made beach, small and big slides for children and adult to enjoy. There are also the acrobatic and magic shows that are scheduled in the evening to make your stay here a memorable ones.