Malacca Vacation
Visiting Malaysia is not complete without going to the historical state of Melaka. Melaka was founded by Parameswara, a Hindu Prince from the Kingdom of Srivijaya in Sumatra in the year 1403.
After he embraced Islam and became the Sultan of Melaka, Melaka became a trading centre with goods from China, India, Middle East, Thailand and neighbouring countries passing through the port of Melaka.

As a result of Melaka's strategic location, the Portuguese conquered it in 1511 followed by the Dutch in 1641 and finally by the British in 1824. The Japanese was ruling it for a while during World War Two from 1942 to 1945. Malacca gained independence as one of the states of Malaysia on August 31, 1957.
The english spelling for this state used to be Malacca but has since been changed to Melaka. We will use these two terms here interchangeably.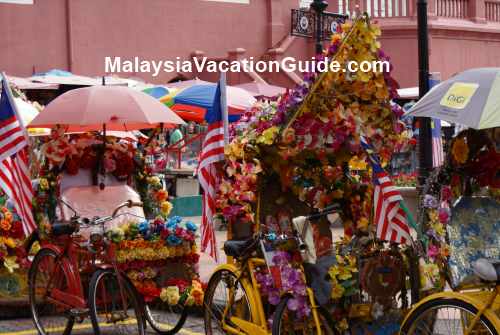 Try taking the decorated trishaw at The Stadthuys.
Melaka together with Georgetown in Penang have been inscripted as historical cities under Unesco's World Heritage Sites (WHS) in July 2008. The first area is the St. Paul's Hill Civic Zone which consists of the government buildings, the original fortress town built during the time of Portuguese and Dutch occupation, Bukit Cina, museums and churches.

The second area is the Historic Residential and Commercial Zone which consists of more than 600 shophouses, religious buildings, commercial and residential buildings as well as tombs on the four main streets. Explore them..

Malacca Vacation - Places of Attractions
Malacca vacation is not complete without visiting the following attractions. See the historical heritage of Malacca where many of the old buildings dated back to the 16th century still stand strong today. See A Famosa, St. Paul's Church, St. Peter's Church, The Stadthuys and Christ Church all of which are within walking distance of one another.
Try taking the trishaw and make sure you take a good picture as you ride as a memento for you to bring home. Not to be missed is the 45 minutes cruise along Malacca River and the Maritime Museum.

Finally, try Nyonya Food which is a combination of Chinese and Malay ingredients. Not to be forgotten is Portuguese cuisine at Monterios Portuguese Seafood Restaurant and Restoran De Lisbon.

A'Famosa
This landmark as shown in the picture above is a must for all visitors to Malacca. Known also as Porta de Santiago, this fortress was built by Portuguese Admiral Alfonso d'Albuquerque in the year 1511. A big part of it was destroyed during the Dutch invasion and what remains today is just a small section of the fortress left behind by the Portuguese. Malacca vacation is not complete without visiting this ruin.
The admission to this attraction is FREE.
See here for a more detailed description of this fort.
Taming Sari Tower
This viewing tower rotates 360° and provides a breath-taking view of Melaka town from a height of 110m. This 7 minutes ride will enable you to see Maritime Museum, Melaka River, St. Paul's Hill, Dataran Pahlawan, Melaka Straits Mosque, Pulau Besar, Straits of Melaka and the many buildings in town.
It was built using the technology from Switzerland and has a capacity of 66 passengers for each viewing session.
Operation hours is from 10am to 11pm daily. RM23/adult and RM15/child. Present your MyKad to get discounts for the tickets.
Address: Jalan Merdeka, Banda Hilir, 75000 Melaka. Tel: 06-288 1100.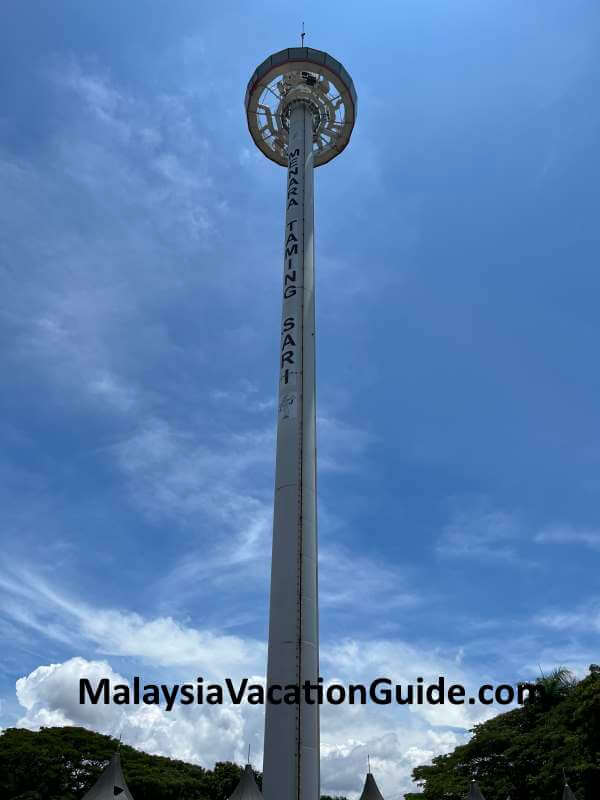 The 110m Taming Sari Tower
The Stadthuys
The Stadthuys at the background was built in 1650 as residence of Dutch governors and their officers.
The Stadthuys is another major landmark left behind by the Dutch. Used to be white in colour, this building was refurbished and painted Salmon red colour to match the colour of the surrounding buildings. When completed in 1650, it was used as official residence for Dutch governors and their officers.
Today, this building is used to house the Museum of History and Ethnography.
Opening hours
9am - 5pm (Monday to Friday)
9am - 8:30pm (Saturday and Sunday)

Admission Fee
Malaysians - RM5 for adult and RM2 for children.
Foreigners - RM10 for adult and RM4 for children.
Further information can be obtained by calling +6 06 284 1934.

Christ Church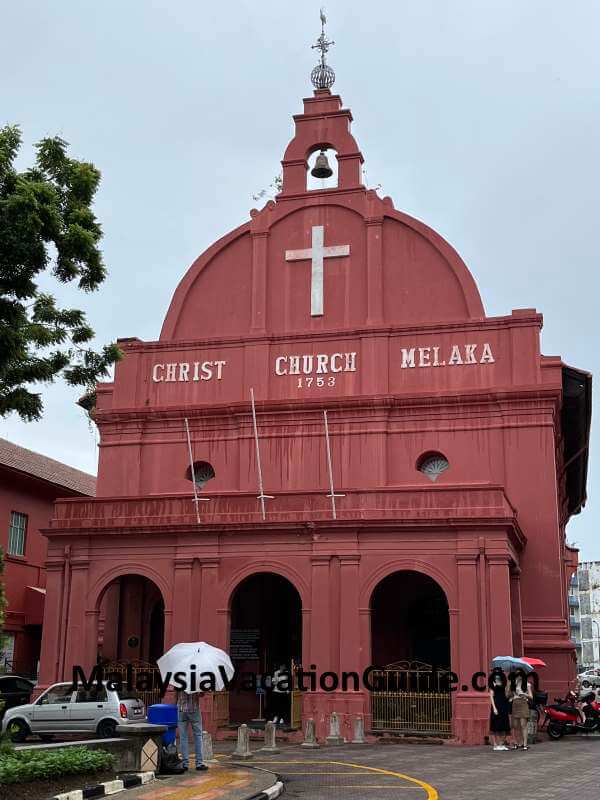 The distinctive salmon red colour Christ Church, a Dutch architecture heritage.
The Christ Church building is located just beside The Stadthuys. Built by the Dutch as a place of worship for the people at that time, you will be able to see interesting design such as the ceiling beams that were constructed without any joints, the tombstone with Armenian inscriptions, the handmade pews and brass Bible. Notice also the "Last Supper" of Jesus and His Twelve Disciples shown in glazed tiles.
When the British took over Malacca, the building was converted to become an Anglican church where a bell tower and weathercock were added and remains until today. You can visit this place by getting the permission from the church officials. This building is a must when you plan your Malacca vacation itinerary.
Further information can be obtained by calling +6 06 284 8804.

St. Francis Xavier's Church
Built by a Catholic French priest, Rev. Farve in 1849, this Gothic styled church was dedicated to St. Francis Xavier who was a missionary to South East Asia in the 16th century. St. Francis Xavier had been to Penang Island as well and was known as "The Apostle of the East" for his missionary endeavours in this region.
You can visit the place by getting the permission from the church officials.
Further information can be obtained by calling +6 06 282 4770.
Malaysia Youth Museum
This museum is dedicated to the contribution of the youths in the country's economic and social well-being. This building is located beside Christ Church building.

Malacca vacation - Melaka River Cruise
Your Malacca vacation is not complete without taking a cruise down Malacca River. This 45 minutes tour covers a distance of 9km and will take you pass Stadthuys, Jonker Street, Kampung Hulu Mosque, Church of St Francis Xavier and Kampung Morten Malay Village.
Look out for the many murals that tell the story of the history and culture of Melaka.
It operates from 9am to 11:00pm daily. Remember to take along your camera.
MyKad holder ticket price:
RM25/adult
RM15/child(2-12 years old)(Mon-Sun including Public Holidays)
RM20/Senior Citizen(60 years and above)
Non-MyKad holder ticket price:
RM30/adult
RM25/child(2-12 years old) - (Mon-Sun including Public Holidays)
The cruise can be taken at the quay behind the tourist information centre.

Further information can be obtained by calling +6 06 281 4322. The address is at Jalan Laksamana, 75000 Melaka.
See A Short Video of the River Cruise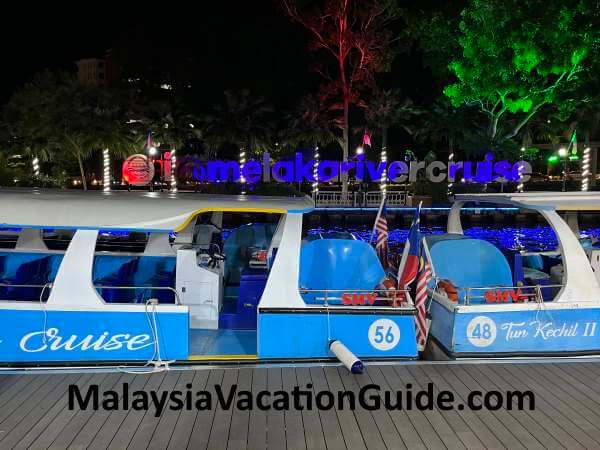 The cruise boat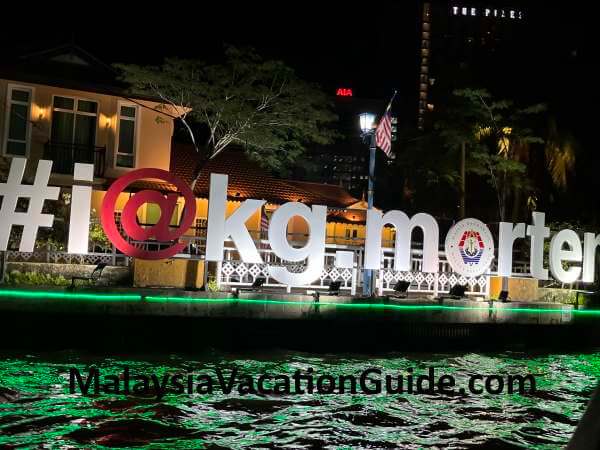 The cruise will pass by this village, decorated with colourful lights at night.
The Malacca River and the surrounding area. The cruise will be on this river.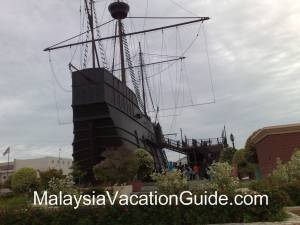 The beautiful replica of Flor de la Mar Maritime Museum located along Jalan Quayside.
Malacca vacation - Maritime Museum
The Maritime Museum near the city centre is located along Jalan Quayside. It housed a replica of the Flor de la Mar, a Portuguese ship that sank off the coast of Malacca.
The exhibit at this museum showed the history of Malacca from the time of the Malacca Sultanate to the pre-independence time of Malaysia. You will be able to see models of iron chests, old charts, ships and maps.
See more pictures and information about this museum here.

Melaka Hotels 

There are many international standards hotels in Malacca. Some of the popular Malacca Hotels include The Bayview Hotel Melaka, Holiday Inn Melaka, Everly Resort, LaCrista Hotel, Mahkota Hotel Melaka, Hilton Hotel and Seri Costa Hotel. Hatten Hotel is located on the shopping mall itself.
Holiday Inn Melaka
Getting Here
Visitors usually fly to Kuala Lumpur or Penang before going to Melaka.
If you are coming from Kuala Lumpur, Melaka is approximately 145 km away and it will take you 2 hours drive to reach here. Regular bus and taxi service are available at Melaka Sentral, a new bus and taxi terminal 6 km away from the city centre.
Further information can be obtained by calling Melaka Sentral terminal at +6 06 288 1321.
If you are driving to the city centre, take note that you need to pay parking from Wednesday-Sunday, 9am-5pm. The parking rates are RM0.40 for 30 minutes and RM0.60 for an hour. You can pay by using coupons which can be purchased from the shops nearby or use the "Smart Vehicle Parking Melaka" Apps. No payment is required on Monday, Tuesday and public holidays.
See Also
Melaka Botanical Garden
Visit this botanical garden which is located in Ayer Keroh. See the bee gallery, try the buggy and enjoy the greeneries here.
Melaka Restaurants 
See the restaurants that you can go to while in Melaka to savour Portuguese, Nyonya or Chinese Chicken Ball Rice cuisine. 


St. Paul's Church 
See the ruin of St Paul Church that was built by the Portuguese. 


Nightlife In Melaka 
Experience the nightlife of Melaka by joining the locals at the night market, visiting Melaka Zoo, A Famosa Cowboy Town..

A Famosa Resort 
A Famosa Resort in Melaka is one of the theme park attractions that you should consider going with your entire family. This 520 hectare integrated resort has attractions that will enable you to spend your day from morning till the evening.

Melaka Sentral 
This is the main transportation hub in Melaka. You can find taxis and buses to various destination here.

Baba Nyonya 
Find out more about Baba Nyonya of Melaka in Baba Nyonya Heritage Museum.

Jonker Street 
Visit this popular street, buy some souvenir and taste some of the local delicacies here.

Christ Church 
This distinctive landmark was built by the Dutch and is still in use today. 


Melaka Town 
There are plenty of activities that you can do while visiting Melaka Town. Shopping, food..