Pulau Perhentian
Pulau Perhentian consists of 2 main islands which are located about 25km away from the town of Kuala Besut. The smaller island is known as Perhentian Kecil and bigger one is called Perhentian Besar. If you are not familiar with Bahasa Malaysia, "Kecil" means small and "Besar" means big.
Unlike the bigger and more developed islands of Pangkor or Langkawi , these 2 islands are still seeing a slower pace of development where there are no roads or airport facilities.
The white sandy beach of at the smaller Pulau Perhentian Kecil.
Accessibility to the islands and getting from one part of the island to another is by ferry or boat. Electricity is generated by using the local generators located on the island itself. There isn't any 5 Star Resort accommodation on these two islands.
If you are looking for a place to snorkel, scuba diving, swimming or just spending some time away from the routine of everyday life, these beautiful islands are worth considering visiting. Due to the North-Easterly Monsoon season, most resorts are opened only from February to October. The best months to go are between June to August.
The island status as part of Pulau Redang National Marine Park means that most of the marine life are still intact until today. You will have to pay a token sum of RM5/adult and RM2.50/child as conservation fees to enter the islands. Take note that fishing, littering, collecting of corals or polluting the environment are strictly prohibited here.
Snorkelling & Scuba Diving At Pulau Perhentian
Snorkelling and scuba diving are the two most popular activities that you can do here. You can rent snorkelling equipment such as mask, snorkel and fins from the resorts nearby for a fee of about RM30 per set/day. The crystal clear sea water will enable you to see the marine life with visibility up to 40m in a clear and calm day. Enjoy looking at the turtles, sharks, colourful fishes and hundreds of other marine life as you snorkel on the various locations of the islands.

Pulau Perhentian Kecil Island
The Kampung Pasir Hantu village is located on this island where you will be able to see some wooden houses, a school,a clinic, a mosque and a police station.
The Pasir Panjang beach which is located at the east of the island is one of the better beaches around here. You willbe able to see long stretch of white sandy beach and crystal-clear water. As this is the main beach around, there aremany activities here.
The resorts located here are cheaper compared to Perhentian Besar, hence this is the place to stay if you are in your youth or tight on budget. Prices for accommodation ranges from RM20 to RM200 per night.

Pulau Perhentian Besar
Teluk Pauh at the North West of the island is a beautiful half-moon bay beach. Snorkel here and notice the turtles, sharks and other marine life. After your snorkelling, take a rest at the beautiful stretch of white sandy beach. Shark Pointand Tanjung Basi are two other good places to do your snorkelling.
Teluk Dalam is located at the South of the island and is a big curved bay with sandy beach. There are casuarinas tree along the beach though most of the corals have been damaged.
Most of the resorts are concentrated on the west coast of the island. As such, taking a boat to a less crowded beach is a good idea if you prefer to spend some private moments on your own.
The resorts on this island is of higher standard than Perhentian Kecil, hence staying here with your family is a better choice. Prices for accommodation ranges from RM50 to RM350 per night.
Pulau Perhentian Besar.
Jungle Trekking At Pulau Perhentian
If you enjoy jungle trekking and is doing it for the first time, it is alway good to get a guide. See the lush greenery around here. If you are fortunate and patient enough, you may be able to spot some monitor lizards, monkeys, spiders and birds here..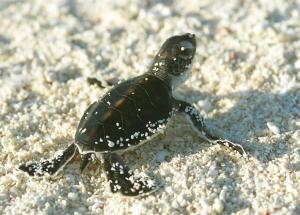 A turtle hatchling making its way to the sea.
Getting Here
The main ferry terminal to get to Pulau Perhentian Island is located at Kuala Besut, Terengganu. If you are driving from Kuala Lumpur, follow the Karak Highway towards Kuantan. This journey will probably take you about 3 hours. From Kuantan, follow the scenic route 3 towards Kuala Terengganu. Follow the signage towards Kuala Besut after the town of Jertih. The entirejourney will take you 7-8 hours.
You can also take a flight to Kota Bharu from Kuala Lumpur or Penang Island. From here, take a taxi to Kuala Besut for your boat transfer to the resort.
Most resorts would have arranged to pick you up from Kuala Besut. Check the package that you are taking.