Penang Food
There are plenty of Penang food that you can try while visiting this state. Most visitors come back to the "Pearl of the Orient" due to the abundant of food that they miss while they were away. Hence do not be surprised if the city is packed with people during the public holidays and more so during the Chinese New Year. Here are some stalls and shops that you can go to for some delicious food..
Penang Food #1-Gurney Drive Hawker Centre


Gurney Drive Hawker Centre
The Gurney Drive Hawker Centre is about 15-20 minutes drive away from Georgetown city centre and is a popular place for Penang street food. In the evening, this place is so packed that you will have difficulty finding a place to park your car. Try to come early at about 6pm and you should be able to get a parking bay. Better still, take the bus to come here.
Take a stroll along the waterfront after your dinner to enjoy the sea breeze and street performances.
#1 Pasembur


Pasembur at Gurney Drive Hawker Centre
The pasembur is a salad of vegetables with ingredients such as cucumber, bean sprouts, boiled egg and a few kinds of fritters. A thick peanut gravy is spread as topping to add taste to the pasembur. Try it and you will not regret it.
#2 Hokkien Mee or Prawn Noodles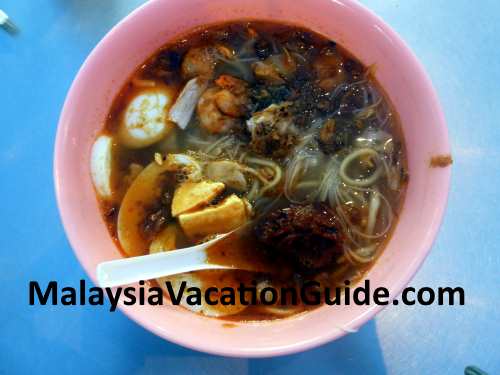 Prawn Noodles
Hokkien mee is also known as prawn mee in Penang. In other parts of Malaysia, the hokkien mee is referred to as fried noodle with black soya sauce. You can choose to have mee hoon, mee or a combination of both when you order the noodles. It comes with boilded egg, prawns, thick chili gravy and fried onions. Will be moderately spicy.
#3 Fried Oyster


Long queue at the Fried Oyster Stall.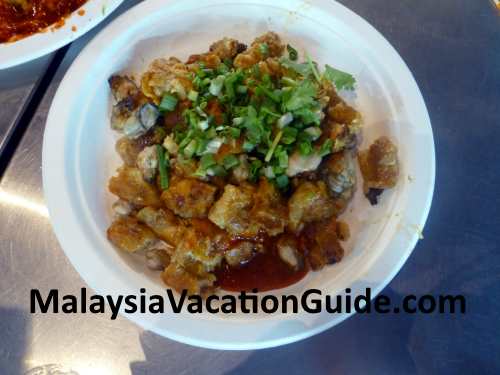 The tasty fried oyster.
#4 Grilled Fish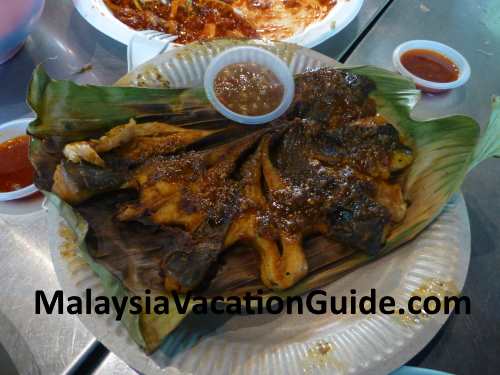 Grilled fish - Stingray.
There are many stalls that sell grilled fish. You can choose the type of fish to grill. Price will be made known to you when you order.
#5  Rojak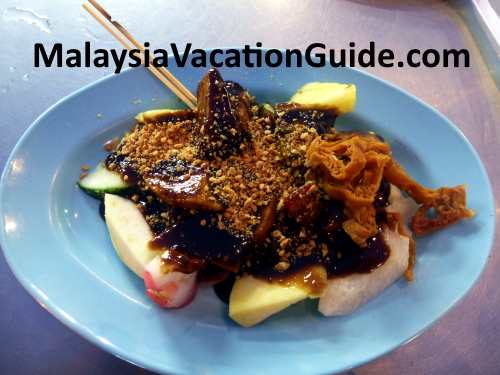 Rojak
The rojak comes with a thick gravy of belacan and peanuts. Ingredients may include pineapple, cucumber, "jambu air", turnip and mangoes.
#6 Mua Chee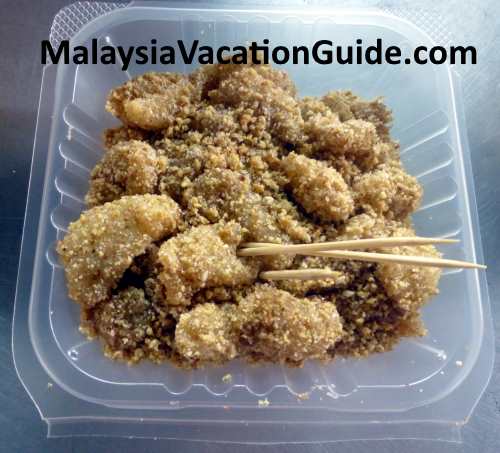 Muah Chee
This glutinous rice coupled with grinded groundnuts is suitable to be eater after your main meal. It is sweet and can be shared.
Penang Food #2 - Lorong Seratus Tahun Curry Mee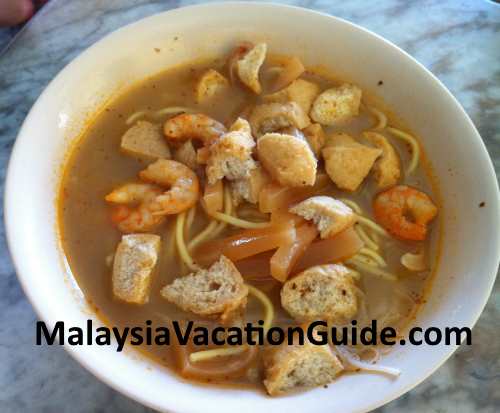 Lorong Seratus Tahun Curry Mee.
This stall is located at 55, Lorong Seratus Tahun, Georgetown and is opened from 7:30am to 2pm. It is closed on Thursdays. This curry mee is not so thick but watery with stronger taste of coconut milk. Put your own portion of chilli paste for better aroma and taste. Ingredients include prawns, cuttlefish and tofu puffs.
Penang Food #3 - Sister's Char Kway Teow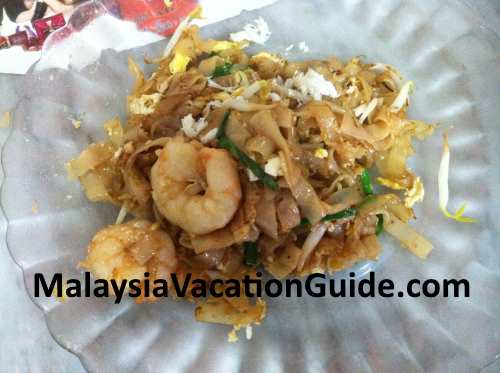 Sister's "Char Kway Teow"
This fried "Kway Teow" stall is made popular by the two sisters. The sisters had retired a few years ago and this stall is now operated by the son of one of the sisters. Still taste good with a generous amount of prawns. It is located at Lam Heng Cafe, 185, Macalister Road. Closed on Mondays.
Penang Food #4 - Apom Balik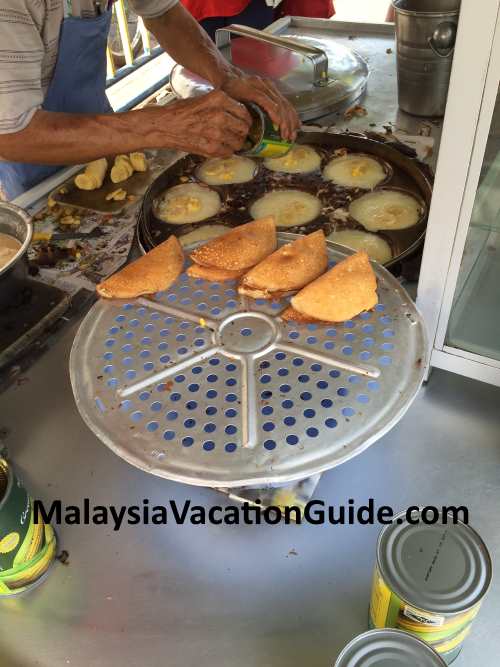 "Apom Balik"
This pancake or "Apom Balik" is operated by Uncle Uan's mobile stall and has been around for over 30 years. The stall is located just before SRJK(C) Union, Jalan Burma. The pancakes are made from corn and rice flour, eggs, coconut milk, grated coconut, sugar, sweet corn and topped with banana slices. The best time to go for it is in the afternoon. This stall is closed on Sundays.