KL Forest Eco Park
The KL Forest Eco Park which is located just beside Kuala Lumpur Tower is the new name for Bukit Nanas Forest Eco Park. It was closed for renovation work recently and is now open to the public since Nov 2015.
This forest reserve is one of the four remaining forest reserves in the Federal Territory of Kuala Lumpur. The other three are Bukit Lagong, Sungai Puteh and Sungai Besi.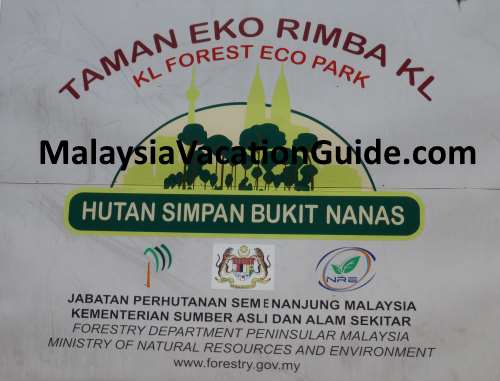 The signage at the entrance to the park.
You can see the Maybank building from here.
This forest park is managed by the Forestry Department of Peninsular Malaysia and has an area of 9.4 hectares. When it was gazetted in 1905, the total area was about 17 hectares but the effect of development of the surrounding areas has caused it to shrink by about half today.  There are about 3,000 visitors to the forest every month.
KL Forest Eco Park Facilities
Plan to spend around 1-2 hours walking through the trails and visiting the Information Centre. Not to be missed is the 200m Canopy Walk which is suspended 21m above the ground. Look up for the following trails and attractions while you are here.
Canopy Walk - Take your time to enjoy the view of the city while walking on the canopy.
Herbs Garden & Nurseries - See the various herbs that are used for medicinal purposes.
Birds - Spot some of the birds here in the early morning or at dusk.
Gazebos are available for you to take a break.
Benches are placed along the trails for you to rest.
Here are some species of Dipterocarps and Non-Dipterocarps that you should look out for while walking along the trails.
Dipterocarps
Shores Leprosula (Meranti Tembaga)
Shorea Bracteolata (Mernti Pa'ang)
Shorea Ovalis (Meranti Kepong)
Shorea Curtisii (Meranti Seraya)
Shore Dasyphylla (Meranti Batu)
Dipterocarpus Baudii (Keruing Bulu)
Dryobalanops Aromatica (Kapur)
Hopes Odorata (Merawan Siput Jantan)
Non-Dipterocarps
Dyera Costulata (Jelutong)
Alstonia sp (Pulai)
Canarium sp (Kedondong)
Aquilaria Malaccensis (Karas)
The canopy walk.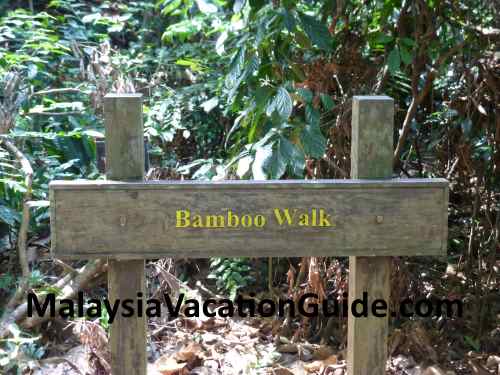 Bamboo Walk
The bamboo trees.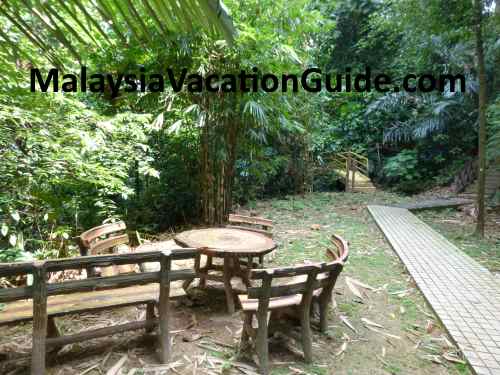 Benches available for your use.
The Information Centre has a conference room for students to learn about the forests through video show, toilets, exhibits and souvenirs that you can purchased. The centre operation hours is from 9am to 5pm daily.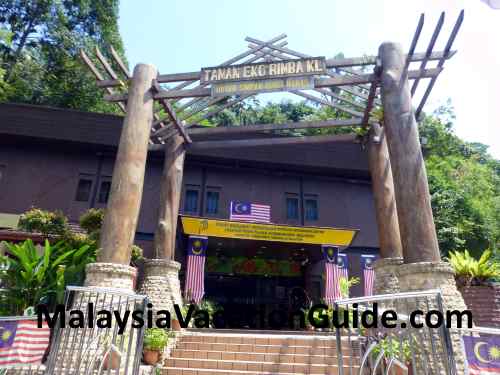 Entrance to the Information Centre.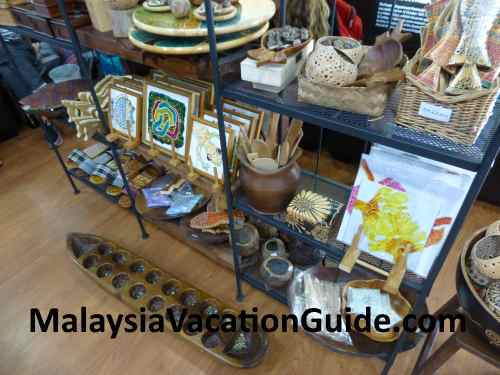 Wood products for sale at the centre.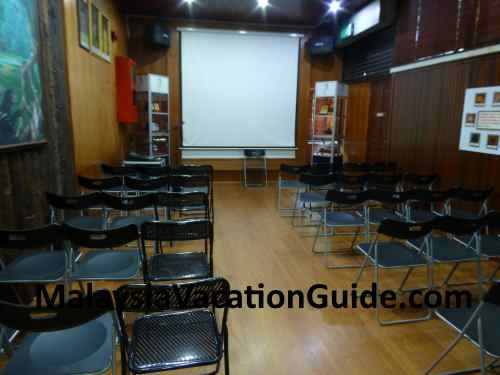 Conference room for multimedia presentation.
Getting To KL Forest Eco Park
You can get to this forest by using Jalan Ampang, Jalan Gereja or Jalan Raja Chulan. The visiting hours are from 8am to 6pm daily. You can also walk to this forest from KL Tower.  Find out how to get to KL Tower here. 
Call the Forestry Department at +603 2026 4741 for more information.