Negeri Sembilan
Negeri Sembilan is located at the west coast of Peninsular Malaysia, south of Selangor and north of Melaka. It is the only state in Malaysia that practises "Adat Perpatih" customs and culture. This culture came to this state when the Minangkabau people from West Sumatra migrated to the Peninsular Malaysia in the 15th century.
The Adat Perpatih is a matrilineal system of inheritance and administration. For example, the Ruler of the state is selected by a council of "Undangs", the territorial chiefs of the four districts of the state. The four districts are Jelebu, Johol, Rembau and Sungai Ujong. The ruler of the state is called Yang Di-Pertuan Besar instead of Sultan.
The Minangkabau influence can also be seen today through the buildings' roofs in the shape of buffalo-horn. The State Legislative Assembly in Seremban, the state capital exhibits this kind of design. Even the National Museum in Kuala Lumpur has similar design. The royal capital is Sri Menanti.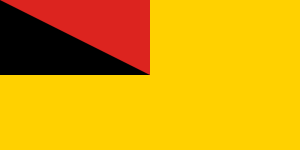 The flag of Negeri Sembilan. The yellow represents the Yang Di-Pertuan Besar, the red represents the people and the black represents the four undangs.
The main attractions of the state are the beaches in Port Dickson where many international hotels have been built to cater for the tourists that flock here.
In recent years, the beaches have become dirty due to pollution and sea activities are restricted to yachting, surfing, sailing and horse riding. Tiara Beach Resort has water theme park and is ideal for family retreat.
For history, the Royal Museum of Sri Menanti in Sri Menanti exhibits the regalia of Negeri Sembilan Royal family, costumes, weaponry and bed chambers. The museum itself was constructed without using nails or screws and used to be the official residence of the royal family until 1931. This former palace has 99 pillars with a height of 65 feet each. This town was the first settlement of the Minangkabau immigrants. It is opened from 10am to 5:45 pm and admission is free.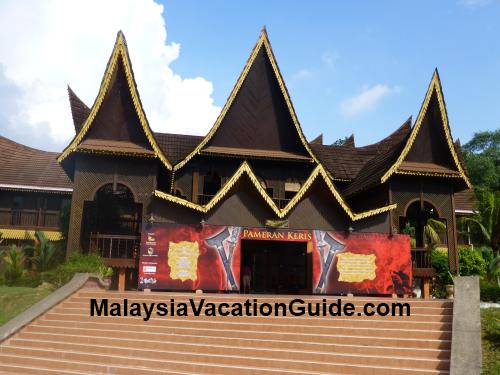 State Museum
Rembau Museum in Rembau is the place to get a better details on the Adat Perpatih matrilineal system. Other exhibits include buffalo shaped ladies head dress, community heirlooms and handcrafted antiques. It is opened from 9am to 5pm and admission is free. While in Rembau, go to Pedas Hot Springs Theme Park to rejuvenate yourself in the thermal pools. There are 2 open air hot spring pools with a temperature up to 35°C. Children will enjoy the winding giant slides.
Seremban Cultural Complex in Seremban has 3 main buildings i.e. Ampang Tinggi Palace, Teratak Perpatih and Minangkabau House. The state's rich heritage culture such as brassware, weaponry, handicrafts, traditional costumes and other artifacts are exhibited here. It is opened from 10 am to 5:45 pm and admission is free.
Lukut Museum in Port Dickson showcases the golden era of Lukut town when it was the capital of tin trade. Artifacts from Nassau shipwreck which sank off the coast of Port Dickson in 1847 are on display here. Lukut Fort nearby the museum was built by Raja Jumaat in 1847 to defend the area from enemy attacks in the 19th century. The museum is opened from 9am to 6pm and admission is free.
If you are into shopping, go to NILAI 3, NILAI 1, and Nilai Square. Nilai 1 and Nilai Square sell a varieties of textiles and fabrics. Nilai Square has over 400 shops. Nilai 3 is a wholesale centre that sells furniture, clothing, luggage carpet and car accessories to name a few. It is opened from 10am to 10pm.
Ulu Bendol Recreational Forest is located in Kuala Pilah. It is located about 15km away from Seremban and is a good place to hike, jungle trek, picnic or camping. The 825m Mount Angsi is located here. Other recreational parks include Tampin Recreational Park, Pasir Panjang Recreational Park, Jeram Toi Recreational Park, Lenggeng Recreational Park, Serting Ulu Recreational Forest and Kenaboi Recreational Park.
If you are into bird watching, Cape Rachado or Tanjung Tuan is also a good place to go as migratory birds such as sparrows, hawks, eagles and swallows can be seen here during the months of March-April and September-October. Malaysian Nature Society organises bird watching annually in the month of March.


Transportation In Negeri Sembilan
Seremban is only 60 km south of Kuala Lumpur by road and take about 45 minutes to drive there. It is 40km from Kuala Lumpur International Airport (KLIA). Taking KTM Komuter or Electric Train Service is a convenient mode of travel. The main bus station in Seremban is Terminal One Bus Station where you can get local buses to other towns such as Port Dickson, Nilai, Tampin, Kuala Kelawang and Kuala Pilah.
Port Dickson Hotels
There are many international standard hotels in Port Dickson. Grand Lexis and Avillion are 5-Star hotels that you can consider staying if you have the budget. There are also many apartments that cater more for bigger group of tourists.
Check out the Port Dickson hotels rates here.
See Also
Spend 1 hour or so at this museum. Remember to visit the Ampang Tinggi Palace which is over a century old.
If you are in Port Dickson, you may want to consider visiting this museum which shows the contributions of the armed forces during World War Two, the battle with the communists,..