Budget Hotel In 
Kuala Lumpur
Looking for more than just a budget hotel in Kuala Lumpur? If you are, the good news is that Tune Hotels is now operating one in the heart of the city of Kuala Lumpur. The concept of the first No Frills hotel in Asia is similar to the concept of No Frills Air Asia Airlines which has been the most successful budget airlines in Asia. Price is usually lower if you book online a few months in advance.
Besides Kuala Lumpur, here are the other Tune Hotels operating in Malaysia.
Peninsular Malaysia
Cyberjaya
Armenian St, Penang
Taiping
Kulim
Sabah & Sarawak
The management of the hotel has committed to provide a clean and comfortable room for your stay. As it is a No Frills Hotel, there will not be any room service. Facilities such as television, swimming pool, fridge, towels, soaps and shampoo will not be provided. Bring your own towels and soaps or you can purchase them from the hotel. Air conditioner is provided but charges will be based on the number of hours used.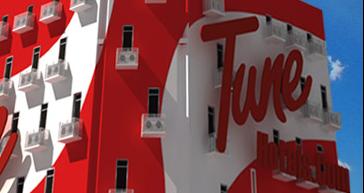 The distinctive red and white Tune Hotel in the city of Kuala Lumpur
If you are on tight budget but still want to stay in the city centre and explore Kuala Lumpur and its surrounding, this is the best value for money hotel to stay.

Getting Here 


The Kuala Lumpur Tune Hotel is located at 306, Jalan Tunku Abdul Rahman. Take the Kuala Lumpur Monorail and stop at Medan Tuanku Station. You will be able to see the hotel as you come out from the station. There are many buses which frequent this place but it can be congested during office hours. As such, monorail is still the best transport to take.
Share Your Budget Hotel Experience
Enjoy your budget hotel stay in Malaysia? Share with us your most memorable and value for money hotel experience. Please use the form below to submit your story and thanks for sharing.