Kuala Lumpur Public Transport
Kuala Lumpur Public Transport has developed into one of the most modern transportation system in this region. It has a comprehensive network of buses, taxis, monorail, light rail transit and commuter trains that provide convenient and quick access to various parts of this city and its surrounding. 
KL Sentral is the main hub of the transportation system in Kuala Lumpur where you can take the Light Rail Transit trains, KTM trains, Rapid KL buses, ERL and even do your passenger and luggage check-in. The latest addition is the Subang Skypark Line.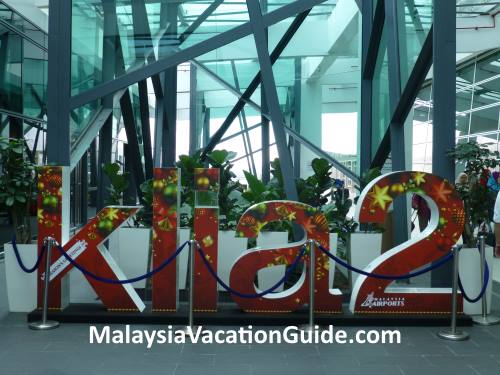 The two main international airports in Kuala Lumpur are the newly opened KLIA2 and KLIA (Kuala Lumpur International Airport). KLIA2 is now in operation since 2 May 2014 and is the airport for low cost and budget carriers.
The other smaller airport that is used by Firefly, Malindo Air and Berjaya Air is Subang Skypark Terminal.
Get a suitable MyRapid Card to travel with discounts on Rapid KL buses, LRT, Monorail or BRT. 
Explore Kuala Lumpur On Bicycles

You can now explore KL on bicycles. Bicycles together with safety vest, helmet and map can be rented at KL City Gallery near Dataran Merdeka.
Effective 1 June 2016, through the "Ride N' Ride" programme, you can now take your bicycles on the KTM Komuter trains. Foldable bicycles are allowed at all times but the non-foldable bicycles are only allowed from 9:30am-4:00pm and 8pm-12:30am during weekdays. On weekends and public holidays, the timing is from 8:30am-11am and 8pm-12:30am.
If you are taking the LRT, Monorail, MRT and BRT, foldable bicycles/scooters are allowed on board between 10am-3pm and 8pm-12am (Monday-Friday). Foldable bicycles/scooters/non-foldable bicycles are allowed on board from 6am-12am (Weekends & Public Holidays). See the instructions here.
Kuala Lumpur Public Transport - Light Rail Transit
Light rail transit is the most preferred mode of transport as it is punctual and the cost of traveling is reasonable. As it has its own track, the traveling time is not affected by the traffic jam that happens almost everyday during the weekdays. Operation time is from 6am to 11:45pm. Train interval is 3-5 minutes during peak hours and 5-8 minutes during non peak hours.

The Kelana Jaya Line stretches from Putra Terminal in Gombak to Putra Heights. This is the line that you need to take if you intend to go to KLCC, Ampang Park or Bangsar.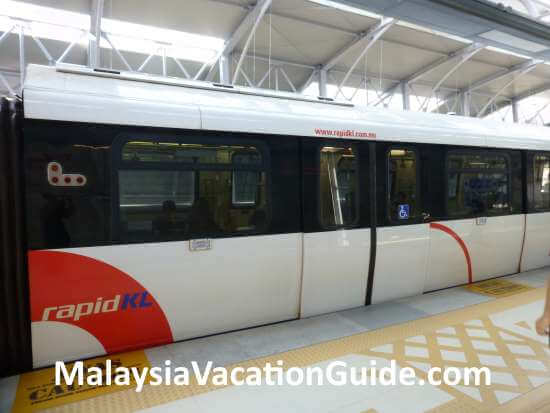 The Light Rail Transit Train
The Ampang Line stretches from Ampang to Sentul Timur.

Sri Petaling Line runs between Sentul Timur in Sentul to Putra Heights. If you need to go to Bukit Jalil or Cheras, this is the line to take.
See the map at the end of this page for the routes and stations covered by the LRT.
Mass Rail Transit Train
There are two MRT Lines in operation. The MRT Kajang Line has 31 stations from Sungai Buloh to Kajang covering a distance of 51km. The MRT Putrajaya Line started operation on 16 March 2023, from Kwasa Damansara to Putrajaya Sentral with 36 stations covering a distance of 57.7km. 
The operation hours of the MRT are from 6am to midnight from Mondays-Fridays and 6am-11:30pm on Saturdays and Sundays. See more details of this mode of transportation here.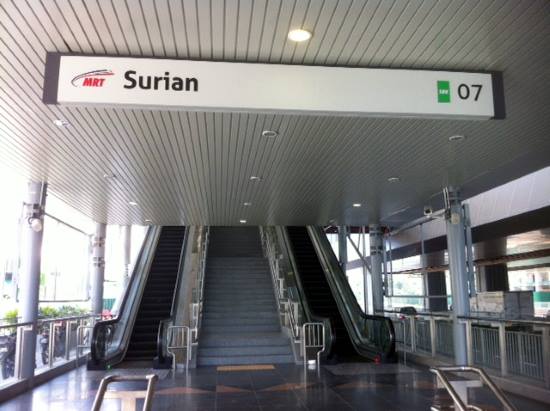 Stop at Surian MRT Station to go to Sunway Giza, The Strand or Dataran Sunway.
Kuala Lumpur Public Transport - KTM Komuter
The KTM Komuter train has 2 lines and covered a longer distance compared to the LRT. It is hence less frequent compared to the LRT. The first line stretches from Batu Caves to Pulau Sebang. The second line stretches from Tanjung Malim to Port Klang. 
The operation time is from 5:48am to 12:00 midnight daily with an interval of 15 minutes during peak hours and 20 minutes during non peak hours.
Tickets can be purchased at all KTM Komuter stations. For further enquiries, call +603 2267 1200.
Local students aged 13 and above can now get the KTMB 50% discount card for long-distance travel from all KTMB stations. All secondary school students, students of public and private higher-learning institutions, part-time or distance learning students can apply for the cards.
However, students of teacher training, nursing, police and armed forces colleges and health institutes will have to pay RM30 annually for the card.
The card is only valid for second and economy-class train travel and can be obtained from KL Sentral and other KTMB offices.
Call Tel: +6 03 2279 8852 for more information.
Sunway Bus Rapid Transit (BRT)
If you intend to go to Sunway but want to avoid the traffic congestion during the peak hours, take the Sunway BRT which was launched on 2 June 2015.
Kuala Lumpur Public Transport - Monorail
The Kuala Lumpur public transport include the monorail which serves 11 stations covering a distance of 8.6 km in the city centre. Major shopping centres such as Bukit Bintang, Imbi and Chow Kit are serviced by the monorail. It stretches from Kuala Lumpur Sentral Station to Titiwangsa Station.
The operation time is from 6:00am to 12:00 midnight daily with an interval of 5 minutes during peak hours and a maximum of 10 minutes during non peak hours.

Kuala Lumpur Public Transport - Buses
There are many buses that serviced the city of Kuala Lumpur and its surrounding. All the buses are air conditioned.
Move around the city of Kuala Lumpur on Rapid KL buses from RM1+ depending on your destination, much lower than taking a cab if you are not rushing for time. There are a few selected routes from the outskirts of KL that go direct to Pasar Seni in Kuala Lumpur using expressways. The free shuttle buses in the city provided by the government is GOKL. See the routes here.
If you want a more detailed guided tour of the city of Kuala Lumpur, try the KL Hop On-Hop Off Bus where you can hop on and hop off the buses unlimited times for a duration of 24 hours and listen to the guided tour of the city.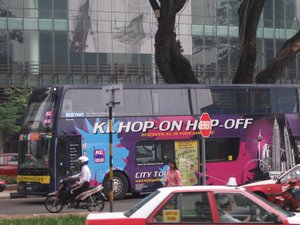 The KL hop on - hop off bus is a double decker tour bus with state of the art facilities. It has 8 multi language tour commentary to choose from as you travel around the city.
Bus Terminals To Other Cities and Towns
There are a few bus terminals that you can take your buses to destinations throughout Peninsular Malaysia from Kuala Lumpur.
Pudu Sentral (formerly Hentian Puduraya) is the main bus terminal to northern states of Perak, Penang, Kedah and Perlis. A smaller Hentian Duta is the other bus terminal for buses to northern states of Malaysia.
Bandar Tasik Selatan Bus Terminal goes to southern states of Negeri Sembilan, Melaka, Johor and Singapore.
Hentian Putra Bus Terminal goes to the east coast states of Pahang, Terengganu and Kelantan.
Hentian Pekeliling goes to major towns of Pahang such as Jerantut, Mentakab, Temerloh and Kuala Lipis.

Kuala Lumpur Public Transport - Taxis & E-Hailing Services
There are many taxis that you can take in the city and they are available 24 hours a day.
However, in recent years e-hailing services have become the more popular way of transportation compared to taking a taxi. GRAB is the mostly used e-hailing service here.

Kuala Lumpur Public Transport - Firefly Budget Airline
The latest Firefly budget airline is owned by Malaysia Airlines System. With Penang as its base, the new airline will be offering flights from Penang to Kota Baru, Kuantan, Kuala Terengganu, Langkawi, Phuketand Koh Samui. It will initially use two 50- eater Fokker 50 aircraft for its operation.
Travellers can start booking through Malaysia Airlines' 24-hour call centre by calling
Tel: 1-300-88-3000
Bookings can also be made at MAS ticketing offices in Penang, Kuala Lumpur, KLIA, Kota Baru, Terengganu, Kuantan and Langkawi. Online booking is available through the Firefly website.
The tickets are priced similar in concept to No Frills AirAsia Airline. 


Kuala Lumpur Public Transport - Express Rail Link
The KLIA Express and KLIA Transit are the fastest means of transport to get you from KLIA and KLIA2 to the city.
The KLIA Express takes 31 minutes to get you from KLIA2 to KL Sentral Station and 28 minutes from KLIA to KL Sentral. It departs every 15 minutes during peak hours. Peak hours are defined as the time from 6:00am to 9:00am and 4:00pm to 10:00pm from Sunday to Friday.
The KLIA Transit takes 38 minutes from KLIA2 to KL Sentral with stops at KLIA, Salak Tinggi, Putrajaya & Cyberjaya and Bandar Tasik Selatan. The journey time between KLIA2 and KLIA is 3 minutes.
The one-way fare from KLIA/KLIA2 to KL Sentral is RM55 for adult and RM25 for child for both KLIA Express and KLIA Transit. Return fare is RM100/adult and RM45/child. Get 10% discount when you buy tickets from www.kliaekspres.com, apps or kiosk.

Kuala Lumpur Public Transport - Rail Network
Download the bigger image of the MRT, LRT, Monorail, ERL and Komuter rail transit network from Rapid KL by clicking on the picture below. Make sure you have a pdf reader as the image is in pdf format.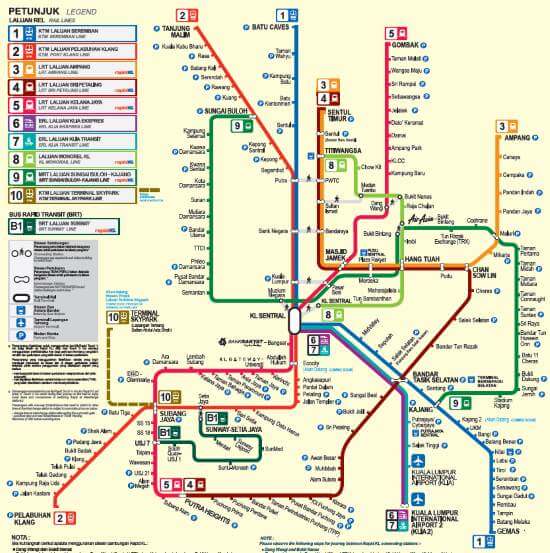 Kuala Lumpur Public Transport - Telephone Directory
The telephone listing below shows the contact numbers of taxis,  Komuter Train, KLIA Ekspres, KLIA Transit, car rental and airlines that you can call when the need arises.
No
Service
Phone Number
1
Comfort Taxi
+603 8024 0507
2
Public Cab
+603 6259 2020
3
Radio Taxi
+603 9221 7600
4
Super Cab
1300 888 294
5
KL Teksi
017 2733 372
6
KLIA Express/KLIA Transit
+603 2267 8000
7
KTM Railway Services
+603 2267 1200
8
Malaysia Airlines
1 300 88 3000
9
Saujana Taxi
+603 2162 8888
10
Sunlight Taxi
+603 9057 5757
11
Hertz Rent-A-Car
+603 8776 4507
12
Avis Rent-A-Car
+603 8787 4087
13
Orix Car Rental
+603 8787 4294
14
Mayflower Car Rental
+603 6252 1888
15
Mansfield Car Rental
+603 2026 9933
Related Links 


KTM Trains
KTMB provides KTM Komuter Train within Klang Valley, Electric Train (Seremban-Ipoh) and Intercity Train travel within Peninsular Malaysia. It is one of the most economical way to travel when you are on vacation in Malaysia. 

Coach from Kuala Lumpur to Singapore 
Take the Aeroline luxury coaches from Kuala Lumpur, Petaling Jaya or 1 Utama to Singapore. Services to Penang is also provided. Services are provided everyday for your convenience. 


KL Sentral to KLIA/KLIA2
For a price of RM10/person one-way, you can now take the airport coach from KL Sentral to KLIA. It takes approximately 1 hour to reach the airport and vice versa. 


1 Utama Coach to klia2
For a price of RM15/person one-way, you can now take the Skybus airport coach from 1 Utama Shopping Centre to klia2 Airport. It takes approximately 1 hour 15 minutes to reach the airport and vice versa. Tickets can be purchased on the bus or AirAsia Flights.
Explore Kuala Lumpur On Trams Watch out for trams services that are available for you to explore the heritage and parks in Kuala Lumpur. 

Old LCCT  This is how the old LCCT terminal looked like. The new airport for low cost carrier is now based in KLIA2.