Bukit Kiara Federal Park
Known as Taman Persekutuan Bukit Kiara in Malay language, this park is divided into 2 zones. The Family Recreation Zone (Taman Lembah Kiara) and Arboretum Zone. The park is managed by the National Landscape Department since 2010 and has an area of about 400 acres for public use. The operation hours of the park is from 6:30am to 7pm daily.
Family Recreation Zone
The Family Recreation Zone is a good place to go for a time of relaxation with nice lakes, fitness stations, gazebos, benches and children's playground. This park is well-maintained and clean. Family with children will enjoy this place as there is a small stream that flows to the lakes. You can bring your mats and have your picnic here if you want to.
The entrance to this zone is via Jalan Abang Haji Openg, TTDI. There is a guardhouse here with toilet facilities and car parks. However, the car parking bays at the entrance are very limited. There are more parking areas that you can use near the school.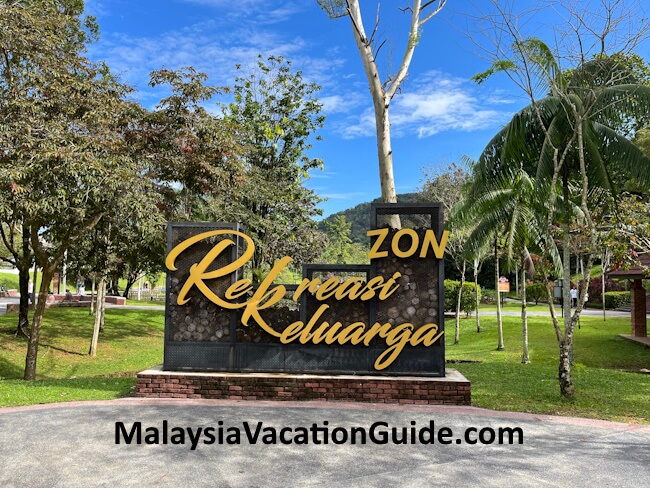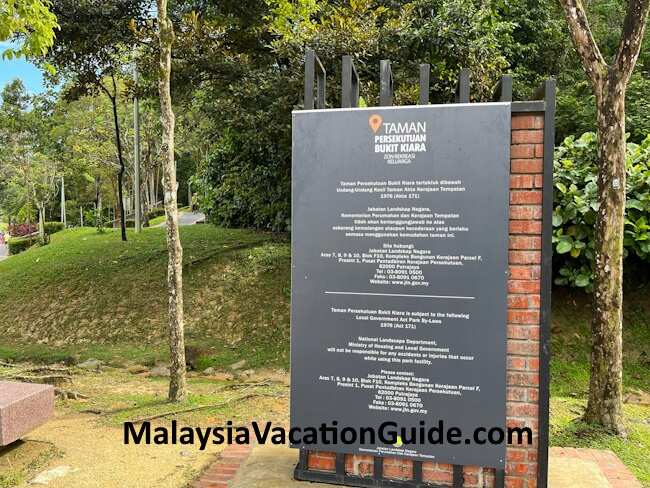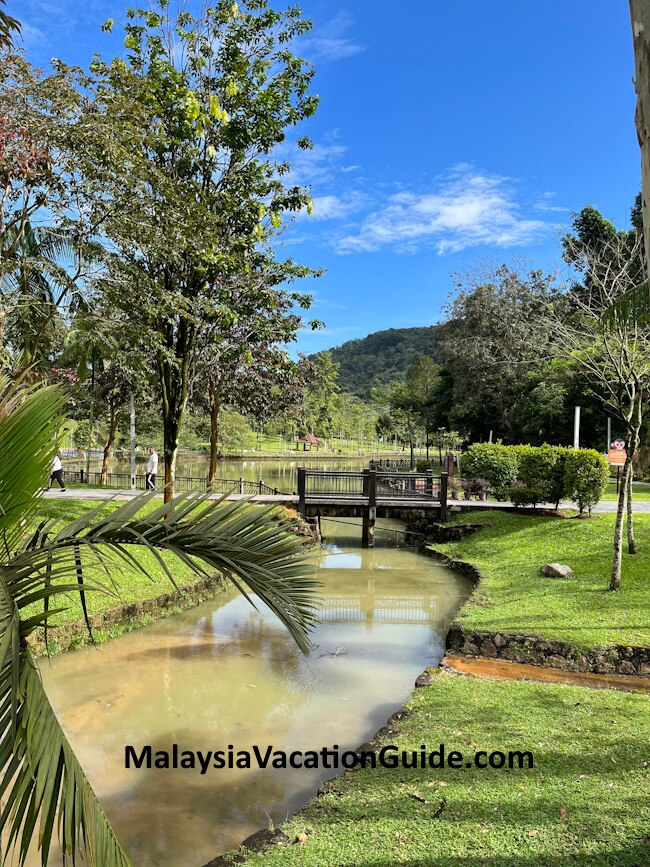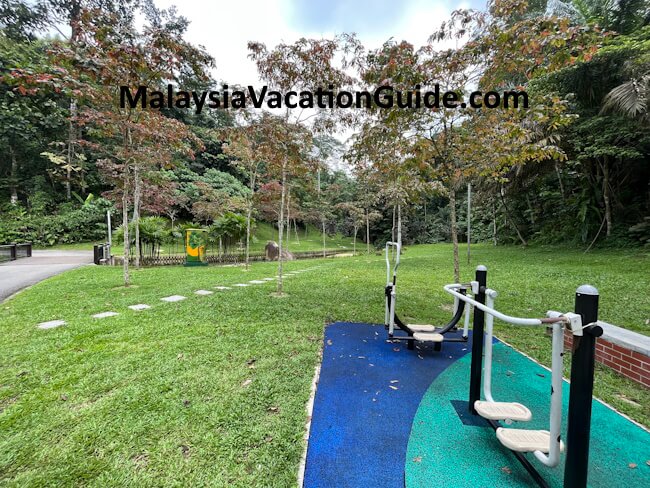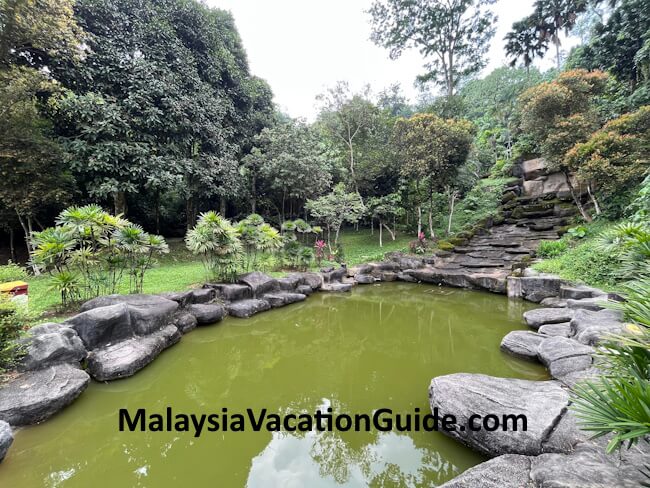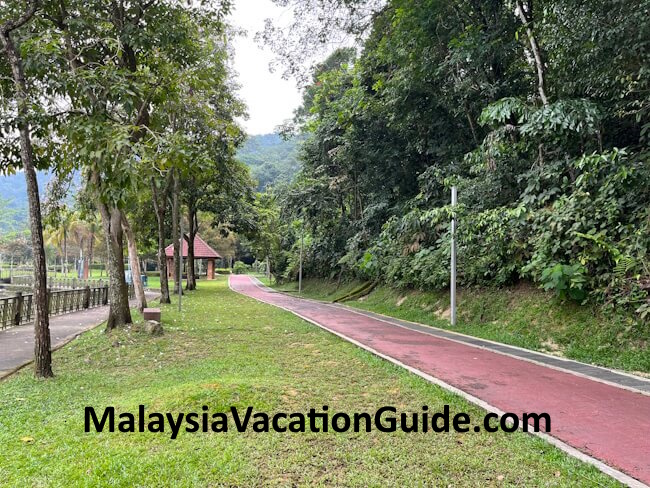 Look out for tortoises, fishes and ducks in the lake. You may be able to spot monitor lizard as you walk around the park. There are monkeys in the vicinity at certain times of the day. Other insects and birds could be seen here as well. There are well constructed benches that you can use to rest after your work out.
Bukit Kiara Arboretum Zone
One of the entrances to Bukit Kiara Arboretum Zone is via the guardhouse at Changkat Abang Haji Openg. You can park your vehicle on the parking bays leading to the guardhouse. This zone can be crowded during weekends hence if possible try to go during weekdays. You can also hike here from the Family Recreation Zone guardhouse.
The other entrance is coming in from Mont Kiara via Kiaramas Ayuria Condominium. 
This zone is used exclusively for hiking, cycling, jogging, walking or mountain biking. There are various trails for different levels of difficulty and scenery. You can use AllTrails or Komoot Apps to help you navigate the trails.
Some of the things you can expect to see and do:
Encounter monkeys, squirrels, birds, butterflies and insects. Bukit Kiara is home to a rich variety of wildlife, and you can see them along the trails or near the river and waterfall. You may also spot some snakes but they are usually harmless if you do not disturb them.
See the views of Kuala Lumpur skyline from some of the hilltops. Bukit Kiara offers some stunning panoramas of Kuala Lumpur, especially from the Twin Peaks viewpoint and Bukit Kiara summit. You can also see the remains of rubber trees that used to occupy the land.
Challenge yourself with the rugged and steep trails. Some of the trails are unmarked and untamed, so you need to be careful and adventurous. You can also find some exercise stations along the main tar road for some extra workout. The hiking time varies depending on the trail and the difficulty level, but it can range from one hour to three hours or more.
You can also choose to walk along the well paved tar road instead of hiking in the jungle trails. You will need to bring along your cap or umbrella and water for drinking as it can be quite hot in the afternoon.
You can bring your own picnic basket and enjoy a meal at one of the gazebos or benches in the park. You can also join some of the community events and activities that are organized by the park management or volunteers.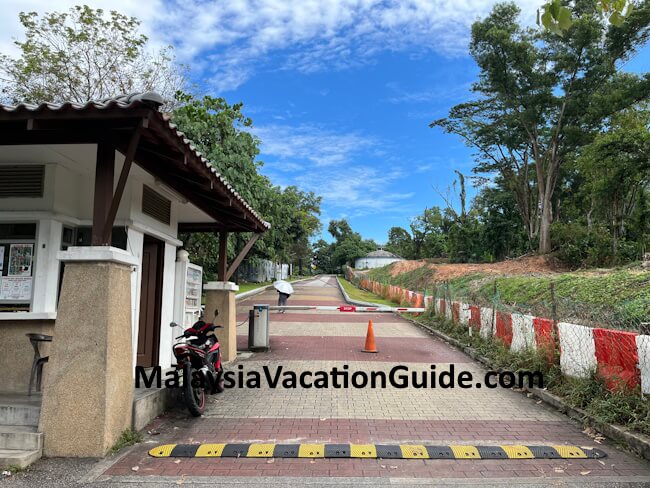 Bukit Kiara Hiking Entrance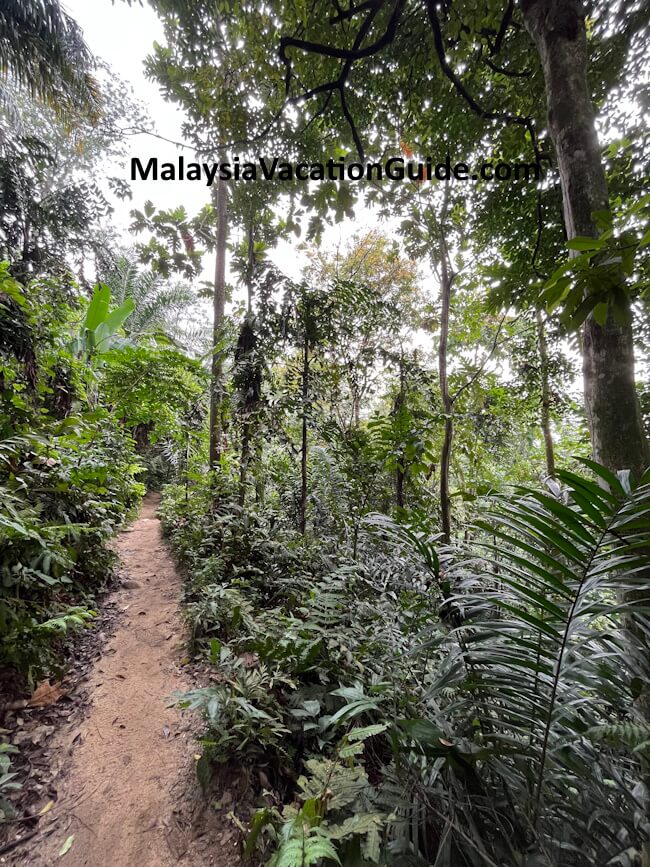 Typical Bukit Kiara Hiking Trail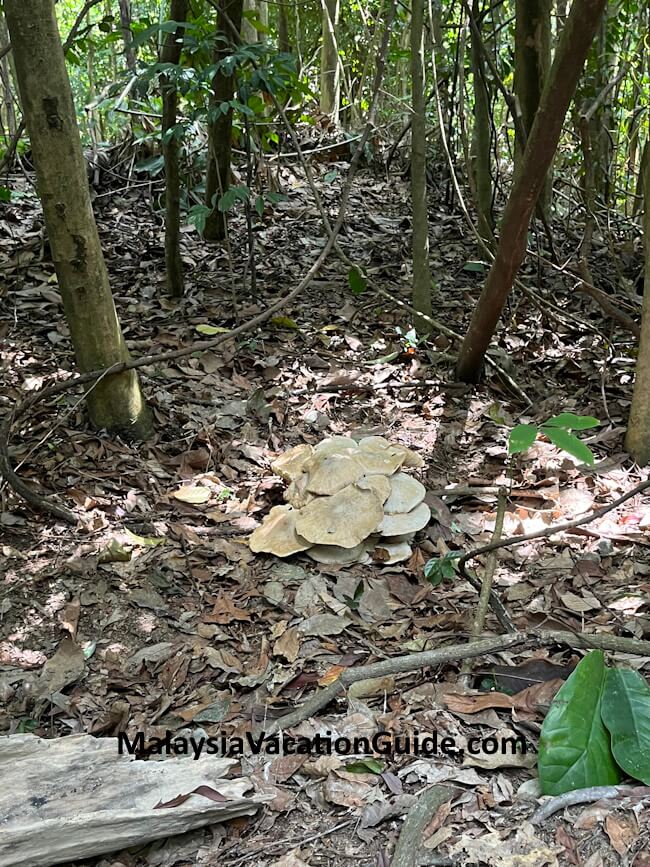 You may be able to see big mushroom here.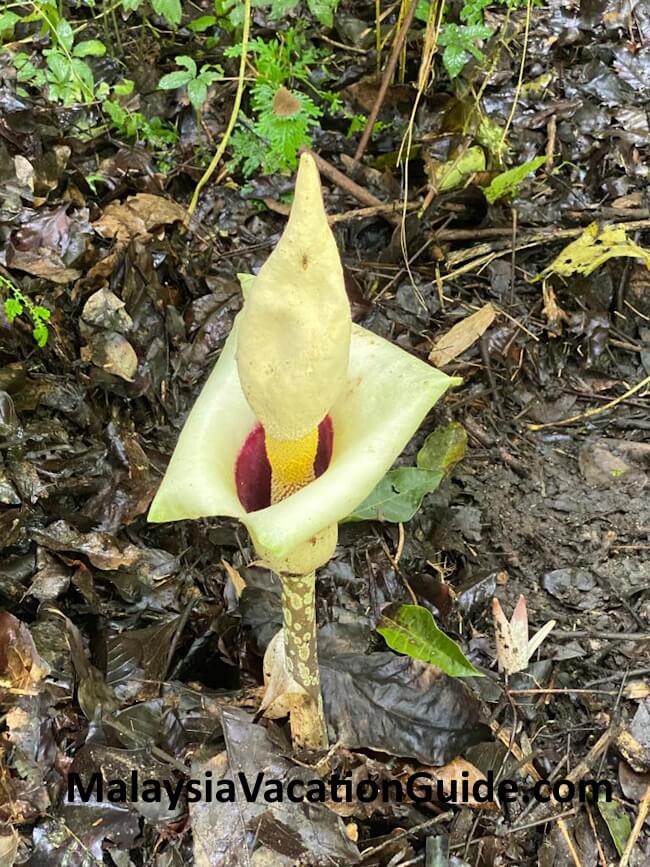 Flower at certain time of the year.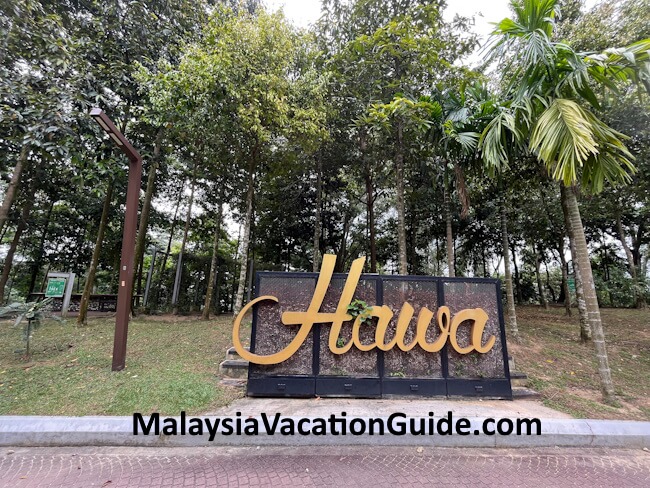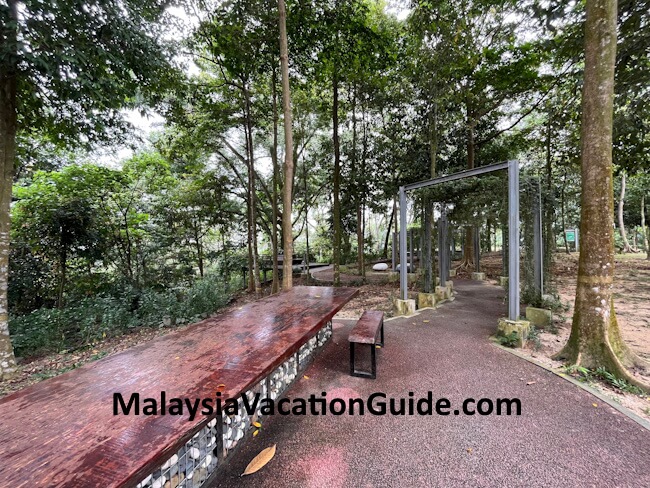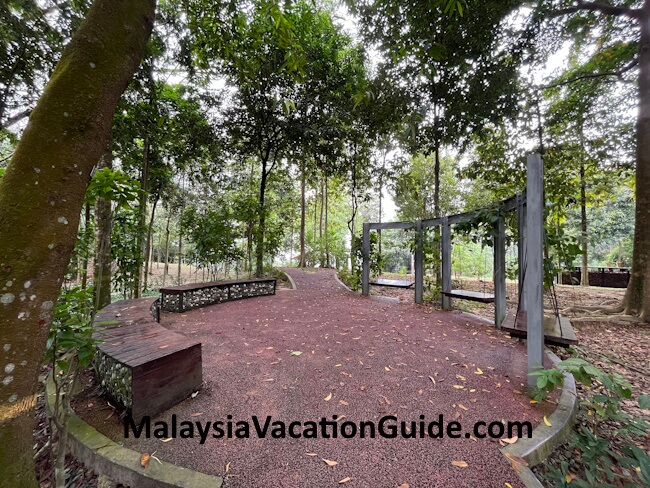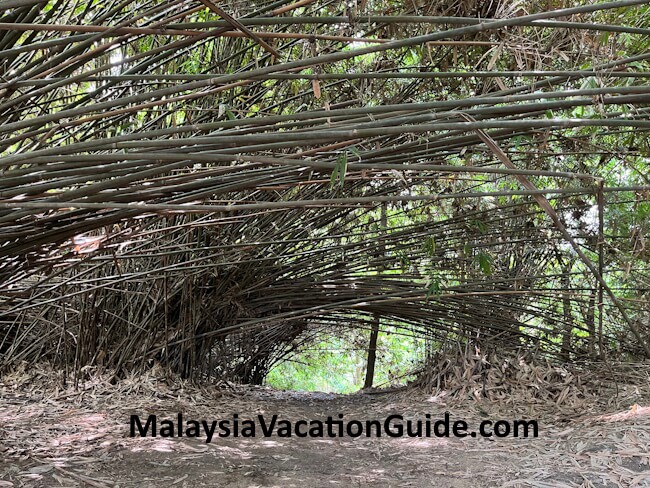 Some of the trails are easy and can be completed in about an hour, while others are more challenging and may take up to two hours or more. The trails below can be obtained from AllTrails Apps.
One of the easy trails is the Bukit Kiara Trail via Changkat Abang Haji Openg, which is about 4.5km and takes about 1 hour and 20 min.
Another easy trail is the Twin Peaks, Quill Killer, Rock Garden and Lower Carnival which covers a distance of about 4.7km and takes about 1 hour and 40 mins to complete.
The moderate trail Bukit Kiara Peak - Kiara Waterfall is about 5.6km and takes about 2 hours and 11 mins to complete.
You can also customize your own route by combining different trails or exploring the unmarked paths in the jungle but it is always advisable not to go alone.
Wear a proper hiking shoes. Remember to bring along enough water, cap and a walking stick as some trails can be quite steep. Applying insect repellent will help keep away the mosquitoes.