Tanjung Piai National Park
Tanjung Piai National Park covers an area of 926 ha out of which 526 ha consists of coastal mangroves and 400 ha of inter-tidal mudflats. Mudflats are soft and muddy soil where creatures such as crabs, mud skippers, cockles and lizards thrive.
Due to its vicinity to the sea, the mud has high salt content and low in oxygen levels. A few species of large water birds and shorebirds were seen to be feeding on these mudflats. These mangroves and mudflats are also critical to the survival of the migratory birds from the northern and southern hemisphere.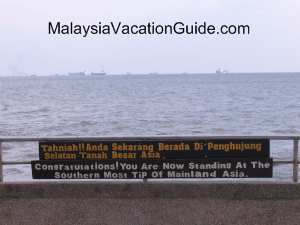 The platform of the southern most tip of mainland Asia for you to take a photo as a momento of your presence here.
The mangroves in this Park is of a Rhizophora apiculata-Bruguiera cylindrica type dominated coastal forest. These mangroves help to protect the shoreline as the hinterland nearby are all cultivated farmlands. They protect the shoreline from flooding and erosion, hence the preservation of plants, birds and other species.
Due to the increase in human activities and climate change, bunds were built along the coasts of this park to further protect the farmlands from the salt water. Those who are into the study of mangroves will be glad to know that there are over 20 mangrove plant species here.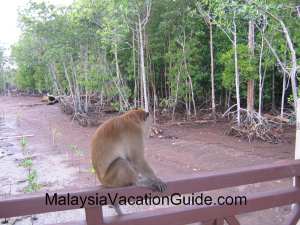 The mangrove trees thrive here.
Videos of Tanjung Piai National Park
The flora and fauna at the park by Johor Tourism.

See a short video of the structure overlooking Singapore.

This park was a approved by the Johor State Government as Johor National Park in 1997 and was opened to the public in 2002. It was also declared as a RAMSAR Site on 31 January 2003.
RAMSAR Site status means that the wetlands and their resources will be managed, conserve and wisely used according to the RAMSAR Convention on Wetlands of International Importance. It was gazetted as a Johor National Park on 26 Feb 2004.
This park is also popularly known as "The Southernmost Tip of Mainland Asia". It just means that if you want to know where the southernmost part of Asia is, it is located here. There is a structure built near the coast for you to take a photo as a momento that you have been here.
There are benches for you to sit and rest. It can be windy during certain time of the day. Do not expect this place to be as nice as other beaches as the water is muddy and dead trees are floating on certain stretch of the sea.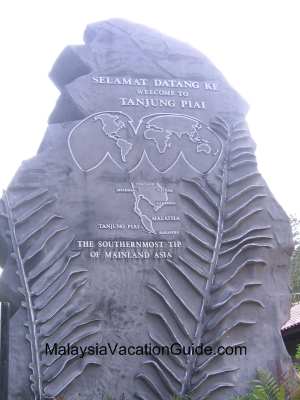 The gigantic structure with the map of the world.
The view of the sea at platform.
Animals and Birds
When Tanjung Piai National Park, look out for the dusky leaf monkeys, long-tailed macaques and migratory birds. The dusky leaf monkey is a very shy and secretive animal. They eat leaves and young leaves of Gedabu Sonneratia spp. tree.
There isn't much activity you can do here but having a curious mind will help you to understand more about the nature of mangroves and mudflats as you read the information provided here. There are observatory towers that you can climb for a better view of the coast and the surrounding areas.
Try to spot the birds such as the sandpiper, red shank, green shank, the stork, whimbrel and plover. Raptors such as Brahming Kite and Osprey eagle can be seen here as well.
Fying fox, otter and wild boar may be spotted here if you are patient enough to look out for them.
As the place can be quite hot and humid in the afternoon, bring along a bottle of water, a cap and sun-block lotion. Wear a good walking shoes as you will be walking along the man-made planks.
Plan to spend about an hour or so here and more if you are into learning mode.
Try to spot the shy dusky leaf monkey.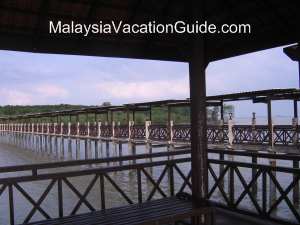 The 300m boardwalk enables you to reach out to the sea and enjoy the breeze.
Opening Hours
The opening hours is:
Tuesday to Friday - 9:00am to 5:00pm 
Saturday, Sunday and public holidays - 9:00am to 5:30pm 
Closed on Monday 

Entrance Fees:
Malaysians: RM5/adult and RM3/child. Senior citizen: RM3
Foreigners: RM10/adult and RM5/child. Senior citizen: RM5

Getting To Tanjung Piai
If you are coming from Kuala Lumpur, use the North South Expressway and exit at Simpang Renggam toll plaza. After that, go towards the direction of Pontian. There are signboards that will take you to Tanjung Piai.
If you are coming from Johor Bahru, take the Jalan Skudai Highway and go towards the direction of Pointian. You will reach Pekan Nenas. At Pekan Nenas, turn left at Sri Bunjan after which into Jalan Tenggayun. Follow the signages to the park.
Address:
Tanjung Piai Johor National Park
82030 Mukim Serkat, Pontian 
Johor, Malaysia 

Tel: +6 07 6969 712
The GPS Coordinates are: 01°16.00'N 103°30.46'E