KTM - Keretapi Tanah Melayu Train
KTM or Keretapi Tanah Melayu is the main rail operator of the train services in Peninsular Malaysia. Traveling by train is one of the most economical mode of travel though its services are not that regular compared to taking buses. However, the experience of traveling in train is different from buses in that the travel time is more predictable and you will go through some of the scenic tropical rainforest of Malaysia.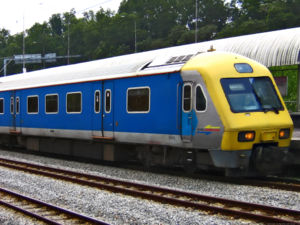 The KTM Train
In the olden days, the trains used during the colonial time was steam locomotives from Britain. Diesel engines were introduced in 1948 and in time, the steam locomotives were phased out in 1972.

Today, the diesel-powered trains or locomotives are still in used for the Intercity Train which services the major cities and towns of Peninsular Malaysia.
The electric-powered trains were first introduced in 1995 in Kuala Lumpur and the surrounding areas known as KTM Komuter. Today, this electric trains are being used to service 55 stations.
In August 2010, the faster electric-train service known as Electric Train Service was launched to reduce the traveling time between Ipoh and Kuala Lumpur. It travels at an average speed of 140km/hour hence the traveling time between Ipoh and Kuala Lumpur is now slightly more than 2 hours.
Electric Train Service (ETS)
This electrified double tracking route is part of the railway plan which will eventually replace most of the diesel trains. Construction of the Seremban-Gemas double-tracking and electrification project are currently in progress.

The trains are equipped with power socket to provide power to your electronic equipment such as notebook. An infotainment LED television is provided in all the coaches. Priority seats are also reserved for the elderly or special needs passengers.
Here are the schedule of the ETS services:
Komuter Train

 
The Komuter Train is a train service using electric trains to cater for the needs of commuters in Kuala Lumpur and the vicinity. It was first introduced in 1995 and is currently serving 55 stations.
There are 2 lines serviced by the trains in Klang Valley and surrounding areas. They are:
Batu Caves-Pulau Sebang/Tampin Route
Tanjung Malim-Port Klang Route
The frequency of the trains is 15 minutes during peak hours and 20 minutes during off-peak hours. All the coaches are among the latest in the KTMB and they are all fully air-conditioned.
Tickets can be purchased when you want to travel at all the stations.
Komuter Link Card

If you travel often using the Komuter Train, buy the Komuter Link Card will will enable you to get discounts up to 20% compared to cash payment.
Senior citizens, students and the disabled can also get 50% concession using the same card but registration is necessary with relevant documents presented. 
This card was launched on 24 Oct 2016 and is available for the public to purchase.
The discounts are applicable for Batu Caves-Sungai Gadut and Tanjung Malim-Port Klang routes covering 53 stations.
---
The northern region Komuter Train was introduced to cater for the needs of the northern states of Perlis, Kedah, Penang and Perak.
Northern Komuter Train Stations
You can now reach Padang Besar from Butterworth in 105 minutes. Covering a distance of 157km, this service started on 1 Jan 2016. Ticket prices start from RM1 to RM11.40 for adults with 50% discounts for senior citizens and children (4-12 years old). The train will stop at the following stations:

Butterworth-Padang Besar

Butterworth
Bukit Tengah
Bkt Mertajam
Tasek Gelugor
Sungai Petani
Gurun
Kobah
Alor Setar
Anak Bukit
Kodiang
Arau
Bukit Ketri
Padang Besar
Butterworth-Bukit Mertajam-Padang Rengas
Butterworth
Bukit Tengah
Bkt Mertajam
Simpang Ampat
Nibong Tebal
Parit Buntar
Bagan Serai
Kamunting
Taiping
Padang Rengas
See the northern Komuter Train Schedule here.
Intercity Train
The KTMB Intercity train service uses diesel trains hence they are slower compared to the ETS and Komuter. If you are not in a hurry to reach your destination and is on tight budget, this is another mode of transportation that you can try.
This train services ply the different cities and small towns throughout Peninsular Malaysia. The major cities serviced from JB Sentral to Tumpat. See the schedule here.
Padang Besar-Hatyai Shuttle Train Service

This train service started operation on 22 Dec 2015. Price is THB80 one-way and it takes only 55 minutes to reach Hatyai & vice versa.
Hatyai to Padang Besar
Departure(Thailand time) - 7:30am, Arrive Padang Besar - 8:25am
Departure (Thailand time) - 1:05pm, Arrive Padang Besar -2:00pm
Padang Besar to Hatyai
Departure(Thailand time) - 8:55am, Arrive Hatyai - 9:50am
Departure (Thailand time) - 2:40pm, Arrive Hatyai -3:35pm
JB Sentral-Pulai Sebang/Tampin Train Service
The earliest train from JB Sentral starts at 8:45am and the last train at 10:40pm. Here are the towns that this train will stop.
JB Sentral
Kempas Baru
Kulai
Layang-Layang
Renggam
Kluang

Chamek
Paloh
Bekok
Labis
Segamat
Gemas
Batang Melaka
Pulau Sebang/Tampin
Skypark Link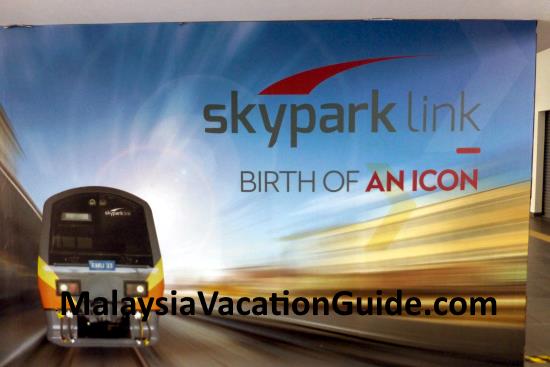 Use this train service to go to Subang Skypark Terminal.
KL Sentral, Subang Jaya and Skypark Terminal are the three stops that are serviced by this link.
KTM Tebrau Shuttle Service
If you are planing to go to Singapore from Johor using train, this new service by KTM plies between Johor Sentral, Johor and Woodlands, Singapore effective 1 July 2015. The  The total time taken for the journey is only 5 minutes hence the name "Shuttle". This service is provided to shortened the time of travel between Malaysia and Singapore. There are four coaches with a capacity to take 320 passengers per train.
Taking train is the best option compared to driving or taking bus during weekends or public holidays. If you know your travel date, book online 1 month in advance to ensure that you get the tickets as the train service is usually sold out during weekends and public holidays.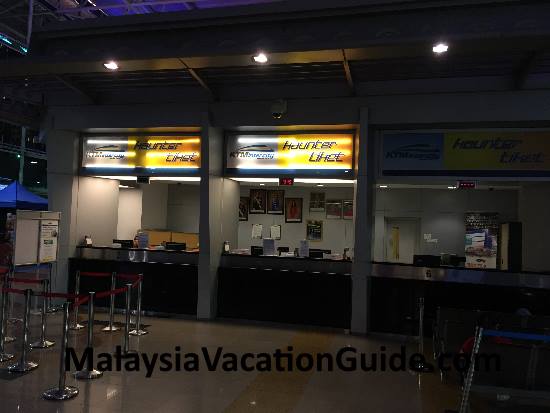 Train Ticketing Counter
The first train from JB Sentral is 5:00am and the last train is 10:45pm. If you start your journey from Malaysia, the price is RM5 per adult one way. Return ticket will cost RM10/adult. No charge for children below 4. There are 18 trains/day to Woodlands. If you purchase your ticket online for JB Sentral to Woodlands, you can use the printed ticket as it is as there is a scanner for you to scan the ticket before entering the station.

The first train from Woodlands is 8:30am and the last train is 11:45pm. If you start your journey from Singapore, the price is SGD5 per adult. Return ticket will be SGD10/adult. No charge for children below 4. There are 13 trains/day to Johor Sentral. If you purchase the ticket online for Woodlands to JB Sentral, you will need to change the ticket at the counter before you are allowed to go into the station.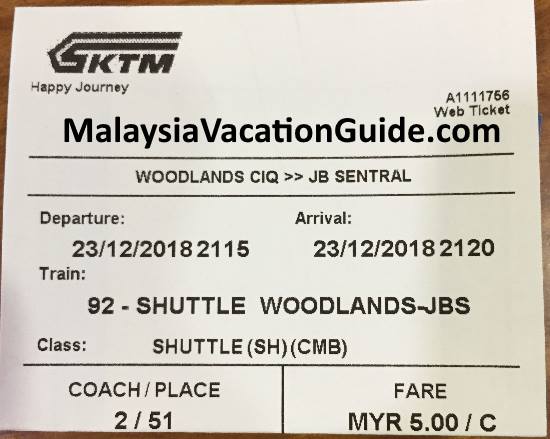 Woodlands-JB Sentral Shuttle Train KTM Redemption Ticket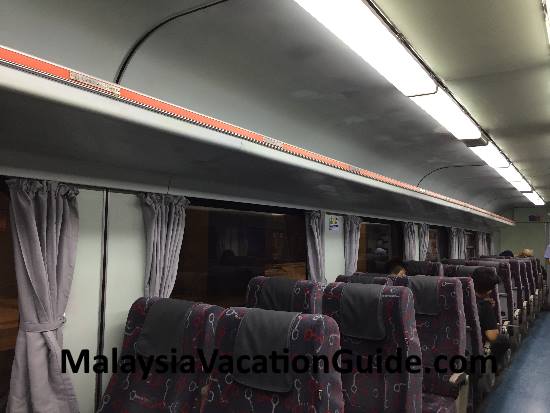 The Shuttle Train
If you cannot be there on time to take the scheduled train, you will have to purchase a new ticket. Hence allow more time to board the train if you have purchased in advance. Remember to present your passport when purchasing the ticket at the counter.

You can also purchase the tickets online at ktmb website.
Video Guide To Board The Train