Pulau Tioman
Pulau Tioman has been voted as one of the most beautiful island in the world. The island is situated 56 km off the coast of Pahang in the South China Sea. The main island spans 38 km in length and 19 km in width at its widest point. There are over 70km of white sandy beaches on this island and tourism is the main economy of the island.
As the North Easterly wind brings torrential showers from November to February, the best time to visit this island is from March to October. Visibility of the water during this time range from 20 to 30 metres.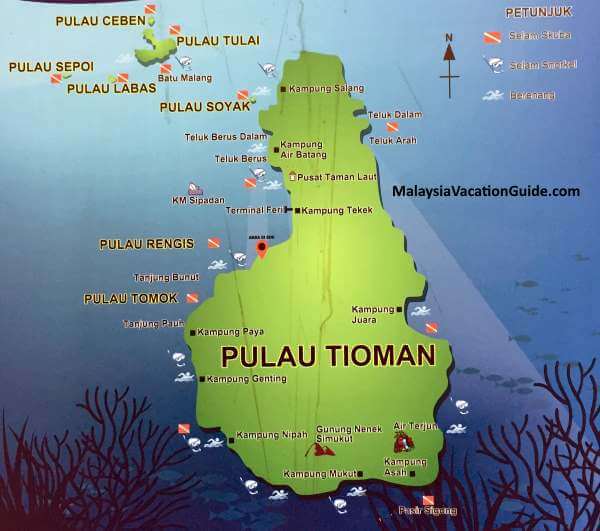 Being gazetted as a Marine Park in 1995, you will be able to see the array of marine life as you go snorkelling or scuba diving. Notice the barracudas, the Napoleon fish, turtles, stingrays, murray eels, bump head parrot fish and the corals that surround this place. If you are fortunate, you may be able to spot the dugong or seacow, a rare marine mammal south of the archipelago.

The Berjaya Tioman, Golf and Spa Resort is located at Tekek village. It is the island's only international standard resort. Golfers will be glad to know that there is the 18 hole international standard golf course located within this resort.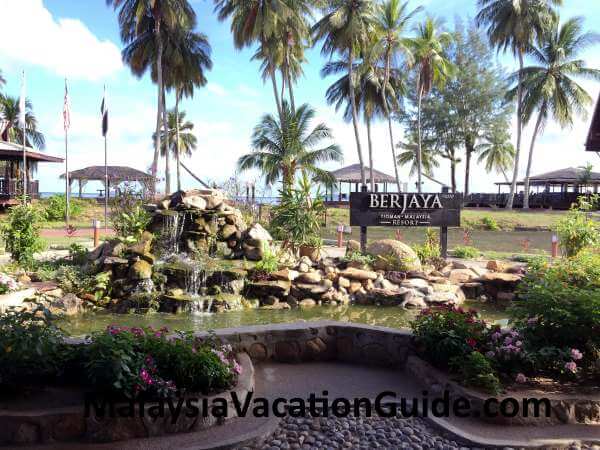 Berjaya Resorts Hotel is back in operation after 2 years of halt due to the pandemic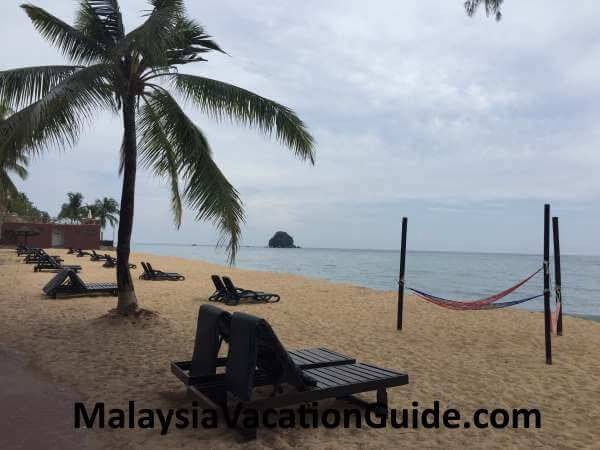 Berjaya Resorts Beach
Things to do at Pulau Tioman
1. Scuba Diving and Snorkelling
Tioman is the largest island that formed the Tioman Marine Park. Islands which are rich with corals and are suitable for snorkelling and diving sites include Pulau Tulai, Pulau Rengis, Pulau Chebeh, Pulau Sepoi, Pulau Labas, Pulau Soyak, Pulau Tomok, Pulau  Jahat and Pulau Tokong Bahara.
In total, there are over 20 diving and snorkelling locations on this marine park. The water here is crystal clear with visibility that can go as far as 30m on a sunny day.
You can also snorkel at the beach at Tioman Marine Park which is located at Kampung Tekek.
There are many PADI centres on the main island. You will be able to find one near where you stay as this is one of the main activity here.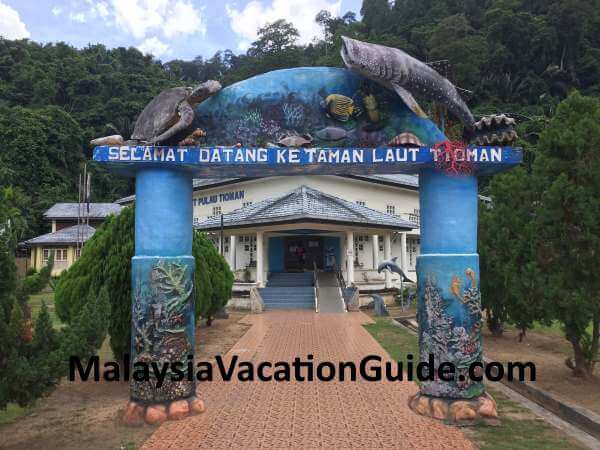 Tioman Marine Park
Snorkelling at Tioman Marine Park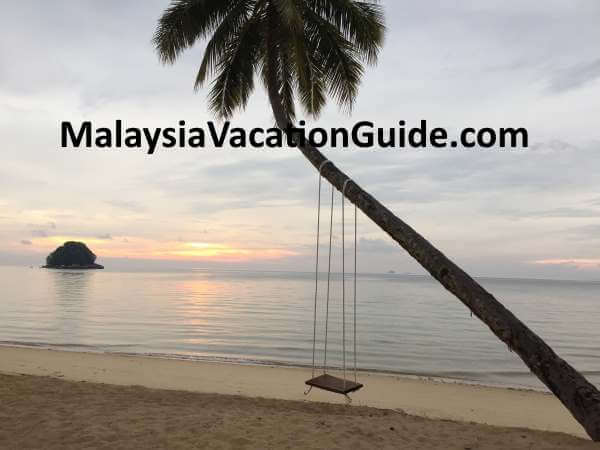 Pulau Rengis at the background taken from Berjaya Resorts beach.
Coral Reef and Sea Creatures of Pulau Tioman

See the video of the main beach of Tioman Island with its coral reef and sea creatures.

Hawksbill Turtle 
Be fascinated with this video of HawksBill Turtle in Tioman Island.
2. Tioman Marine Park Information Centre
Visit this information centre and learn about the marine life around this island. There's a children's corner too. This centre has toilet and bathing facilities.
Operation hours:
Saturday to Thursday: 8am-1pm, 2pm-5pm
Friday: 8am-12:15pm, 2:45pm-5pm
More information can be obtained by contacting +609-4140 532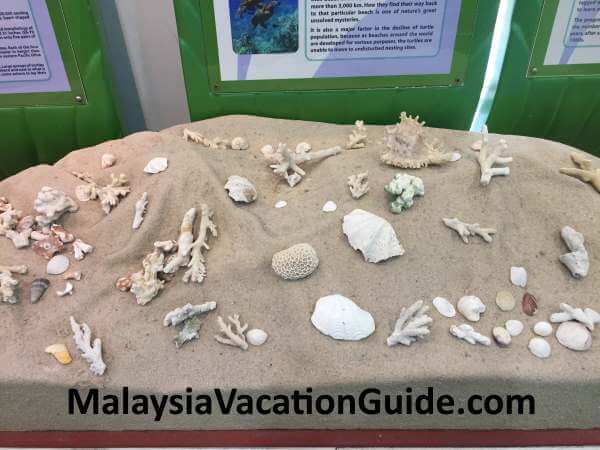 Exhibits at Taman Laut Tioman
More coral specimen
3. Jungle Trekking, Waterfalls & Mountain Climbing
Mountain climbing and jungle trekking are some of the activities that you can do over here besides water-based activities. Discover the Asah Waterfall 30 minutes from Mukut, the Lubuk Tija Waterfall approximately 30 minutes from Juara village. Ali's Waterfall is a smaller waterfall and only a 5 minutes away from the main road.
You can trek from Tekek to Juara, a distance of 7km, which will take you about 2-3 hours one way. Get a guide if you are not familiar with the terrain.
The Mukut-Asah Waterfalls route covers a distance of 2km and takes about an hour.
The Mukut-Twin Peaks will take you 2 hours, a distance of 4km. A scenic view along the way.
The Air Batang-Salang is a 8km route that will take you 4 hours to trek. Plenty of flora and fauna as well as scenic view along the way.
The highest peak on the island is Gunung Kajang at 1,030m. It will take you about 6 hours to conquer this mountain. A total return journey will take you around 10 hours to complete. A guide is a must for this hike.
Gunung Nenek Semukut is also known as Twin Peaks and only experienced climbers are advised to go due to the steeper ascent. It height is 690m.
Along the way, try to spot and take pictures of monitor lizards, long-tailed macaque, black giant squirrels, mousedeer, porcupine, snakes, birds and the varieties of flora in this tropical forest.
Entrance to Ali's Waterfall
The smaller Ali's Waterfall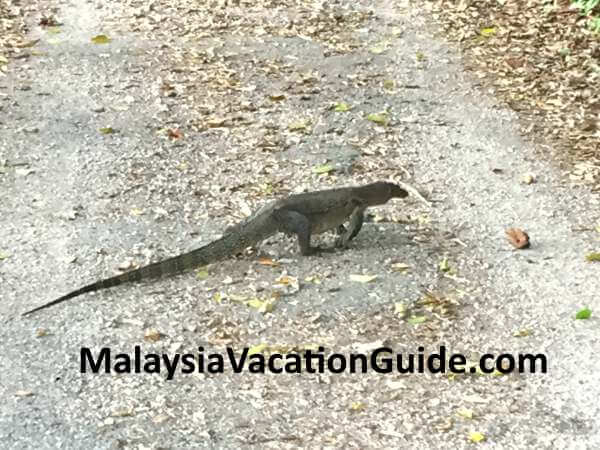 Monitor Lizard
4. Volunteer at Juara Turtle Project
There is a turtle conservation centre at Juara Beach that helps to preserve turtle nesting sites and their surrounding ecosystems. Known as Juara Turtle Project or JTP, this centre accepts volunteers to help as well as being educated about the conservation efforts. 
Some of the volunteer activities.
Beach Patrol
Relocating turtle eggs to the hatchery
Releasing sea turtle hatchlings
Giving talks to visitors at the centre
Beach clean up
Basic repair work of tools and equipment
Email: contact@juaraturtleproject.com, Tel: +609 419 3244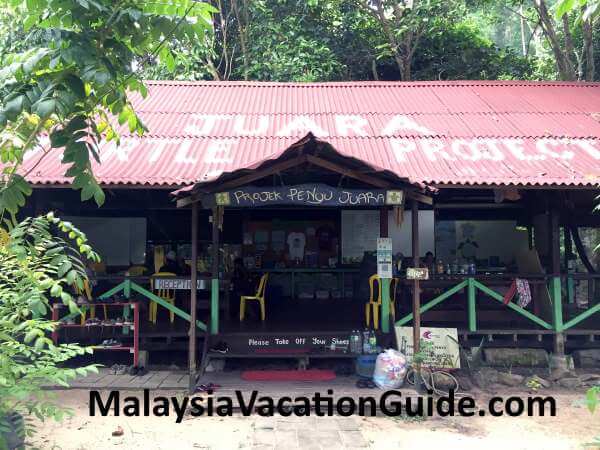 Juara Turtle Project
Turtles eggs that are relocated and caged to prevent theft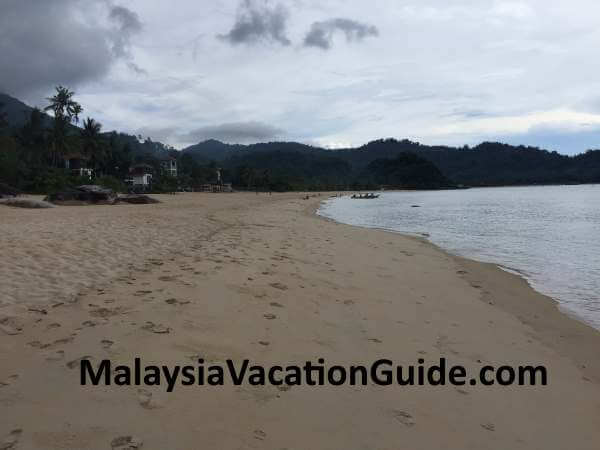 Juara Beach
Barat Tioman Hotel is located just beside the Juara Turtle Project centre
5. See the Flying Fox
It will be interesting to see the large numbers of flying fox resting on the trees at Kampung Tekek, opposite Maahad Tahfiz mosque. Spend about 30 minutes here and learn more about these creatures.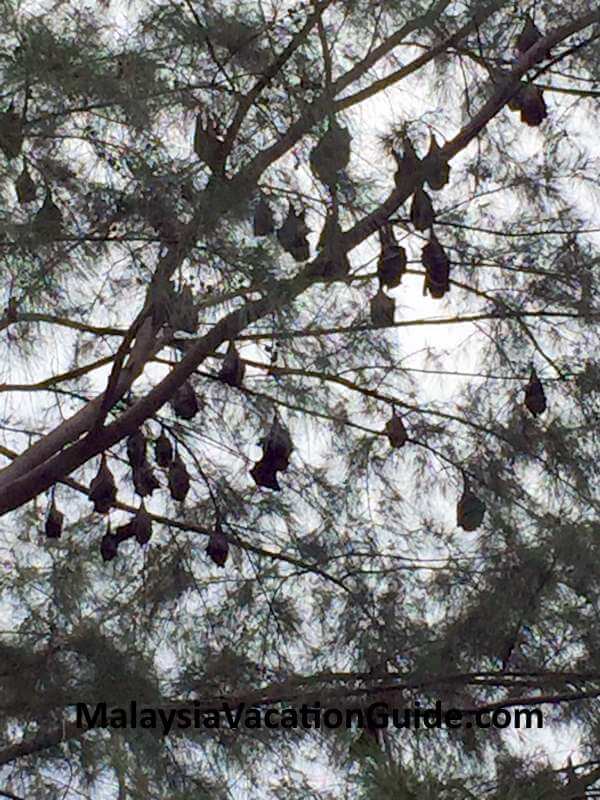 Pulau Tioman Flying Fox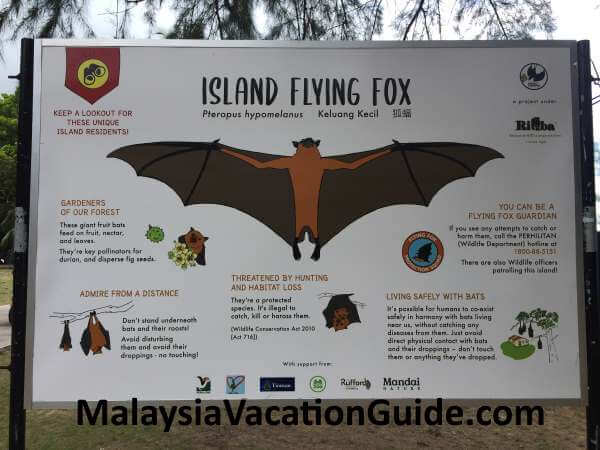 Pulau Tioman Flying Fox Information
6. Explore the Villages
There are many villages that you can explore. Kampung Tekek is the biggest town centre. This village is the main entry point to Tioman by air or sea. Main facilities such as police station, dive centres, school, chalets, restaurants, duty free shop, moneychanger and souvenir shops are located here.
Salang is located at the northwest of the main island. Air Batang or ABC village is located near the Marine Park Centre, south of Kampung Salang.
Genting village has resorts that are located at the hills. Paya village is located 30 minutes walk from Genting village. Both villages are located at the southwest of the island.
If you want to climb Twin Peaks mountain, the entry point is via Kampung Mukut which is located at the south of the island.
Juara Village is located at the east coast of the island. This is the entry point to climb Mount Kajang. Accessing this village is via boat or four-wheel vehicles.
Kampung Salang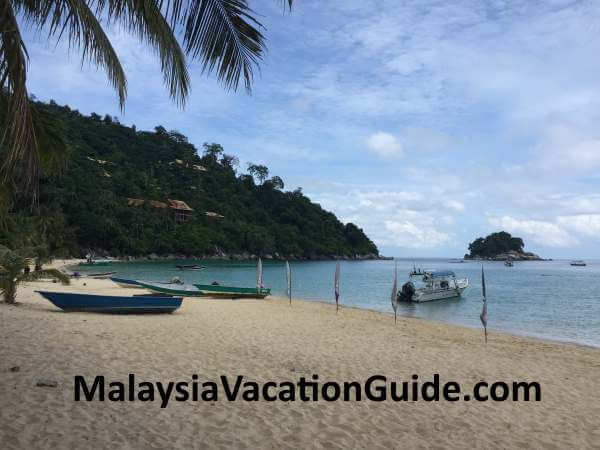 Salang Beach
Happy Lobster Restaurant is located at Kampung Tekek and serves local food.
7. Fishing
Get your fishing equipment ready and hire a boat to get your catch of the day. You will have to go about 3km from the coast to fish as this is a marine park. You may catch the red snapper, cuttlefish, sea bass, mackeral, prawns, lobsters or even crabs.
8. Duty Free Shop
Get some souvenirs and gifts at the duty free shop at Kampung Tekek.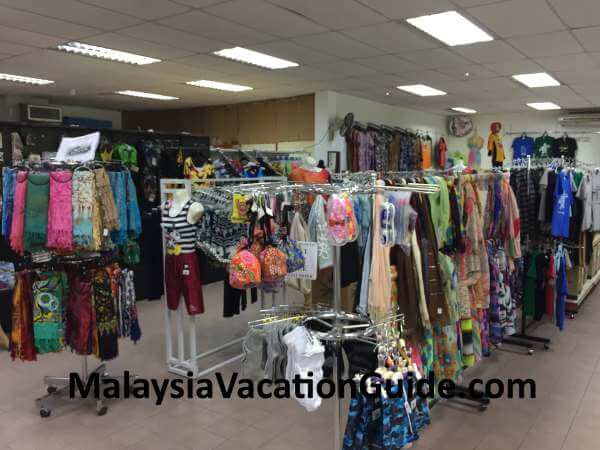 Pulau Tioman Duty Free Shop
Getting to Pulau Tioman
The most economical way to get to the island is by ferry. You can take the ferry operated by Bluewater or Cataferry. Booking online will ensure that you got a place as the ferries are usually in high demand during the weekends or public holidays.
Bluewater operates from Mersing, Johor and Tanjung Gemok (Teluk Gading), Pahang. For Bluewater, ticket price is RM50 per person one way.
Cataferry only operates from Mersing and ticket price varies depending on when you book it.
For Malaysians, a conservation fee of RM5/adult and RM2/child will be collected. Senior citizen and OKU fee is RM2/person.
Foreigners fee is RM30/adult and RM15/child. Senior citizen and OKU fee is RM15/person.
The journey usually takes about 2-2.5 hours. 
Find out which village is your hotel located and book accordingly. Once you are on the island, you can hire a bicycle, a motorcycle, boat or book a taxi(only at Tekek) to move around.
Cataferry Ferry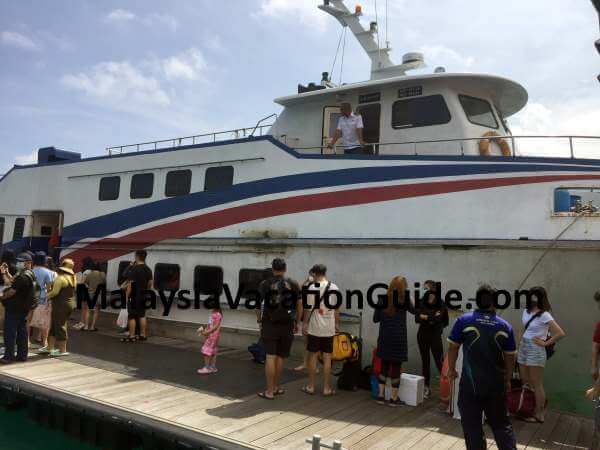 Bluewater ferry
The other way to get here is via SKS Airways which operates from Subang Skypark Terminal. One-way ticket starts from RM200. 
Subang Skypark Terminal
If you plan to drive to Mersing and depart from Mersing Harbour Centre, you can park your car at the jetty which costs RM15/day.
The other alternative is to park at the hotel where you stay for a parking fees. MG Hotel offers such facility where you can park your car there. The price is RM8/day. The hotel will transport you to and fro the jetty.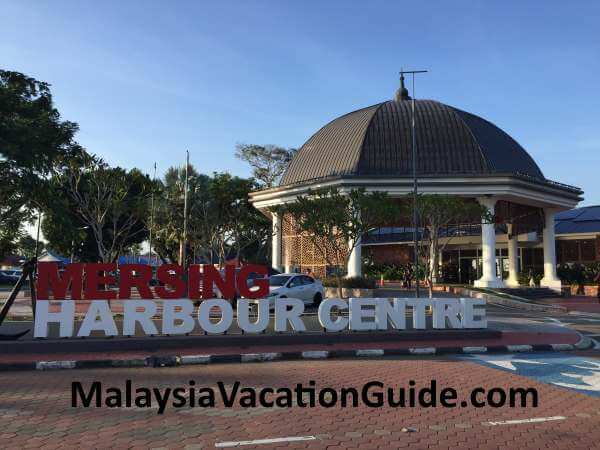 Get your tickets that you have booked online or buy at the counters at Mersing Harbour Centre
Mersing Waterfront near the jetty
MG Hotel in Mersing is about 5 minutes away from the jetty
Related Link
Read other information on Tioman Island.