Kuala Woh Recreational Forest
Kuala Woh Recreational Forest in Tapah is known as "Hutan Lipur Kuala Woh" in Bahasa Melayu and is a popular camp site and picnic areas for the locals during the weekends and public holidays.
It is located about 10km away from the Tapah North-South Highway Toll and was officially opened on 27 September 1983 by the the late Sultan Idris Shah Ibni Almarhum Sultan Iskandar Shah who was the Sultan of Perak at that time.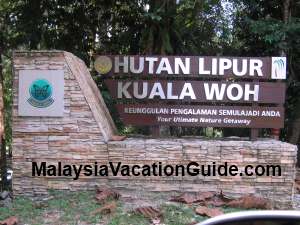 The entrance to the park.
It is also known as "Batu Tujuh" picnic site. If you are on your way to Cameron Highlands from Tapah, you may want to consider stopping by this place and check it out in case you want to do your own camping, picnic or even scaling Gunung Batu Puteh in the near future. The Sungai Batang Padang river flows through this recreational forest throughout the year.
There are many big stones along the bank of this river and some parts of the banks have hot springs with the heat source coming from the stones at the base of the river.
There is a hanging bridge across the river but is currently undergoing maintenance work as of June 2012.
This forest is also rich with "Nyatoh", "Meranti", "Merbau" and "Keruing" trees hence this place is also a good educational ground if you want to learn more about the tropical rainforest of Malaysia. Herbalists and botanists will also appreciate this forest as medicinal herbs such as "Tongkat Ali" and "Kacip Fatimah" are also found here.
"Tongkat Ali" or its scientific name Eurycoma Longifolia can grow up to 10m and is used to treat Malaria. It is also believed to have anti-tumour and anti-oxidant properties. In the market, it is usually taken together with coffee or in the form of capsules.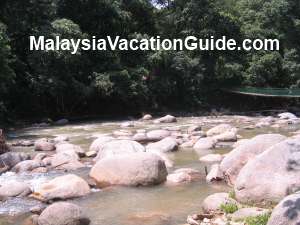 The Batang Padang River flows through this forest.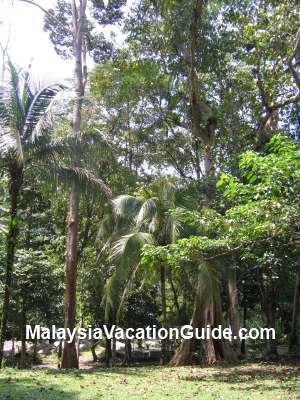 The vast diversity of plants for you to discover.
Facilities


There are some basic facilities that you can use. Toilets and gazebos are available for your use. However, there are still room for improvement that the authorities can look into to ensure cleanliness of these facilities are always at their highest level.
If you are coming in big groups for camping, there are chalets, camp sites, halls and fields that you can use during your time here. However, you will need to book them from the District Forestry Office. The rates as of June 2012 are as below:

Halls


Open Hall 1 (75 feet by 40 feet) that can accommodate up to 150 persons. Open Hall 2 (30 feet by 11 feet) that can accommodate up to 35 persons
The rate is RM200 per day.

Camping Ground 


There are 39 camping ground measuring 10 feet by 10 feet for each site.
The rate is RM5/site per day for the public and RM2/site per day for students.

Chalets


Single Chalet - RM40/day
Double Chalet - RM40/day
A-Frame Chalet - RM20/day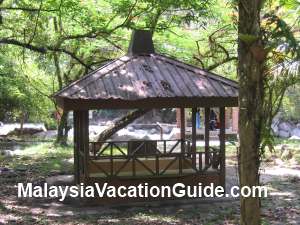 There are some gazebos that you can use for your picnic by the banks of the river.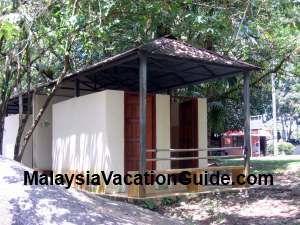 Basic restrooms are available here.

Permits


The permit cost is RM10/person to enter this forest reserve for the purpose of expedition, filming and other activities. Commercial activities such as filming and advertising permit is RM200/day.
Bookings and other information can be obtained by contacting Forestry Office, South Perak at Tel: +6 05 4011 216.

Video
Climbing Gunung Batu Putih


If you would like to climb Mount Batu Putih which is 2,145m above sea level, get a tourist guide and the necessary permit to scale this mountain which is the eighth highest in Malaysia and the third highest in Perak.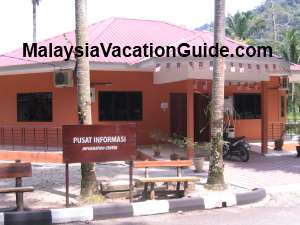 Find more information about this park from the information centre during office hours.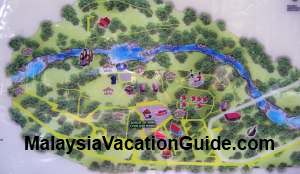 There is a simple map guide of the Kuala Woh Recreational Forest near the information centre. A big parking bays are also available.
Operation Hours & Entrance Fees


The Kuala Woh Recreational Forest is open daily from 7am to 6pm. No entrance fee is required if you are just a day tripper and do not intend to camp here.

Getting Here


If you are coming from Kuala Lumpur, the best way to come here is by taking the North-South Expressway and exit at Tapah Toll. After the toll, turn left at the traffic light and follow the road to Cameron Highlands. Follow the signage and you will then be prompted to turn right. The GPS coordinates of this place is N04° 14.657' E101° 19.317.