Pulau Langkawi
Pulau Langkawi consists of a group of 99 islands located off the north west coast of Peninsular Malaysia. The biggest island is called Langkawi Island, approximately 30 km from Kuala Perlis, Perlis and 51 km from Kuala Kedah, Kedah. The island is a duty free island where goods such as perfumes, cigarattes, liquor, cosmetics, leather wear and confectionery are sold without duty imposed by the government.
Langkawi Mall, Langkawi Fair Shopping Complex and Jetty Point Duty Free Complex are some of the shopping complexes that offer lots of goods for your selection.
Good beaches that you can explore and swim include Kok Beach, Cenang Beach, Tengah Beach and Burau Bay Beach which are all located at the west coast of the main island. Go round the island of Dayang Bunting and experience the cool breeze and breathtaking view of Langkawi.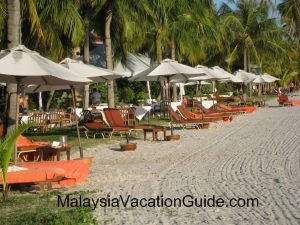 The beautiful Pantai Cenang.
If you are for snorkelling or diving, go to Pulau Payar Marine Park which is located 35 km south of Langkawi. This island is an ideal place to enjoy the marine life and vegetation that are protected by the marine law of Malaysia until today.
You can go to this island for a day trip by boarding a speed boat from Kuah Jetty at Langkawi Island. It takes approximately 1 hour to reach this marine park. Admission fee of RM5/adult and RM2.50/child is charged.
Attractions In Langkawi
There are many places of attractions in Langkawi that you can visit. Visit the Eagle Square, Ayer Hangat Village (Warm Water Village), Kota Mahsuri (Memorial in honour of Mahsuri) and Oriental Village. Try Langkawi Cable Car and see the spectacular view of the area.

If you are for fishes but are not able to find the time to do your own diving or snorkelling, visit Underwater World Langkawi at Cenang Beach and experience the more than 5,000 types of aquatic life.
Read a more detailed description of each attraction below:


Pantai Cenang 
Remember to drop by and visit Cenang Beach, one of the popular beaches in Langkawi. Read about this beach and see the photos here. 


Kuah Town 
Drop by the town of Kuah in Langkawi and shop in the many duty free shops. Enjoy the seafood served in many restaurants here. 


Langkawi Underwater World
Visit the largest aquaria in Malaysia at Pulau Langkawi. See the various marine life here.


Langkawi Crocodile Farm
Nearly 1,000 crocodiles are being showcased in different ponds here. There are the Periodical Pond, the Breeding Pond, the Bridge Pond, the Feeding Pond, the Jumping Pond and the Show Pond.


Langkawi Oriental Village
Visit Langkawi Oriental Village and shop at the duty free shops, dine and take a stroll at the beautiful setting of a "village" here.


Langkawi Cable Car
See the scenic view of the many islands here by going on the cable cars.


Pulau Dayang Bunting
Go island hopping and see this beautiful island. Go paddling on the lake and learn the legend that surrounds this island.


Pulau Beras Basah
Most tour agents "island hopping" package tour goes to this secluded island.


Pulau Singa Besar
Most tour agents "island hopping" package tour also goes to this island.


Pulau Payar
Go snorkelling and scuba diving on the only marine park at the west coast of Peninsular Malaysia.


Mahsuri Mausoleum
This mausoleum was built after the death of Mahsuri binti Pandak Mayah, an ordinary lady who was said to have a great influence on the fate on Langkawi.


Spa In Langkawi
Rejuvenate your tired body at the many spas in Langkawi.


Laman Padi Langkawi
Visit this eco-tourism outing and discover the traditional ways of paddy planting and harventing. 


Langkawi International Airport
This modern international airport located at Padang Matsirat and serves more than 2.5 million passengers annually.
A Documentary Introduction to Pulau Langkawi
See an introduction of the video of Pulau Langkawi, a duty free island of Peninsular Malaysia and the many attractions the island has to offer you..
Getting To Langkawi
Check out how to get to Langkawi here.