Kepong Botanical Gardens
Kepong Botanical Gardens is a part of Forest Research Institute Malaysia (FRIM) and is the park that the public go to for a jog, a walk, skywalk, bird watching or just simply to relax by being at the tropical rainforest. This park operates from 7am-7pm (Saturday, Sunday and public holidays) and 7:30am-7pm(Monday-Thursday). Take note that this park is closed on Fridays.
View of Kepong Botanical Gardens from Tower 5 of the Skywalk
The lake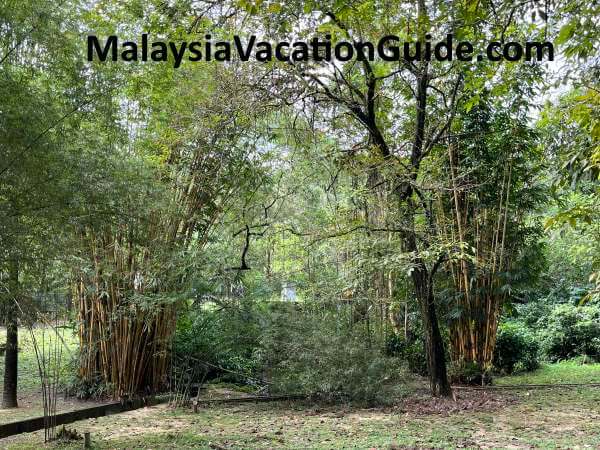 Bamboo plants at the park
There are many benches to sit beside the lake
This is one of the many unique trees at the park
Good landscaping and walkways at the park
Learn more about the ginger family at Ginger Garden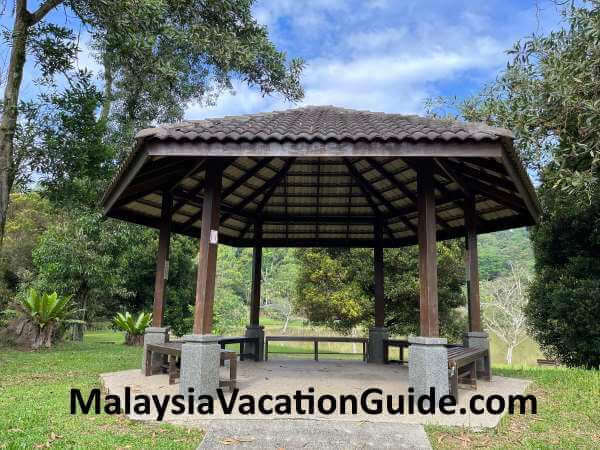 Well maintained gazebo for picnic or simply to sit down and relax
Plan to spend about 1-2 hours here. As the paths along the lake are not so shady, try to go in the morning or evening as the weather can be hot and humid. Having a bottle of water and a cap will help too.
There are proper restrooms facility for your use.
Entrance fee to the park is RM5/car for parking, RM1/person for Malaysian and RM5/person for foreigner.
Address: Jalan E 4/15, Taman Ehsan, 52100 Kuala Lumpur, Selangor
Tel: +603-6279 7000
Skywalk At Kepong Botanical Gardens
The Skywalk is located here and operates from 8:30am-3:30pm from Saturday to Thursday. It is closed every Friday. The highest point of the skywalk is 141m above sea level. There are 11 towers and 8 bridges with heights ranging from 18m to 50m with a total walkway length of 250m. 
Tower 5 is the highest tower at 50m. You will need to pay an extra fee to access this tower besides the normal entrance fee. You will be able to see a panoramic view of the surrounding areas. Look out for durian trees as you take a slow walk on this structure.
Be careful as the steps can be slippery especially when they are wet. Make sure you wear a pair of sports shoes with good grip. Bring along a cap and a bottle of water as the weather is usually hot and humid here.
Kuala Lumpur city centre can be seen from here. Try to look for Petronas Twin Towers, Kuala Lumpur Tower and Merdeka 118 Tower.
The Skywalk structure from a distance
The Skywalk metal structure
The start of the Skywalk. Make sure you wear a suitable sports shoes with good grip when climbing the steps
See the treetops while walking here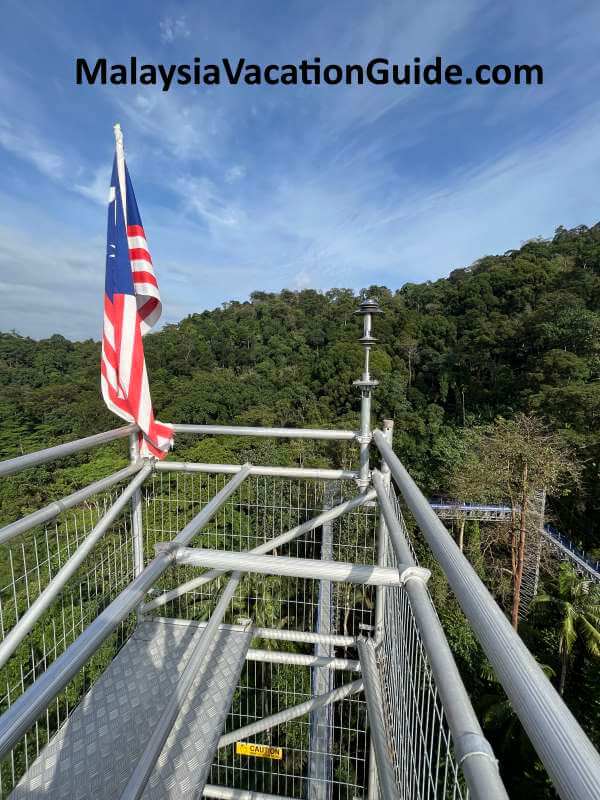 The Malaysia Flag on top of Tower 5, the highest point of the Skywalk
The view of Kuala Lumpur City from Tower 5. Prominent landmarks include Petronas Twin Towers, KL Tower and Merdeka 118 Tower
View From Tower 5


Entrance Fees To The Skywalk
Students from 7-17 years old: RM8 with MyKad, RM25 without MyKad

Staff of FRIM: RM8
Senior Citizens above 60 years old: RM10 with MyKad, RM40 without MyKad
Adult: RM15 with MyKad, RM40 without MyKad
Additional Charge for Tower 5: RM5 with MyKad, RM10 without MyKad. Tower 5 is only for visitors who are 13 years old and above.
If you are coming in groups of 10 or more, you will need to book in advance at the Visitor Information Counter. Call +6013-6279 7649 or email: frim_enquiry@frim.gov.my