Taman Negara
Taman Negara is the Malay language for National Park and is the oldest national park in Malaysia with an area of 4,343 square km.
It was established in 1939 during the colonial time and was then known as King George V National Park. It got its new name after Malaya got her independence from the British on 31 August 1957. This tropical rain forest is believed to be more than 130 million years old.
Kuala Tahan Entrance to Taman Negara
If you are into eco-adventure and would like to go away from the crowded places in the cities, this is the place to go. You will find refreshing air, waterfalls, clean rivers, birds, fishes, mammals, reptiles and insects that you would not have seen in the cities. You will be fortunate if you could spot the Indochinese Tiger, the elephants, the seladangs or the Sumatran Rhinoceros.
Signages near the park ranger's office at Taman Negara
The huge park is their place of refuge and usually the presence of human beings will drive them further away into the unexplored jungle. Family with children will enjoy this place as there are many activities that you can do. The more adventurous family may want to camp at the various campsite here.

For those who are into mountain climbing, you may want to consider climbing Gunung Tahan, the highest mountain in Peninsular Malaysia with a height of 2,187 metre or 7,175 feet. Allocate about 1 week if you want to scale the peak of the mountain and getting a guide at the park is a must for safety reason.
Flora
The plants in Taman Negara lowland dipterocarp forest are dominated by the dipterocarpaceae tree family. A study showed that Malaysia has 400 of the world's 550 species. There are different type of plants at different elevation of the park.
Tall canopy type of trees reduce in number as you go up the mountain. Take some time to identify the flora here. It will enhance your knowledge of the plant world even if you are not into the study of plants.
Buttressed Tualaing or Koompassia Excelsa, the third tallest species in the world.
Oaks tree also known as Fagaceae spp.
Conifers with species such as Dacrydium spp and Agathis spp.
Epiphytic Orchids.
Ferns
Lichens and mosses at higher elevation where the plants absorbed the water from the moisture of the air.

Mammals and Reptiles
There are many animals in the park. The best way to sight them is to stay at the "hides", a tall wooden tower during the night. See how many of the following animals you can spot while you are here.
Seladang or Malayan Gaur: a type of wild cattle.
Asian Elephants: it will be difficult to spot them as they are usually found deep in the jungle.
Sumatran Rhinoceros: this endangered rhino has been living here for a long time.
Leopard.
Mouse deer.
Tapirs.
Black Panther.
Civets
Wild Boars
Martens.
Porcupines.
Anteaters.
Long-tailed macaques, leaf monkeys and siamang: you will most probably spot them as you go along the various trails in the jungle.
Reptiles such as snakes and lizards can be spotted as well.
Birds
Spend some time to study the various birds of Malaysia before coming here. You will be glad that you did as there are many beautiful and rare species of birds that are found in abundance in Taman Negara. A study showed that there are more than 300 species of birds here. Some of them include:
Hornbills, the medium-sized colorful birds.
Kingfishers.
Drangos.
Eagles.
Bluethroated bee-eaters.
Masked finfoot

Insects
Take your macro-lens camera and shoot some of the insects here.
Butterflies.
Centipedes.
Red ants: most of them are big and you will not miss them.
Milipedes: look out for them as you walk along the trails. Most of them are huge in size.
Rhinoceros beetles.
Stag beetles.
Stick insects that look like leaves.
Moths of different sizes.
Taman Negara Trails

Choose and explore some of the trails with different levels of difficulty. The trails nearer to the resort are simpler and a guide is not neccessary. However, it is always advisable to get a guide for longer and more difficult trails.
Negeram Trail This trail is about 4.1km and you will be required to cross the river.
Palas Trail This trail is about 1.6km and is fairly flat in nature.
Lubuk Simpon Trail This is the most popular trail and is about 10 minutes walk away from Kuala Tahan.
Boardwalks to protect the forest.
Recreational Activities
There are plenty of activities that you can do while in Taman Negara. Here are some of them:
1. Rapid Shooting
Move quickly on the boat through the Tembeling River where the water flows very quickly through the rocks. There are 7 major rapids that you will experience. The names of the rapids are Nusa, Dua, Abai, Teras Dedari, Panjang and Terenggan.
You will need to book a boat to do this. Be prepared to get wet doing this. Ensure that you have a waterproof bag to keep your belongings.
Boat at Kuala Tahan River
2. Trip to Lata Berkoh
Go for a 8km leisurely ride from Kuala Tahan to Lata Berkoh. The typical schedule of the organized trip usually involves visiting the "Kelah Sanctuary" where the most expensive "Kelah" or Mahseer fish is found here. You can feed the fish here by buying the food from the centre.
Along the way, you will stop by to see the Tualang Tree (Koompassia excelsa). The tree is believed to be more than a few hundred years in existence.
The boat will stop you at a location near the river for you to do a 30 minutes hike to Lata Berkoh. Along the way, you can swim at the Tahan River. Look out for the plants and trees as you hike along this trail. The Lata Berkoh cascade of waterfall is not suitable for swimming as it is quite deep and the water is fast.
If you are fit and would like to hike to Lata Berkoh instead of taking the boat, you can engage a guide to go there.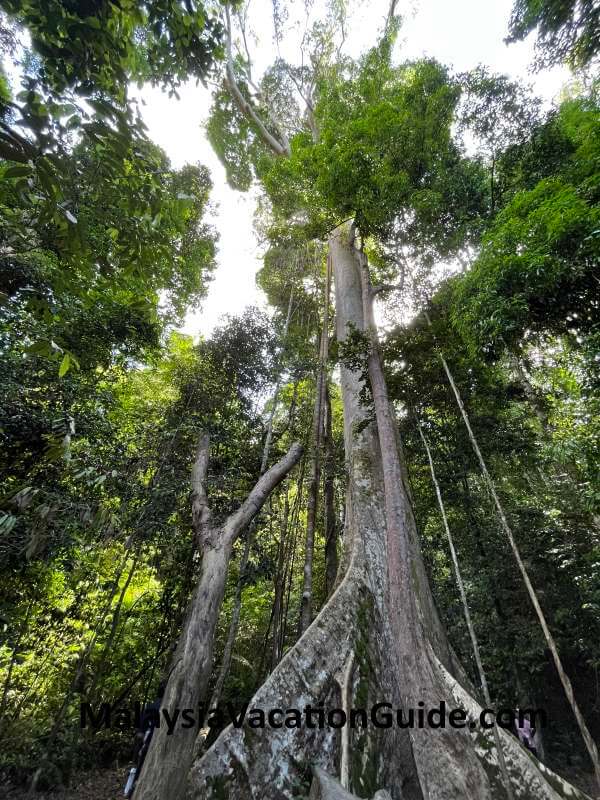 The huge and tall Taualang tree along Tahan River
Yellow mushroom on the trail to Lata Berkoh
The calm water on the way to Lata Berkoh is suitable for a swim.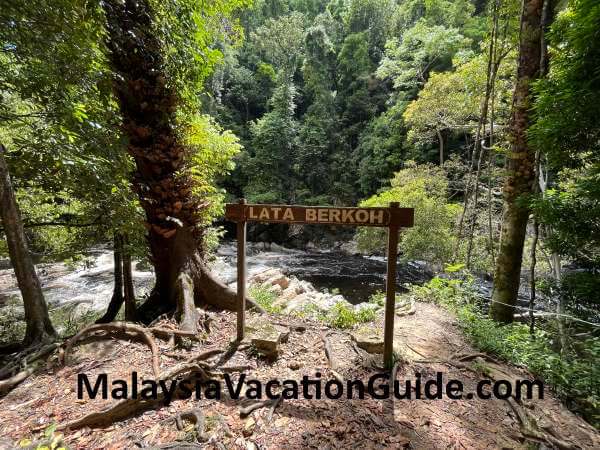 Lata Berkoh Cascading Waterfalls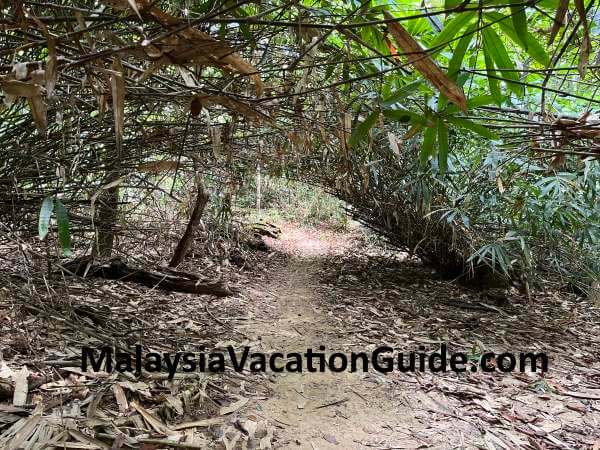 Bamboo Plants near Lata Berkoh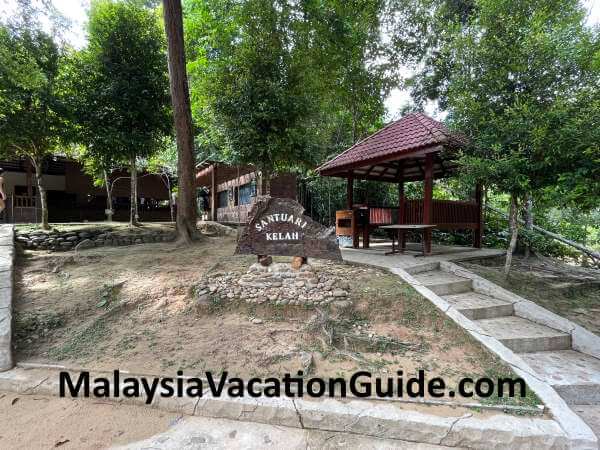 Kelah Sanctuary has restroom facilities and a platform for you to feed the Mahseer fish.
3. Visit Orang Asli Settlement
Hire a boat and go to the settlement of the Batek tribal people of the national park. You can combine the rapid shooting experience with this activity. See how they live and learn how to blow the pipe to capture the animals, their way of living. You are allowed to try using it as well.
There will also be a demonstration on how to start a fire using the materials gathered from the jungle here.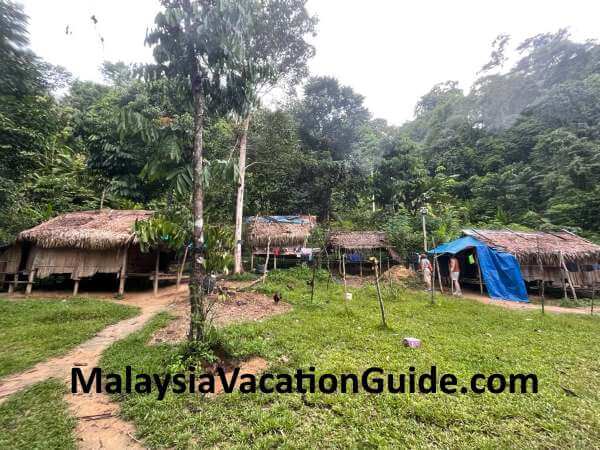 The Batek village in Taman Negara
4. Night Jungle Walk
This activity involves a guide that will help you identify the insects at the boardwalks trail near Mutiara Taman Negara Resort. The activity usually starts at 8:30pm at night. Some of the insects that you will probably see are scorpions, walking stick insects, ants, grasshoppers and millipedes.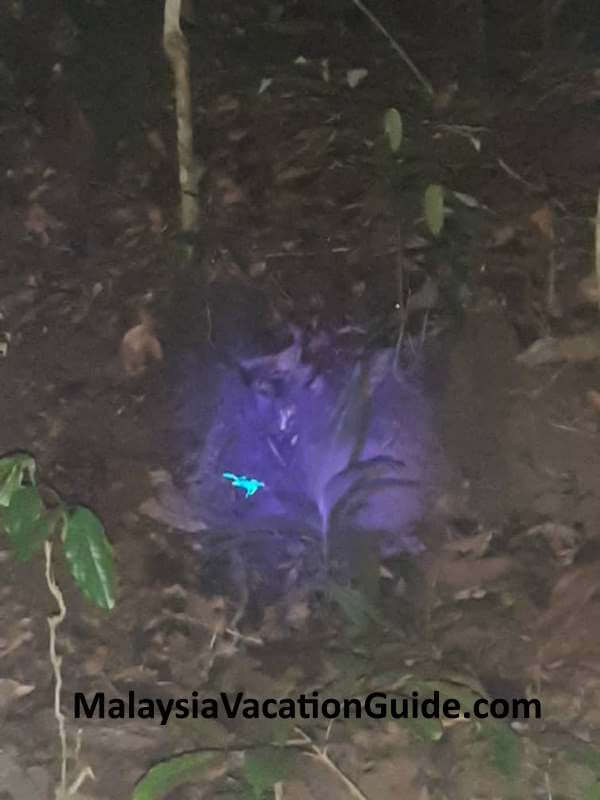 The scorpion is usually hiding in the tree bark. A special UV torchlight is needed to see it in the dark.
A spider spotted on a tree during the night jungle walk.
A grasshopper with long antenna.
5. Trek to Bukit Terisek & Canopy Walk
Do a 3 hours jungle trekking and canopy walk from Mutiara Taman Negara Resort. You will be able to see Gunung Tahan from Bukit Terisek.
Walk on the 530m canopy walk. It is reputed to be the world's longest canopy walk, with a height of 40 m above ground anchored by the trees. This canopy is located 1.5km away from the Mutiara Taman Negara Resort. The entrance fee is RM5 for adult and RM3 for children.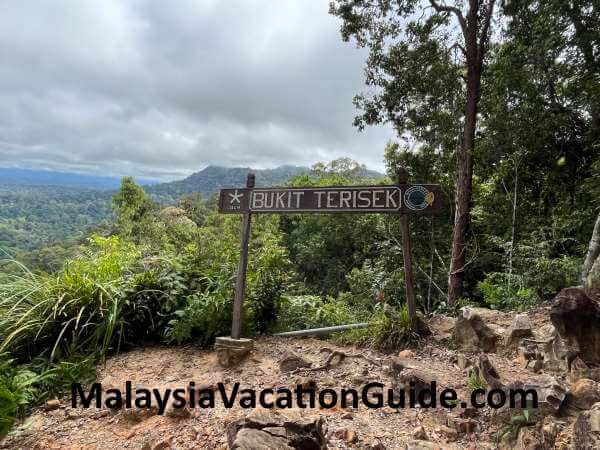 Terisek Hill
View of Gunung Tahan from Bukit Terisek, the highest mountain in Peninsular Malaysia.
Canopy Walk entrance. Adhere to the advise of the guide prior to walking on the canopy.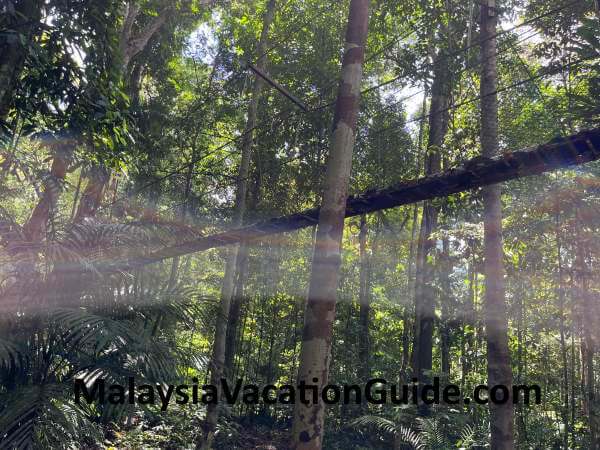 Canopy Walk at Taman Negara
An experience not to be missed while you are at Taman Negara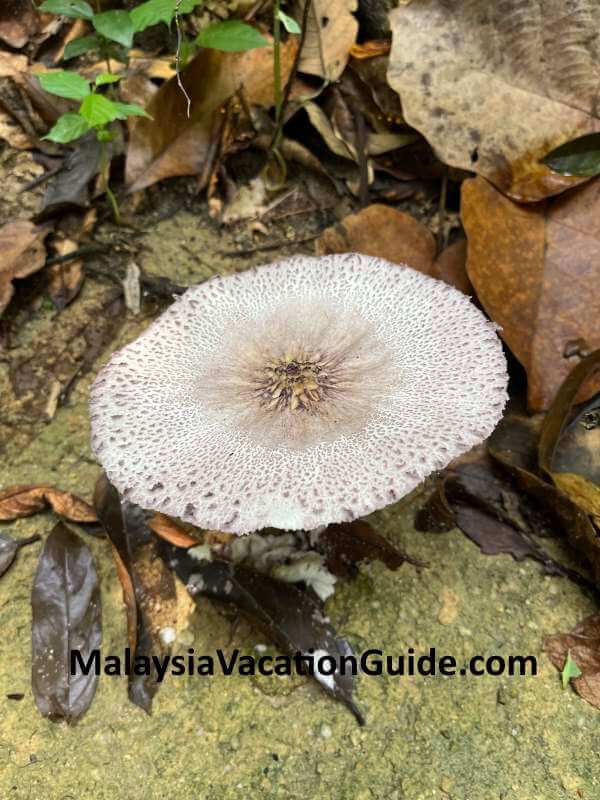 Plenty of mushroom for you to see
6. Swimming At Lubuk Simpon
Swim at Lubuk Simpon which is located about 850m away from Mutiara Taman Negara Resort. The water is cold hence go into the water slowly instead of jumping straight into the water.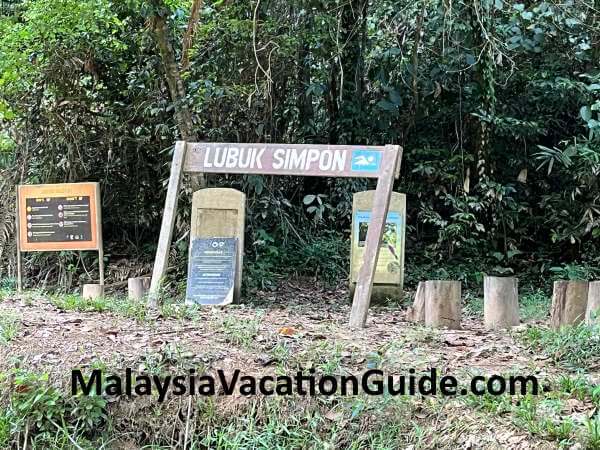 Swimm and cool yourself at Lubuk Simpon
Look out for fishes while you are here. Most of the fishes are not colourful.
7. Hides
When the sun sets, go and wait at the tall wooden tower. You may spot some nocturnal wild animals. Remember to bring a torchlight and a binocular.
Hides available include the Tahan Hide, Yong Hide, Blau Hide, Kumbang Hide, Tabing Hide, Cegar Anjing Hide and Blau Hide. The nearest Hide from Mutiara Taman Negara is Tahan Hide which is about 300m away.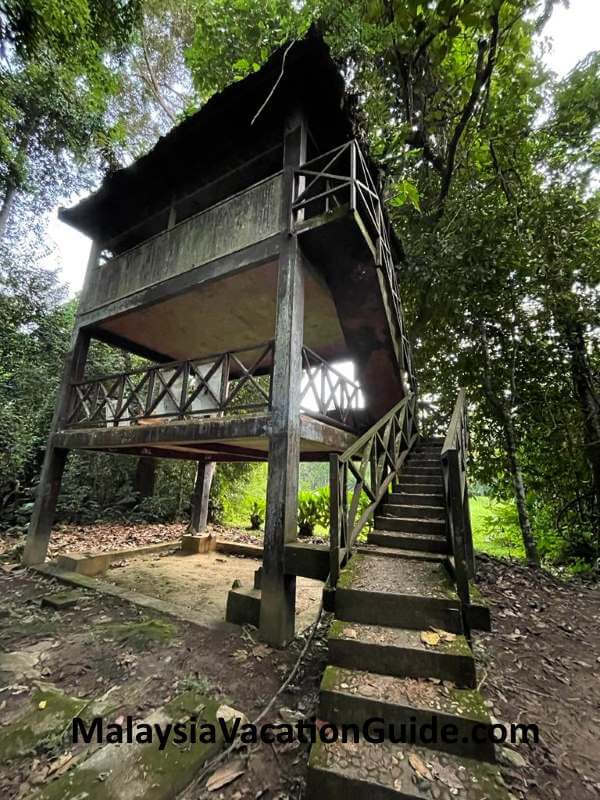 You may be able to spot some animals here.
Other Activities
Night Boat Cruise at Tembeling River and you may be able to spot some animals and fireflies along the riverbank. 
Teras Waterfall is accessible by taking a boat along Tembeling River. Enjoy the freshwater of Sungai Teras.
Explore the caves Explore Gua Telinga cave, about an hour's walk from Kuala Tahan. However, as of May 2023, this cave has been closed to the public due to safety factor. If you are still keen to go for cave exploration, try the Gua Daun Menari at Kuala Keniam.
Camping Set up your own tents and experience the wild. Equipment can be rented at the center. Remember to camp only at the designated campsite.
Fishing Fishing can be fun. A charge of RM10/rod is required as permit as you enter the park. Sungai Keniam is the popular spot for fishing. The best time to fish is the months of Feb, Mar, July and Aug.
Bird Watching Bring along a binocular and a good camera to capture the colorful birds here.
Conquer Gunung Tahan You will need to prepare yourself physically before scaling this mountain. Allocate 7-9 days for this climb.
Food
There are not that many restaurants that you can go to at Kuala Tahan. You can take your meals at the hotels that you are staying which are usually higher in price compared to the stalls nearby.
Mutiara Taman Negara has a restaurant called Seri Mutiara which you can take your meals. Many hotels or resorts nearby will include some meals when you book with them.
There are a few floating restaurants that you can go for lunch or dinner. They are all located at Tembeling River and near the jetties to crossover to Taman Negara.
If your budget is tight, there are some stalls at Kuala Tahan which you can go for lunch or dinner. Many visitors will go for dinner at Anne Restaurant. Burgers and "satay" are quite tasty which you can order here too.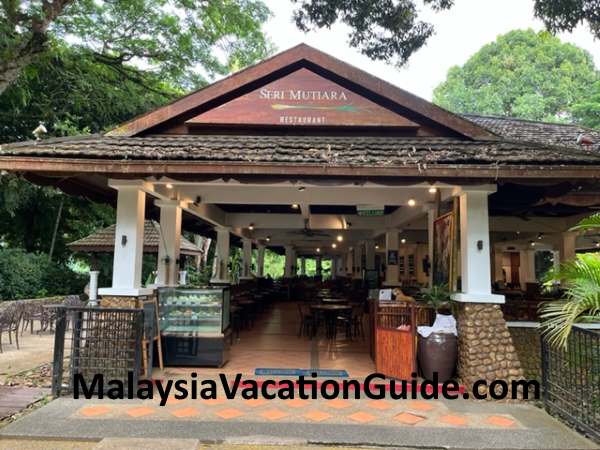 Seri Mutiara Restaurant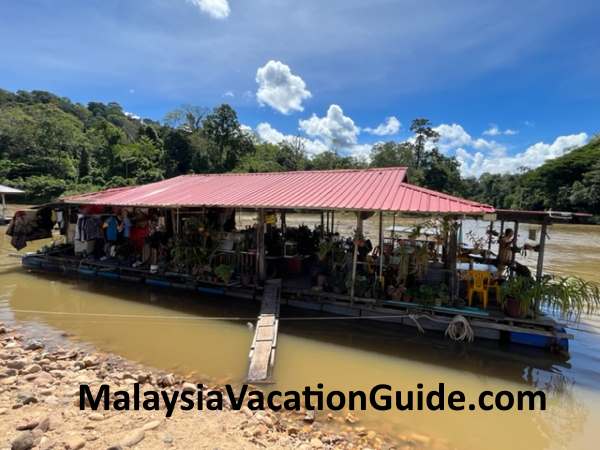 Floating Restaurant
Simple stall near Kuala Tahan Primary School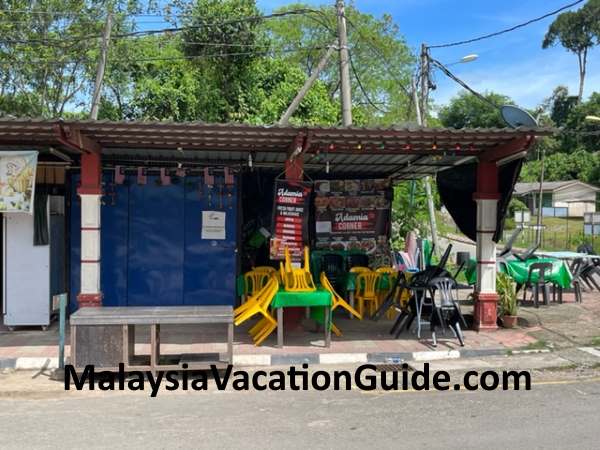 Another stall at Kuala Tahan

Accommodation
You can choose to stay in chalets, hostel or camp here. The Mutiara Taman Negara resort is the most popular resort with guesthouses, chalets, bungalows or dorms to choose from. This is the only resort located in Taman Negara. You will need to cross the Tembeling River via boat to reach the resort. All the rooms are air-conditioned. 

There are other budget motels and chalets which are located at the other side of the Tembeling River. Options include Tecoma Resort, Danz Eco Resort and Taman Negara Rainbow Guest House.
Mutiara Taman Negara
Chalets at Mutiara Taman Negara
Getting To Taman Negara


There are four ways to enter the park. They are Kuala Tahan in Pahang, Kuala Koh in Kelantan, Tanjung Mentong in Terengganu and Merapoh in Pahang. The facilities are the best if you use the Kuala Tahan way. However, if you are adventurous and want to go where few have gone, you can try the other ways.

The best time to go is from March to October when it is not so wet. The months from November to March could be wet as it is the North-Easterly monsoon season.

#1 Kuala Tahan, Pahang Way
This is the most common and easiest way to the park. You can take a bus to Jerantut town after which you can proceed to Kuala Tembeling Jetty which is about 15km away from Jerantut. The other alternative to go to Jerantut is to take the KTM train and stop at Jerantut Station. From here, take a taxi to Kuala Tembeling Jetty.
Take the boat ride to Kuala Tahan from Kuala Tembeling Jetty.
The boats depart from the jetty at 9am and 2pm daily. The 3.5 hours of scenic river boat ride from Kuala Tembeling will take you to Kuala Tahan, where the Mutiara Taman Negara Resort is. The return boat trip cost about RM80 per person.
If you prefer not to take the boat ride, you can also go straight to Kuala Tahan from Kuala Lumpur. The journey will take you 3.5 to 4.0 hours. Once you are here, all you need to do is take a boat and cross the Sungai Tembeling River. Taman Negara is located just across the river. There is a gated car park called JKKK(Villagers Association) Parking which costs around RM10-15 per day. Do not park your car overnight near the jetty as the river water may rise up when it rains.
Use this way if you intend to climb Gunung Tahan.
Cross the Tembeling River to access Taman Negara using the boat which costs RM1 per person.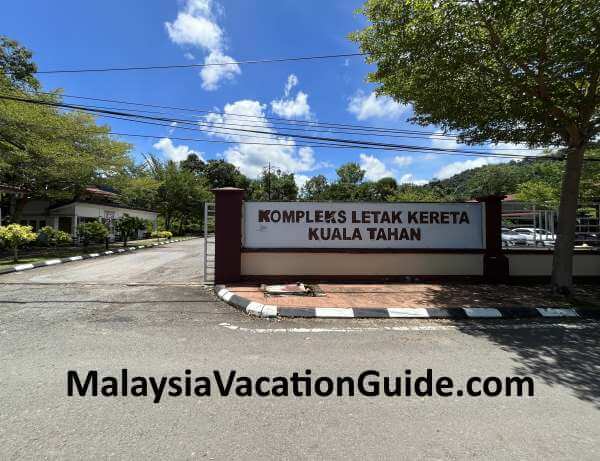 Park your car here.
#2 Kuala Koh, Kelantan Way

If you are in Kelantan, you will want to use this way. This is the north entrance to Taman Negara and the jungles are still virgin in nature. If you are coming from Gua Musang, take a bus or drive to Kuala Koh.
Visitors can either drive or take the public transport to Kuala Koh from Gua Musang in Kelantan. There is a road connecting this park entrance to the Gua Musang-Kuala Krai main road.

#3 Tanjung Mentong, Terengganu Way
If you are in Terengganu or is visiting Tasik Kenyir, this is a good way to go. The south of the lake is located in the park where submerged trees and caves can be seen here. Go to Gawi Jetty or Jenagor Jetty and travel by boat to Tanjung Mentong.

#4 Merapoh, Pahang Way
Use this way only if you are climbing Gunung Tahan. This is a short-cut way compared to Kuala Tahan way. You will pass the town of Kuala Lipis or Gua Musang if you are taking a bus. The KTM train also stops at Merapoh town. Take note that there is still a long trek or ride by boat from here if you are not camping here but staying in Kuala Tahan.

Wildlife Department Contacts
Call up the Department of Wildlife and National Parks if you need further query or if you want to check the weather condition of the park.
Kuala Lumpur: +6 03 9075 2872
Kuala Tahan: +6 09 266 1122
Gua Musang: +6 09 912 2940 
Kuala Koh: +6 09 928 2952

Permits
The permit to enter Taman Negara is RM1 per person. Camera and video camera permit is RM5 each and fishing rod permit is RM10 per rod.