Putrajaya
If you are in Malaysia, you will definitely heard of Putrajaya, the new Federal Government Administrative Centre that is modern and is a model township that has been constructed with the preservation of the environment in mind. Its theme is "Garden City, Intelligent City" and rightly so as you will be able to see the beautifully landscaped roads, parks, lakes and modern buildings co-exist together.
This city is named in honour of Malaysia's first Prime Minister, Tunku Abdul Rahman Alhaj and was formerly a 4,932 hectare forest in the state of Selangor. Statistics given by Putrajaya Corporation shows that 38% of the city total land is being developed into parks, wetlands and lakes. The 650 hectare man-made lake is a beautiful and clean lake that serves as a climate moderator of the town. It is also used for activities such as canoeing, boating, kayaking and aqua biking. Power boating international water sports event is also held here.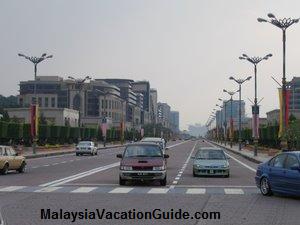 Putra Bridge
This city is about 20-30 minutes drive away from Kuala Lumpur International Airport(KLIA) or KLIA2.

Attractions
Go to Dataran Putra and you will see a 300 m circular area adorned with water and light features. The stars represent the states of Malaysia.
In the vicinity, you will be able to see Perdana Putra which is the main administrative offices of the Prime Minister, Deputy Prime Minister, Ministers and Deputy Ministers in the Prime Minister's Department, Chief Secretary to the Government as well as the Special Units. 
You will see onion-shaped glazed mosaic green main dome surrounded by four smaller domes. This building is designed that incorporates the Islamic and Mogul architecture and overlook the lake.

Within walking distance from Dataran Putra, you will be able to see Putra Mosque with a unique pink dome which is built from rose-tinted granite. The mosque can accommodates 15,000 worshippers and has a 116 m, five-tiered minaret which is the tallest in this region.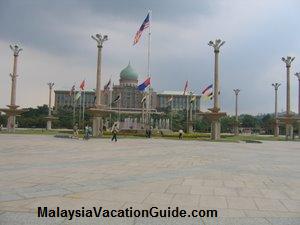 Dataran Putra and Perdana Putra at the background
If you need to do some shopping or getting some souvenirs, you can walk to the Souq, Anjung and Lanai shopping centres. Souq is a Persian word that means a street of small stalls and you will see the middle east style bazaars here. For food,you can drop by Selera Putra where there are many stalls that sell tasty local and western cuisines.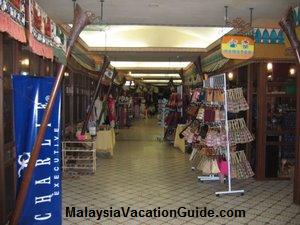 Souvenir for sale at The Souq
As you drive along the city, you will be able to see many beautiful bridges. There are altogether 8 unique and distinctive bridges that have been planned for the city. 7 of them have been completed and they are the Putra Bridge, Seri Wawasan Bridge, Seri Gemilang Bridge, Seri Bakti Bridge, Seri Saujana Bridge, Seri Setia Bridge and Seri Bestari Bridge.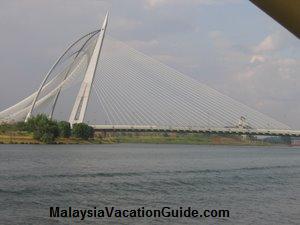 One of the unique Bridge
The Millenium Monument provides a panorama view of the history of Malaysia. It has a prominent tower above the monument that takes the shape of a hibiscus. The information are shown by the side of the monument as you walk up the structure.
For those nature lover, there are the Botanical Garden with over 92 hectare of plants and flowers from over 90 countries of the world. Wetland Park in the surrounding houses a Nature Interpretation Centre, flamingo pond, nature trails, picnic areas and wetland plant nursery. Take time out with your family and you will enjoy the greenery of this park.
Hotels
Being a new area, there are four major hotels here. They are Pullman Lakeside Hotel, Shangri-La Hotel, Marriot and Palm Garden Hotel IOI.
Check and compare the prices of hotels in Putrajaya here.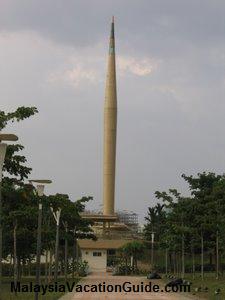 Millennium Tower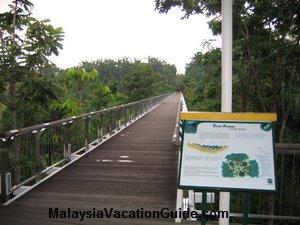 Botanical Garden
Related Links


Alamanda Shopping Centre 
This modern and spacious shopping mall is the only mall in Putrajaya. You will be able to find your shopping and groceries need here. 


Lake Cruise 
Take an enjoyable cruise at Putrajaya Lake and see the scenery of this modern township of Malaysia. 


Botanical Garden 
Take some time off and enjoy the lush greeneries in this botanical garden. Trams ride and bicycles are available for rental here. 


Warisan Pertanian 
Visit this park and see the many traditional crops such as cocoa, rubber, palm oil, fruits and herbs. A great learning experience for those who are new to tropical plants. 


Putra Perdana Park 
Put on your jogging shoes and stroll around this park in the evening. You will enjoy the scenery and view of Putrajaya from here. 


Millenium Tower 
This huge structure is located by the lake and has exhibits that show the chronological history of Malaysia starting from the Malacca Sultanate to the present achievement of the nation. 


Lake Club 
Visit this club if you are into watersports, swimmming or simply go for a meal at the Restaurant here. 


Putrajaya Sentral 
This is the main transportation hub for the city. The mode of transport to other parts of the city is by bus, taxi or train. For those who are driving, a big parking bay is available for your use.


Natural History Museum 
This museum is located near Nexus International School at Precinct 15. Spend 1 hour here as you learn more about the exhibits here.