Kuala Lumpur Landmarks
History Of Kuala Lumpur Landmarks
Kuala Lumpur in the Malay language means Muddy Estuary and was founded in 1857 by the tin miners. As the mining and trading of tin prospered, the town began to develop and since then Kuala Lumpur landmarks have constantly being changed to cater for the growing needs of the city folks. The city was declared a Federal Capital on February 1 1974 and since then the first day of February has always been a holidays for the city dwellers.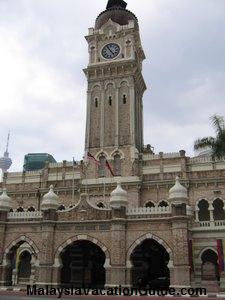 Despite the fast pace development of the city, Kuala Lumpur has been able to balance the demands of land for development. The historical site such as the Sultan Abdul Samad building has being kept and preserved as a national heritage. Greenery are also planned in the city with potted plants, flowers and green trees co exist together with the modern skyscrapers.
For those who need a break from the hectic pace of the city, there are the KL Lake Gardens, KL Butterfly Park, KL Deer Park, Orchid and Hibiscus Gardens and KL Bird Park for you to explore and break free from the routine of working life.
Find out in greater details the various Kuala Lumpur Landmarks and beyond below.

Dataran Merdeka 
Visit this historical Independence Square of Malaysia. It is located in front of Sultan Abdul Samad Building.


Dayabumi Complex
Menara Dayabumi used to be the tallest building in 1984. It is still one of the Kuala Lumpur landmarks that you can visit. Pos Malaysia head office is located here.


Kuala Lumpur Tower 
Go up the fifth tallest tower in the world at 421 metres and see the beautiful city of Kuala Lumpur. Dine at the revolving restaurant while enjoying the city life..


Jamek Mosque 
The century old Masjid Jamek is the oldest mosque in Kuala Lumpur with a Moghul style architecture designed by A.B. Hubback.


Petronas Twin Towers 
It has a height of 451.9 m and each tower has a total of 88 floors serviced by 78 high speed elevators. One will be able to observe that the structure is made from steel and glass and is a stark contrast to many other high tower buildings in the city.


Sultan Abdul Samad Moorish Architecture 
See this old heritage building in Kuala Lumpur built in the year 1897. It is located in front of Merdeka Square.


Kuala Lumpur Railway Station 
See this Moorish architecture building in Kuala Lumpur built in the year 1910.


Royal Selangor Club 
The Royal Selangor Club near Merdeka Square was founded in 1884. Today, it still remains as one of the mock-Tudor style architecture that attracts many visitors who came to Merdeka Square.


Beyond the city of Kuala Lumpur, you will be able to see other landmarks...

Cyberjaya 
Cyberjaya is the modern intelligent city of Malaysia which is located to the west of Putrajaya. There is a big park that one can go to for recreation. Many multi-national companies have re-locate their operation here.


Putrajaya 
If you are in Malaysia, drop by and visit this ultra modern city of Putrajaya, the new Federal Government Administrative Centre.


Leaning Tower of Teluk Intan 
Visit the 1885 leaning tower of Teluk Intan in the state of Perak. It is 25.5m tall and made of bricks and wood.


The Blue Mosque of Shah Alam 
The Blue Mosque of Shah Alam is one of the biggest in South East Asia with minarets up to a height of 142.3m.


Historical Royal Town of Jugra 
Located about 80km from Klang, you will be able to see Bandar Palace and Sultan Alaeddin Mosque, built in 1905 and 1935 respectively.


Kuala Terengganu 
This capital city of Terengganu has many places of attractions such as Pasar Payang, Floating Mosque, Chinatown, State Museum and is the gateway to islands of Redang, Perhentian and Lang Tengah.


Klang 
Go for a heritage walk in this royal town of Selangor and try the food as well.