Langkawi Underwater World
Sprawling 6.2 acres, Langkawi Underwater World can be divided into various sections. Passing the entrance, you will step into the Rain forest Section that makes visitors feel like visiting an open-concept zoo instead of aquaria. In this section, you will be able to see numerous of elegant pink flamingos, living harmoniously with the Mandarin ducks and swans.
Colorful parrots and the tiny long-tailed Marmoset live in this section as well. Besides, there is a huge cylinder fish tank in the middle, known as the Freshwater Section, displaying various tropical and freshwater fishes.
Next will be the Sub-Antarctic Section. Here, you will see the rare and adorable Rockhopper penguins. Currently there are about 20 Rockhopper penguins in this section and they have been brought into the aquaria since December, 2003. There will be penguin feeding show on a daily basis and it is indeed an interesting show not to be missed.
Adjacent to the Sub-Antarctic section, there are fur seals living in the Temperate Section. You can observe how they swim gracefully and play with each other in the huge tank.
Learn about the tropical fish here.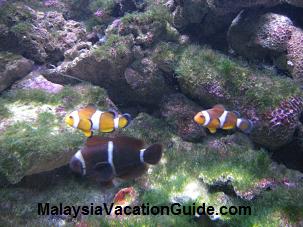 Popularised by the show NEMO, see the clown fish here.
The Marine Life Section in the Langkawi Underwater World is an interesting section as it showcases hundreds of species of deep sea creatures. Sharks, giant stingrays, sea horse, sea dragon, jellyfishes and other incredible marine lives are housed in specially designed individual tank, the celebrated Hexagonal Tank and the 15-meter tunnel tank separately.
In the dark surrounding, the bright blue tank displays all the amazing creatures, making them look like the glowing precious gemstones. Walking further to the tunnel tank, you will see giant fishes swimming above your head.
There is also a Coral Reef Section in the aquaria. This section displays colorful corals in various shades of pink, red, green and yellow.
In addition, you can also see some small creatures that inhabit the coral reefs, such as the Nemo (or also known as clown fish). Besides, there is also a section that exhibits seashells in various sizes and shapes. Those beautiful and well-kept seashells are being displayed in glass casings.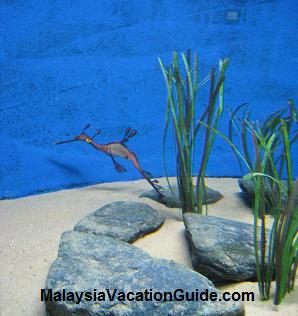 Discover the beauty and habitat of the sea horse.
The colourful flamingos are another attraction you can see here.
Daily Shows
The daily animals feeding show is also one of the major attraction in Langkawi Underwater World. There will be feeding shows featuring seals (10.45 am, 2.30 pm and 4.00 pm), African penguins (11.00 am and 3.00 pm), Rockhopper penguins (11.15 am and 3.15 pm), freshwater fish (11.00 am), marine fish (2.30 pm to 3.30 pm), macaw (2.30 pm) and otters (3.30 pm).
Apart from all the interesting creatures, visitors can also hop to the 200-seat 3D Theatre to enjoy a series of educative documentaries. Those documentaries feature rare creatures that do not exist in the aquaria. With the advanced 3D technology, you will be able to watch the show in a livelier and interactive manner.
The exit of the Langkawi Underwater World is linked to a souvenirs shop. Here, you can get unique home decorations, accessories, key chains, apparels and even some famous local delicacies such as dodol and fish crackers.
The famous Zon Duty Free Shopping Complex is also located next to the aquaria where wide selection of liquors and tobacco are being sold there.
Get to know the parrot better here..
Admission Fees & Getting Here
Open daily from 10.00 am to 6.00 pm, the entrance fee to Langkawi Underwater World is RM 28 for local visitors (with Malaysian ID) and RM 38 for non-local respectively. However, the aquaria do offer some special promotional packages; you may call +6 04–955 6100 to find out more.
Located at Pantai Cenang, Mukim Kedawang, Langkawi Underwater World is merely 3 km away from the Langkawi International Airport and can be reached with a 10-minute drive.
Surrounded by numerous restaurants such Papadam Ria and Telaga Arabic Restaurant, the aquaria's building in white can hardly be missed. Opened on August 26, 1995, it is being recognized as the largest marine and fresh water aquaria in South East Asia.