Penang Famous Cendol
If you are in Penang, try the famous cendol, a popular dessert that is cold, sweet, tasty and you will want to go back for more once you have tasted it. It is made from rice flour or green bean paste, red beans, coconut milk, ice that has been shaved and Melaka sugar (palm sugar syrup). You will find it refreshing after taking a bowl especially when the day is hot and humid.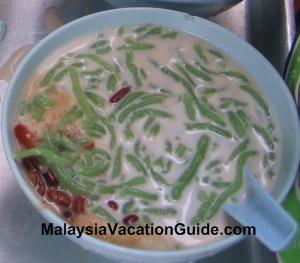 The delicious dessert.
There are two stalls located at Lebuh Keng Kwee which is just off Penang Road and have been selling this dessert for 35 to 40 years. These stalls have been a family-run business and the recipe has been passed down to the current generation. The names of the two stalls are Penang Road Famous Teochew Cend. and Penang Road Famous Cend.
Both stalls are equally good. There are some tables for customers to sit but in a crowded day, you may have to stand and enjoy your dessert. That's how people used to eat here for the past few decades.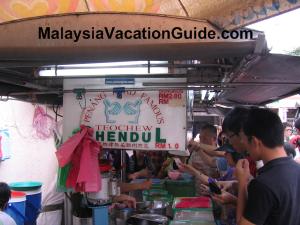 The simple setup of the hawker stall.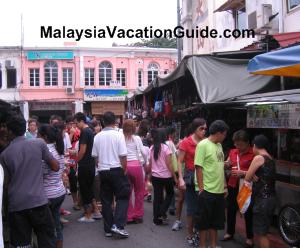 The stalls are located along the small lane of Lebuh Keng Kwee, just off Penang Road and beside Joo Hooi cafe.
These stalls also sell ABC or Ais Batu Campur as most of the ingredients are quite similar.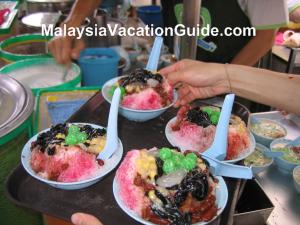 The ais kacang is another dessert that you should try.
Location & Opening Hours
The address:

Lebuh Keng Kwee Penang

The operation hours of the stalls are from 10am to 7:30pm daily but may close earlier depending on the availability of the ingredients.
Each bowl will cost you about RM1.80, a price which is far below what you will pay in a typical air-conditioned restaurant.
Other Location
Most of the good dessert is found in the simple hawker setting.  In Sitiawan, Perak, there are mobile stalls near Courts Mammoth and Hindu Temple (near The Store) which are also famous with the locals. These stalls are usually crowded during the weekends and public holidays more so when the day is hot.