Langkawi International Airport
The Modern Langkawi International Airport
There are 5 International Airports in Malaysia in total. Three out of the five are located at the Peninsular Malaysia, which consist of the world-renowned Kuala Lumpur International Airport, the Penang International Airport and the Langkawi International Airport. The other two are the Kota Kinabalu International Airport in Sabah and Kuching International Airport in Sarawak.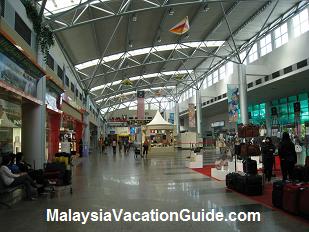 The spacious and modern air-conditioned hall at the airport.
Once you landed at the airport, you will be greeted warmly by the huge signboard that states "Welcome to Langkawi – The Duty Free Island". Though being an International Airport that serves up to 2.5 million passengers annually, the airport is always well-organized, without a slight sense of messiness.
The arrival entrance leads directly to the baggage collection area with trolleys for your use at the side. This provides tourists a thoughtful convenience as they do not have to venture too far for baggage collection.
You can also find local travel agencies in the airport. Walking further down from the arrival entrance, you will get to see a few counters in front of you, providing services ranging from transportation, car rental to tour arrangement. Free map and promotional brochures will also be distributed to tourists.
You can make arrangement with the agents in the airport, as it will be more convenient and reliable. Prices and services offered by all the agencies are somewhat comparable, but in certain cases, such as renting a car and arranging a local tour, the prices are negotiable.
While waiting for the plane to depart, pamper yourself with the many massage chairs at the hall.
Facilities
Well-furbished with white painting and grayish tiles, the airport is spacious and bright. Everything is well-organized with clear directions. Once entering the departure hall, you will be able to find the location of check-in counters and departure gate in a quick glance. Though there might be many passengers at the hall, you can never feel a sense of chaos here. There are also plenty of restaurants and café in the airport, offering local and western cuisines.
There is a huge duty free shop in the airport, selling cosmetics and fragrance of well-known brands such as Lancôme, Dior and Salvatore Ferragamo. You can even find a small counter, selling upscale jewels from Mont Blanc. Other souvenirs such as key chain and accessories are being sold as well.
Opposite this shop is another shop that specifically sells chocolates. Here, you will be able to find a comprehensive list of both local and imported chocolates. Apart from the wide varieties of chocolates available, you will also be surprised by their inexpensive selling price. Overall the prices of the chocolates being sold here are about 20% to 30% cheaper if compared to other places.
Further down there is another duty free shop that sells mainly tobacco and liquor. All the merchandises are being displayed in order, allowing guests to look for what they want immediately. Here, one box of 10-pack cigarette costs merely between RM 40 to RM 50.
However, if you would like to do some final shopping at the airport before leaving this duty free paradise, bear in mind that you are only eligible to purchase duty free liquor and tobacco if you have been staying in the island for more than 2 days.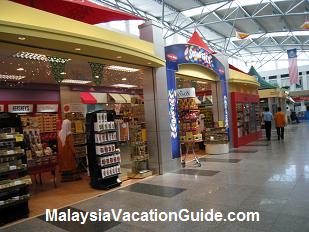 The varieties of chocolate products that you can purchase as souvenirs in this duty free shop.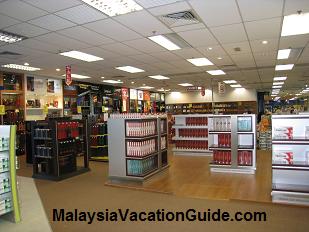 Duty free liquor and cigarettes are sold here as well.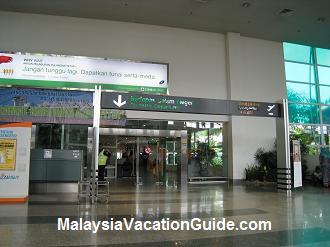 Entrance to the departure hall.
Getting Here
Being a famous and perfect destination for vacation, Langkawi is easily accessible via the air transportation. Most of the airlines schedule frequent flights to Langkawi International Airport. For instance, Malaysia Airlines (MAS) has direct flight to Langkawi on a daily basis.
For those who would like to go for the affordable low-cost airlines, AirAsia and Firefly are some of the choices available as they provide direct flight to the island in a frequent manner as well.
Langkawi International Airport is located at Padang Matsirat, adjacent to Pantai Cenang. If you would like to avoid all the hassles in airport-and-hotel transfer, you can opt to stay at Pantai Cenang as it can be reached after a 10-minute drive. There are plentiful of budget lodges to upscale hotels available for you to choose from.