Laman Padi Langkawi
Laman Padi Langkawi is definitely not something you will expect to see in an island like Langkawi. Here, you will be able to see a long stretch of paddy field, infusing senses of freshness and at the same time, brings you closer to the nature. Located at Pantai Cenang, right in front of Casa Del Mar Hotel, this place can be easily found as it is only 10 minutes away from the Langkawi International Airport.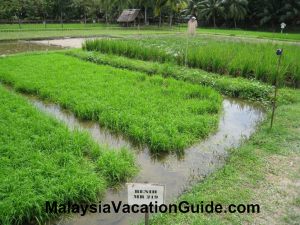 The neatly planted paddy field is a good location to take a picture or two.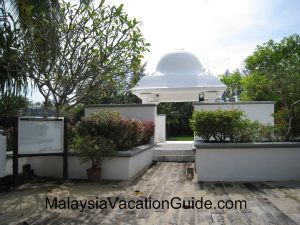 The Langkawi Paddy Field Eco Tourism that you can visit.
Sprawling 14.28 acres in a natural ambiance, Laman Padi Langkawi serves to promote eco-tourism. Thus, a huge segment of 8.6 acres are being preserved as paddy field. Just a few steps from the entrance and the huge paddy field will lie in front of your eyes.
Apart from merely looking at the green paddy, visitors will also get to learn more about their specific species as those paddies are being named accordingly. Besides, scarecrows are also being placed in the middle of the field in order to make the scenery looks more like the actual one.
During certain time slots, there will be a specialized tour guide that brings you around the farm. The most exciting part is where the guide will bring you down to the paddy field (or known as Garden of Variety) to experience the actual way of planting paddy. Visitors will be given some paddies and the guide will teach them the appropriate ways of planting paddies in the mud. Though the field is wet and muddy, it is indeed a hands-on and fun experience not to be missed!
Walking further, you will see the well-furbished Museum Laman Padi - the Heritage Gallery. In a dim and air-conditioned setting, illustrations and valuable artifacts such as tools in planting and harvesting paddy are being showcased. By visiting this museum, you will be learning how paddies were being planted in a traditional way, without relying much on technology and machine.
Furthermore, you can also learn about the different types and species of rice or paddy, with additional information that explains how they can be planted.
Additionally, visitors can also see various fish traps that are being used in catching fishes in the paddy field. Mostly made of rattan, the fish traps in different shapes can be used in different location.
You will be amazed by old people's wisdom in fully utilizing the natural resources that they have. Most of the things being showcased in the museum are very interesting, especially for the younger and modern generation. At the same time, the museum brings out a message in emphasizing the preciousness of rice, educating people to be grateful with the food they have.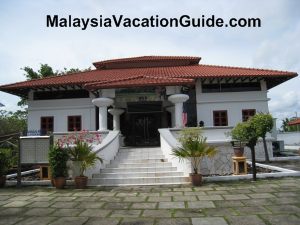 Discover all about traditional paddy planting and harvesting in this air-conditioned museum.

Herb Garden
Coming out from the museum, you will see the herb garden, displaying herbs such as lemongrass and other plants that can be used as traditional medicine in curing diabetes and high blood pressure. Due to the lack of maintenance, the herbs and plants in the garden are not being taken care of. However, the types and relevant information about the herbs are being displayed in a signboard, and you will be able to learn additional knowledge from there.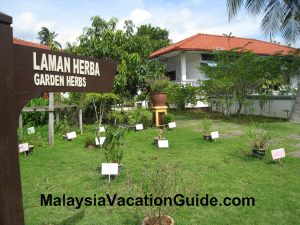 Get to know the different kinds of herbs that are frequently used in Malaysia.
There are also other facilities such as restaurants and travel agency in Laman Padi Langkawi. Café D' Paddy Restaurant and Laman Ria Restaurant offers meals in both local and western cuisine. Surrounded by the green paddy field while enjoying a great meal is definitely a great experience that you can never find in other places. Besides, there is also a spa outlet – the Nawa Sari Spa, located next to the Heritage Gallery Museum. After a great day of learning ways to plant paddy, pamper yourself with a massage session here!


Admission Fees & Operation Hours
Admission to Laman Padi Langkawi is RM2/adult and no fee is charged for children below 12 years old. You can get valuable knowledge about paddy planting and harvesting. At the same time, you will get to experience the work that farmers put in to enable you to enjoy your bowl of rice everyday.
The operation hours is 10am to 6pm daily.
Call Tel: +60 49554312 for more information.