Balik Pulau Assam Laksa
If you are adventures and would like to take a drive or tour the entire island of Penang, you can start from where you stay and go around a circuit of the island. For instance, if you are staying in Batu Ferringhi, you can head west towards Tropical Spice Garden after which you can travel south towards Butterfly Farm.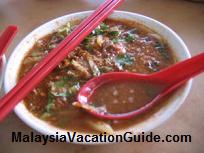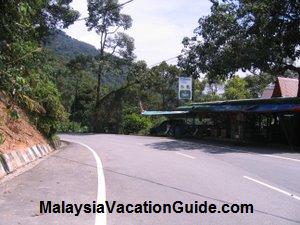 The hilly scenery as you go towards this small town.
You will then pass by Tropical Fruit Farm and taste the a varieties of fruit that are available during that time of the year. As you head further to the south, make sure you go to Balik Pulau, a town in the west central of the island. This place is popular with durian, a local strong smell fruit that is a favourite among the many peoples of Malaysia. First timer may find this fruit too strong and difficult to eat.
While you are in this town, spend an hour or two to savour the favourite delicacy of most visitors here, the Assam Laksa. Youwill be able to smell this rice noodle from afar. The ingredients used to make this vermicelli soup (a rice noodle also known asmee hoon) are mackeral fish (ikan kembung in Bahasa Malaysia), tamarind (assam) which gives the soup a sour taste, lemongrass (serai), chilly, mint, pineapple slices, onion, prawn paste, cucumber, laksa flower and laksa leaves.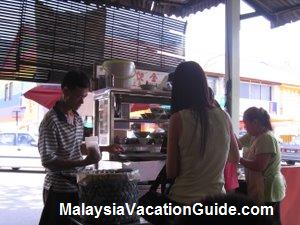 The famous assam laksa and Siam laksa at the town centre.
At the coffee shop which is located beside the market and the junction of the road to the south (Bayan Lepas direction), you can try the normal assam laksa or the Siam laksa. The Siam laksa has coconut milk added to make it less sour. The price per bowl is around RM 2.20. If you are adventures, you may want to try having a mixture of normal and Siam laksa together in one bowl.
While here, remember to ask for nutmeg drink. This drink is made from the nutmeg fruit that is grown in abundance in this part of Penang. It costs RM1.50 per glass.
You can also purchase some preserved nutmeg or dried sliced nutmeg at the many souvenir shops in the island.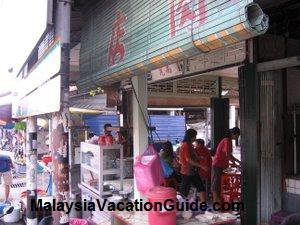 The assam laksa store is located at Lam Kong Coffee Shop.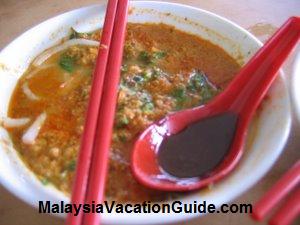 Siam Laksa which is not so sour as coconut milk is added to it.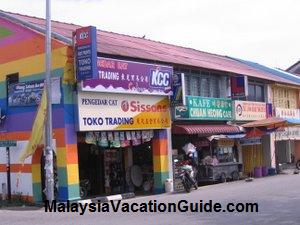 Another not so crowded assam laksa shop opposite the road and a few shops away from this popular store.
Location & Opening Hours
The address:
Lam Kong Kedai Kopi
67 Main Road 
Balik Pulau
Penang

The operation hours is from 11am to 5:00pm. This shop is closed every Wednesday.