Pulau Singa Besar
Pulau Singa Besar – An Untouched Island
Located at the southwestern tip of Langkawi, Pulau Singa Besar is strategically situated between the well-renowned Pulau Dayang Bunting and Pulau Beras Basah. According to some information from the local tourist centre, the island sprawls 636 hectares and is almost fully covered by thick forest and huge stones. The natural setting as such has made it into a paradise of various wild lives where animals such as monkeys and eagles can be easily spotted around that area.
The island, as being undeveloped in order to preserve its precious nature has no basic amenities such as lodge or resort. Nevertheless, it serves as a camp site and for those who are interested to truly experience the pristine serenity in its wonderful natural setting, they can bring along their own camping equipment and set their camp there.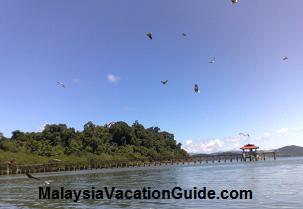 A view of the secluded island.
However, in order to ensure your own safety, it is advisable that you consult the local authorities such as the Langkawi Tourist Information Centre at + 604 – 966 7769 before making any arrangement to go camping in Pulau Singa Besar. There is proper procedures and way to get into this secluded island.
Camping activities might not be a common way to discover the beauty of the island. Nowadays, tourists are more attracted to visit the island by joining a 4-hour island hopping tour that departs from Pantai Tengah. The entire tour will cover three adjacent islands, which begins with the biggest Pulau Dayang Bunting, follows by Pulau Singa Besar and lastly to Pulau Beras Basah.

Basically one does not spend long hours in Pulau Singa Besar as compared to the other two isles that are covered in the island hopping tour. After a 20-minute boat ride from Pulau Dayang Bunting, the boatman will stop somewhere near to the entrance of the island, where one sees a huge iron gate with "Pulau Singa Besar" engraved on it and is attached with a long wooden bridge that leads the visitors to the heart of the island.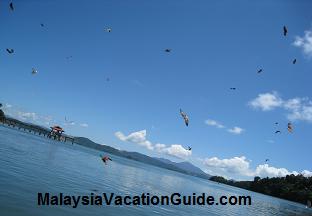 Feeding the eagle at the island is another interesting activity that you must try.
The major attraction of the island will be eagle feeding session. The boat man or tour guide will first switch off the motor of the speedboat and throw pieces of chicken to the middle of the sea. Within seconds, you will get to see hundreds of eagles in brown and some rare ones in white flying above your head. The eagles fly beautifully with their strong wings and they will grab the chicken right after the boatman throws it to the middle of the sea.
It is absolutely a perfect place to carefully study eagles as they can fly as near as merely 6 feet away from you. Believe it or not, it will be a place where one would see the most eagles in their entire lives. Though in people's perception, eagles are unkind wild creatures which tend to attack people but no worries, such perception is not applicable to eagles in Pulau Singa Besar.
All you have to do is to get your camera ready and capture some wonderful pictures of those eagles. To your surprise, these eagles seem like underwent some training where you can spot them right after some chickens have been threw to the middle of the sea and see them disappearing right after they have finished the food. According to the boatman, these eagles come out by listening to the sound of speedboats. Amazing isn't it?

Getting Here
To experience three isles through an exciting island hopping tour, all you need to do is to merely make arrangement with the local travel agents upon reaching Langkawi or you may request the hotel personnel to arrange such tour for you. It is a common leisure activity in Langkawi and you may contact travel agency like the Esteem Lane Travel and Tours Sdn Bhd, Langkasia Travel & Tour Sdn Bhd or Sala Travel & Tours Sdn Bhd.
Prices for such tour range from RM 28 to RM 60 per person, depending on the total number of persons sharing a boat and packages offer to you. Alternatively, if you are traveling in a group, you may consider renting an 8- or a 12-person boat at RM 280 and RM 300 respectively. Usually the travel agencies will provide complimentary pickup service for guests staying in Pantai Cenang and Pantai Tengah.