Penang Street Art
If you are have not visited Penang Street Art before, plan to take half a day walk around the city of Georgetown and enjoy the many murals and wrought iron caricatures. The work of art can be seen at the major historical roads of Georgetown covering the "Core Zone" and "Buffer Zone". These zones are designated as such and are part of the UNESCO World Heritage Site.  
Penang Street Art - Marking Georgetown
The "Marking Georgetown" initiative was started by the State Government of Penang to explore the ideas in art for public spaces in this city. An international contest were held for this purpose on Sept 7, 2009.
The winner was Scuptureatwork with the design concept called "Voices From The People". As a result of this, more than 50 art made from iron wrought sculptures were erected on the city's building walls. These art help you to see the culture, happenings and how things were decades ago.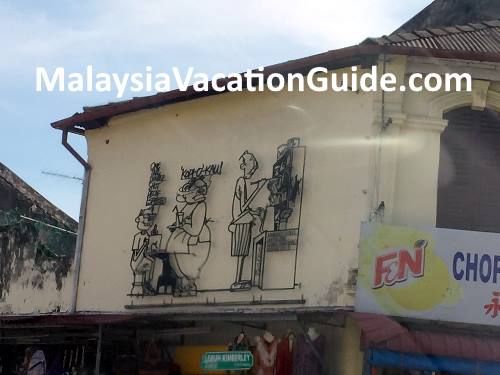 Making Kopi-O iron caricature at Lebuh Kimberley
In an effort to continue boosting the tourism industry, a renowned artist from Lithuania named Ernest Zacharevic was roped in to paint a few murals during the Georgetown Festival 2012. 
His most famous painting here is "Two Children On A Bicycle" which is located at Armenian Street. On a busy day, you will need to queue up to take a picture with this mural. It depicted the time when bicycle was the main mode of transportation in Georgetown.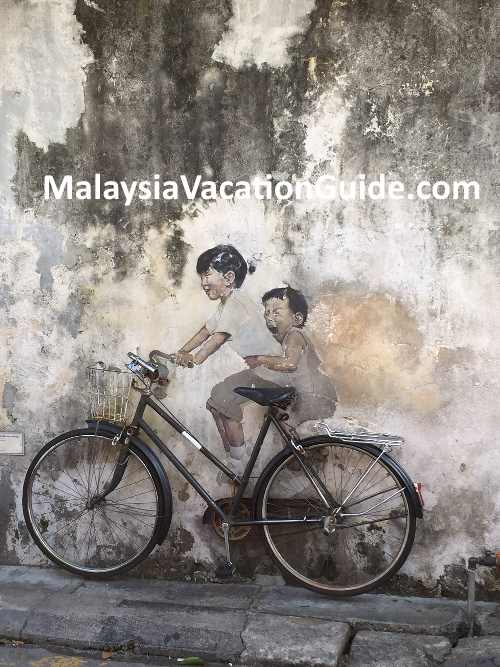 Kids on a bicycle mural. This mural is located along Lebuh Armenian.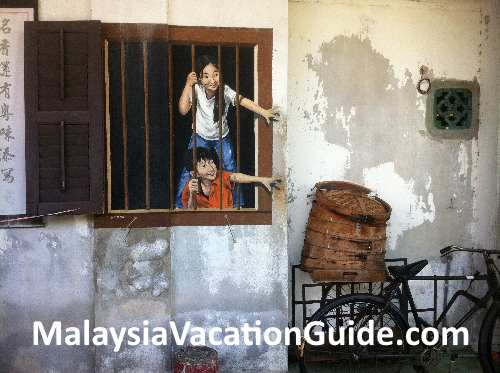 Two children ordering "pau" from a traditional house window.
Located along Gat Lebuh Armenian, this cat is observing a rat.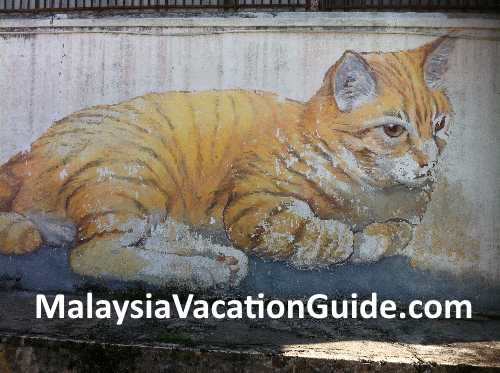 Another big cat mural, Lebuh Armenian, a rat mural is located at the other side of the wall.
Two funny character at the entrance to Chew Clan Jetty which is within minutes of walk from Lebuh Armenian.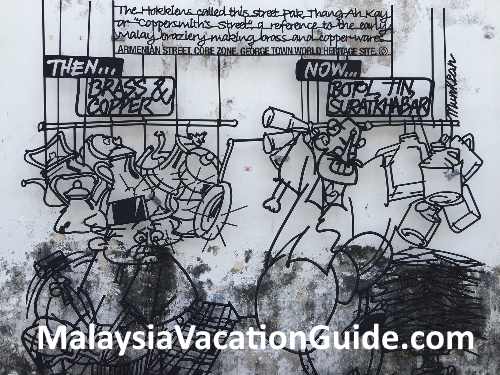 This caricature shows the time when brass and copper wares were made along this street, called Pak Thang Ah Kay or Coppersmith's Street.
There are many other murals and caricatures that you will observe when you walk along other streets such as:
Lebuh Carnarvon
Lebuh Chulia
Lebuh Cintra
Lebuh Cannon
Lebuh Campbell
Lebuh Queen
Lebuh Gereja
Lorong Stewart
Lorong Muda
Jalan Transfer
Lebuh Muntri
Lebuh King
Lebih China
Jalan Masjid Kapitan Keling
Lorong Lumut
Get tourism brochures from Tourist Information Centre, No 10, Lebuh Pantai before embarking on your tour of this city.