Langkawi Oriental Village
Langkawi Oriental Village is located right next to the well-known Langkawi Cable Car. In fact, it serves as the entrance to the Langkawi Cable Car. Before venturing further, visitors will first being welcomed by the buildings – which are mostly painted in red and bright yellow. It is built upon the concept of "contemporary" village that aims to promote Asian architecture.
The calm and beautiful lake at the "Village".
After a short walk, you will see a classic building in bright yellow that is situated right in front of the entrance to Langkawi Cable Car. It is the Geopark Hotel (formerly known as Oriental Inn Resort) that is located in the Langkawi Oriental Village itself.
Surrounded by greenery and flowers, the resort is being built in a classic manner, slightly similar to English houses. Well-furbished with 30 rooms, the resort will offer you a great stay with an affordable rate.
If you are interested to stay in this cozy resort that provides you great views of the adjacent celebrated Mount Mat Chinchang, you may contact their general line at +604-959 2300 to get the current room rate and relevant information.
This place is indeed a good location to take beautiful and scenic pictures. The buildings and shops within the compound are being constructed in a classic manner, with little touches of English and French designs. In the middle, you will see a lotus pond with small fountain.
The setting here pretty much resembles the old ancient Chinese house – where a classic red bridge is built across the pond, allowing you to enjoy the pond view in a better way.
Walking around the Langkawi Oriental Village will be a pleasurable one. Benches are provided and are located around the pond and pathway, letting you to take a rest before continuing your visit here. Apart from that, the weather is always fresh where you can feel light breeze blowing to your face. Probably this is due to it being surrounded by the natural ambiance of Mount Mat Chinchang and Seven Wells nearby.
You will be surprised by what you can find in Langkawi Oriental Village. Apart from all the Asian architecture that somehow has some Western touches, it has nothing much to do with cultures but it is a duty free shopping and gastronomic heaven! Here, it has approximately 30 duty free shops, selling products such as liquor, tobacco, chocolates and handicrafts that are best to be given away as souvenirs. You can even find the famous duty free shopping chain – the Zon Duty free shop here!
In addition, it is also a good place to get yourself some branded stuffs at a relatively lower price. There is a specific shop, located adjacent to the entrance that sells leather goods and apparel of famous brands such as Guess and Zegna. Though the merchandise here might not be the latest and the selection might be limited, try spending some time lingering around the shop and you will probably find something at a good deal.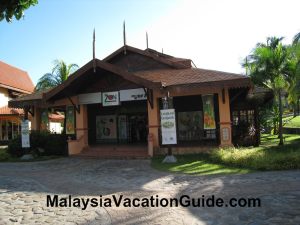 Shop at the Zon Duty Free Shop while you are here.
Food
There is also a wide selection of restaurants, providing different cuisines in Langkawi Oriental Village. You can get spicy authentic Thai food at Krathong Restaurant or you can opt to go for some Japanese food at the Mizumi Japanese Restaurant which is run by the adjacent Berjaya Resort and Spa. There is also a food court that offers different local dishes at a lower price – letting you enjoy great food at a reasonable rate.


Getting Here
Langkawi Oriental Village is located at Burau Bay and it about 25 minutes away from Pantai Cenang and Langkawi International Airport. It is about 45 minutes away from Kuah Town.
It is located next to the Langkawi Cable Car and adjacent to the Seven Wells and Telaga Harbour Park. Head west by following the road signs of "Seven Wells (Telaga Tujuh)" and you can easily find the place.
The best way to travel around Langkawi is by renting a car from the local travel agent and drive to whichever places of interest that you would like to visit at anytime. However, if you do not wish to drive, you can always opt to go for the chauffeur services offer by most of the resorts and hotels.