Spa In Langkawi
Spa in Langkawi – A New Means of Indulgence
After a great day of sunbathing, exciting water sports and a fantastic tour around the island, it's time to get something rejuvenating to pamper yourself. Spa in Langkawi provides a wide selection of treatments for guests to choose from and it has indeed become another main attraction in the island. No matter where you stay at, you will be able to find a spa outlet that suits you the most.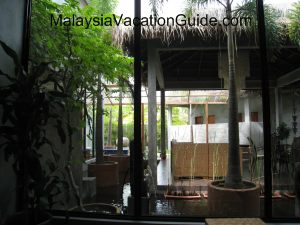 A typical spa interior that enables you to relax as you enter the centre.
One of the most renowned spas in Langkawi will be the Alun-Alun Spa. Here, they offer various spa treatments – such as half or full body massage, hot oil massage, aromatherapy massage, facial and hair treatments, different kind of body scrub, manicure, pedicure and waxing service. Prices for all these treatments range from RM 20 for a cucumber natural face mask to RM 350 for an After Sun Spa Package. If you would like to have a massage session, you can go for their Traditional Malaysian Massage or Thai Massage at RM 120 for 60 minutes and RM 180 for 90 minutes respectively.
Spending your whole day walking and your legs are aching? Try the reflexology massage offered at RM 50 for 30 minutes. Guests can also go for a 60-minute Tip Top Combination (Back and shoulder massage with reflexology) at RM 120. For those who would like relax in a deluxe bath, go for a 20-minute Milk and Rose hot tub treatment at RM 60. Besides, Refreshing / After Sun, Brightening or Nourishing body scrub treatments are also provided in Alun-Alun Spa at RM 90 for 45 minutes.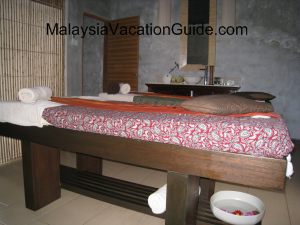 A neat and clean spa room.
Alun-Alun Spa has altogether 3 outlets in different areas. Two out of the three branches are located in hotels – one situated in the Bayview Hotel at Kuah Town (Contact: 04 – 966 9366) while the other one situated in the Tropical Resort at Pantai Tengah (Contact: 04 – 955 5570). There is another individual outlet located at Pantai Cenang (Contact: 04 – 953 3838).This outlet is adjacent to the Laman Padi Langkawi, opposite to the Casa Del Mar hotel. All the outlets are opened from 10 am to 11 pm daily and they provide transportation to pick up guests as well.
Basically, spa in Langkawi is saturated in three places – at Pantai Cenang, Pantai Tengah and the Kuah Town. In Pantai Cenang, next to the famous Langkawi Underwater World, there is an outlet by the name of Teratai (Contact: 04 - 955 1822), offering various massage and treatments at a fairly reasonable price.
Foot reflexology session starts from RM 38 while a 30-minute half body massage costs RM 48. You can also opt for a 60-minute full body massage at only RM 88. Ear candle treatment, waxing, manicure and pedicure all start from RM 38. Thus, if you are on budget but would like to relax yourself with a spa treatment, Teratai might be suitable for you. Open from 2 pm to 10 pm, they offer complimentary pickup service for guests staying in Pantai Cenang and Pantai Tengah as well.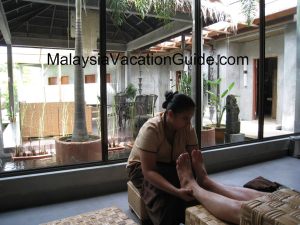 Foot Reflexology.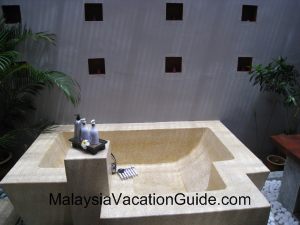 The hot tub spa.
As spa in Langkawi has become a major attraction, some people might wish to splurge on an extravagant spa treatment to truly experience the indulgence. You can opt to go to the Embun Spa, which is located at the Langkawi Lagoon Resort. This resort is one of the most upscale 5-star accommodations in Langkawi, situated at Jalan Kuala Muda, Padang Matsirat, adjacent to the Langkawi International Airport.
Featuring traditional Malay massage, Embun Spa provides numerous spa packages - like the Dayang Sunburn Spa Treatment at RM 255, which includes a full body gentle Malay massage, a chill yogurt body wrap, a cooling bath with lemon and flowers and an optional herbal steam bath. The luxurious 4-hour Mahsuri Honeymoon Spa Treatment at RM 485 will give you the best treatment from top to toe – which includes full body massage, body scrub, facial, steam bath, hair treatment to manicure.
Apart from all the extravagant spa packages, Embun Spa also provides individual treatments, such as body scrub and wrap at RM 199, 1-hour facial treatment for RM 139 while hair treatment costs RM 109. Manicure and pedicure are also provided, at RM 89 and RM 99 respectively. They open from 10 am to 10 pm and you may contact them at 604 – 955 8181 for reservations and transportation arrangements.
Spa in Langkawi provides various treatments and packages where guests will be spoiled for all the choices available. Besides, all outlets are well-furbished, mostly in traditional Balinese style, with classical wooden furniture and greenery infuse with a touch of modernization. Unwind and refresh yourself with the treatment of your choice in any of the outlet you prefer. This is just another way to experience the magical island.