Pulau Beras Basah
Pulau Beras Basah – An Ideal Getaway
Pristine, attractive, beautiful and peaceful are some of the adjectives people used to describe Pulau Beras Basah. Being one of the most well-known islands located at the west tip of Langkawi, this island will provide you a perfect getaway with its white sandy beach that is embraced by the clear blue sea. The lush green forest that surrounds the island adds a sense of tranquility, enabling you to relax yourself upon stepping on the island.
Getting to this island is an easy and interesting excursion. In Langkawi, one of the most famous activities will be a 4-hour "island hopping" tour where you will be brought to three different islands – Pulau Dayang Bunting, Pulau Singa and Pulau Beras Basah by speed boat. Almost every travel agency in Langkawi provides island hopping tour arrangement. What you need to do is to make some phone calls to their agents and they will arrange everything for you.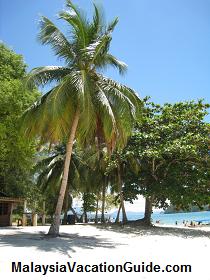 The sandy and scenic beaches of this island.
For those who take a flight to Langkawi, you will get to see counters of local travel agency upon arrival. These agencies do offer services ranging from car rental to tour arrangement. It is advised to get additional information such as brochures and contact numbers from them so that you can call to make some comparisons before you book your island hopping tour. For detailed and reliable information, you can contact the Padang Matsirat Airport Tourist Information Centre at 604 – 955 7155 or the Langkawi Tourist Information Centre at 604 – 966 7789.
The crystal clear water and sandy beaches are the typical view on this island.
Do not expect to have exciting water sports here. Basically there is nothing much you can do on this island, apart from swimming, sunbathing and simply enjoying the stunning view. Surrounded by lush forest, this island is the best place to unwind and relax in a naturally serene ambiance.
This island is not really a well-developed tourism spot with facilities such as beautiful lodges for accommodation. There are only some basic amenities such as washrooms and a small stall that sells soft drinks. However, being not well-developed could be one of the ways to upkeep the pristine and beauty of this island.

Bring along your favorite book, get a place on the white sandy beach to lie on and enjoy the wonderful scenic view of the clear blue sea. The thick lush forest makes the island more secluded and private. Life could never be better than enjoying in a gorgeous island like Pulau Beras Basah where you can simply bask yourself with nature.
Another view of the beautiful beach.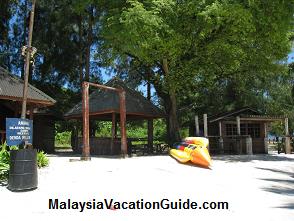 Enjoying yourself with family or friends on the banana boat is one of the activities you can do.
Getting Here
Some established travel agencies such as the Langkasia Travel & Tour Sdn Bhd, the Esteem Lane Travel & Tours Sdn Bhd and the Sala Travel & Tours Sdn Bhd do make arrangement for island hopping tour. Prices for such tour might range from RM 50 to RM 80 per person, depending on the services that each different agency provides.
Renting a speedboat with friends and sharing the cost are always a more cost effective means to travel as a 8-person speedboat costs RM 280 while a 12-person speedboat cost only RM 300. Usually this price covers only the rental for the speedboat and no meals will be provided.
The island hopping tour will depart from Awana Porto Malai Resort which is located at Pantai Tengah. There will be complimentary pickup service for guests staying in Pantai cenang and Pantai Tengah. The tour will usually start at Pulau Dayang Bunting, followed by Pulau Singa for a short eagle feeding session and the last stop will be Pulau Beras Basah.