Pulau Duyung
Boat Building
Pulau Duyung is an island which is located at the Terengganu River and is accessible by road or by boat. Unlike the islands of Redang or Perhentian, this island is not well known for the beaches or scuba diving. It is well known for traditional boat building in Terengganu.
Most of these boats are built for the fishermen in Marang. The Custom Made Wooden Yacht on this island is owned by Pakcik Haji Abdullah. He receives order for the boat making from the locals as well as from overseas.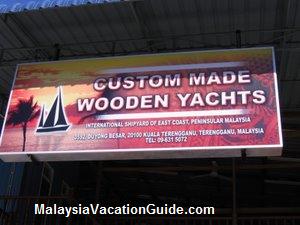 The workshop in Pulau Duyung owned by Pakcik Haji Abdullah.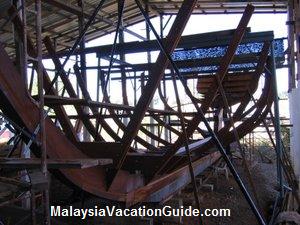 The yacht making in progress.
As the number of cengal trees continue to deplete and the rising labour cost, this industry is not thriving but rather it is slowing down. Cengal wood is a type of hard wood that is found in the jungle of Malaysia and the market demand for it has caused the price to escalate. Over here, you will be able to see the boats that are being built at the workshop.

Duyong Old Fort
Fort Duyong is located near the Marina Jetty and is a reconstructed old Malay palace that was built from timber. The ruin was rebuilt using the original brick and cement foundation. The reconstructed palace has 9 roofs with the kitchen, verandah, bathroom and a small bridge interconnected together.
The original building was constructed in 1919 by a magistrate known as Dato' Biji Sura. It was uninhabited and damaged in 1986 during a flood on the island. The Ministry of Culture and Arts decided to re-built it and the palace which now stand strong was reconstructed in 1999.
While inside the building, you will be able to read articles on the traditional boats of Terengganu placed on the walls of the fort. An old well is located within the compound of the fort.
There is a washroom and toilet facilities just opposite the fort. However, it is usually locked and you will need to ask the person in charge at the fort to unlock the door. You will be requested to sign your name on a book and take off your shoes before you are allowed to go into this historical palace.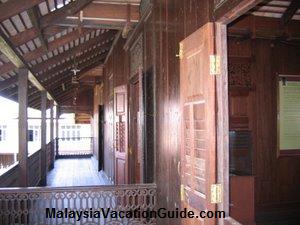 The view of the Pulau Duyong old fort which resembles a traditional Malay house.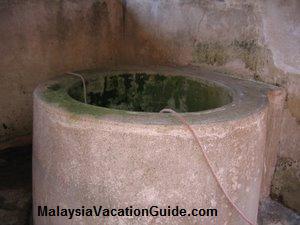 The old well which is located at the compound of the fort.


Getting To Pulau Duyung
You can come to the island by using a boat from the jetty near Pasar Payang or Central Market. Alternatively, take a 15 minutes drive to the island by using the Sultan Mahmud Bridge. This island is also the location of the annual Monsoon Cup which is usually held at the end of the year.