Redang Island Resort 
Redang Island Resort (formerly Berjaya Redang Beach Resort) and The Taaras Beach & Spa Resort are operated by Berjaya Hotels & Resorts. The Taaras Beach & Spa Resort is the most luxurious resort in the whole of Redang Island.
Both of these resorts are located at the Teluk Dalam bay and is part of the Marine Park of Redang where fishing and collecting of shells are prohibited. Being the only resorts at this bay means that the beaches here are practically used only by the guests of the resort.
The panoramic view of the hills, sea and sand combined to make your holiday here a memorable one.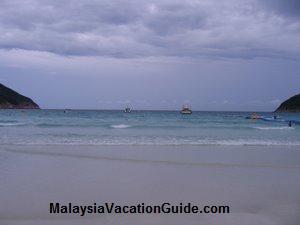 Teluk Dalam beach. Notice the hills surrounding the bay at the resort.
If you are looking for a holiday away from the crowded coastal beaches of Malaysia, this is the place to consider. You will definitely be amazed by the crystal clear water, white sandy beaches and the marine life that surround this resort. Remember to visit Redang Marine Park which is located at Pinang Island.
Facilities at Redang Island Resort
This resort has a certified PADI 5-star Diving Centre that offers a range of diving courses for beginners as well as experienced divers.

Swimming pool is also provided though one would prefer to enjoy the vast and clean beach of Teluk Dalam which is just within walking distance from the resort. Game room, pool, tennis, beach volleyball and football are other facilities that are provided to make your stay a pleasant one.
Affordable packages that take you round the island for snorkelling and diving are also available at the hotel. Canoeing is another activity that you can do while you are here. If the weather is good, you can even book a package to see the turtles at the Turtle Bay near the resort. The use of glass bottom boat to see the turtles is one of the highlight of the activity here.
The open-air shuttle bus that takes you from your room to the lobby and other location within the resort.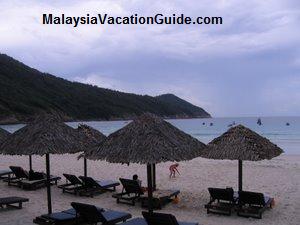 The many huts and chairs that are provided by Redang Island Resort for your use.
Teluk Dalam Beach Video
Feeding Fishes at the Pontoon at Redang Island Resort.
Accommodation
The Superior Room. Each room is equipped with a T.V., coffee and tea-making facilities, a minibar, hairdryer and individually controlled air-conditioner.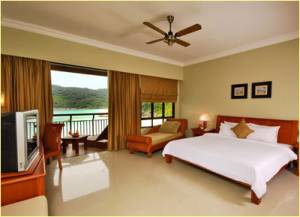 The Redang Seaview Room. Besides the facilities of the Superior Room, each room is also equipped with cubicle shower and long bath, balcony with deck chairs and a private safe.
The price of each room varies according to the season of the year. As with most hotels, the prices of the rooms are higher during the public and school holidays. If you are able to plan your holidays a few months ahead of time, you will most probably be able to get a better rate.