Keropok Lekor
If you are in Terengganu, remember to drop by the stalls that sell this delicacy and try this finger food in boiled as well as fried type. It is one of the unique food that is a specialty of Terengganu. Prepared from fish meat grounded with sago and salt, these are then rolled and made into the shape of long tubes similar to sausages.
The making of the famous keropok near the state museum.
They are then boiled and can be eaten while hot together with chilly sauce. Another way to eat is to fry the keropok lekor which makes it crunchy and eaten with chilly sauce.
There are many stalls in Terengganu that sell this delicacy but the popular ones are located in Kampung Losong, Kuala Terengganu. If you are going to the state museum, stop by this village and purchase this delicacy after your visit to the museum. Kampung Losong is about 10 minutes away from the museum.
Hence, if you are visiting the museum, plan to stop by this stall and enjoy this snacks as well as packing some back home for your friends or family members. Nice to be taken during tea time in the afternoon. Though they may not look appealing on the outside, they taste good when taken with sauce.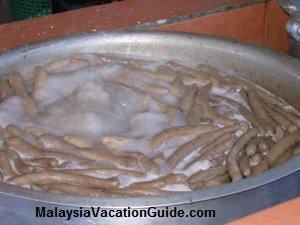 The keropok being boiled at Pak Su stall in Kampung Losong.
Pak Su Stall
The Pak Su stall that sells this delicacy is located about 10 minutes away from Terengganu State Museum. The price per piece is RM0.20. Business is good here especially during the public holidays. Many come and buy in quantity of 40 to 50 pieces per family.
Address:
Pak Su
67-B, Losong Masjid
21000 Kuala Terengganu

 Pak Su Stall.