Kuala Terengganu 
Chinese Restaurants
If you are looking for Terengganu chinese restaurants for a meal or two while you are at the capital city, there are two restaurants that are located side by side that face the beach. Although the addresses of the restaurants mentioned Jalan Zainal Abidin, they are not located exactly by the road.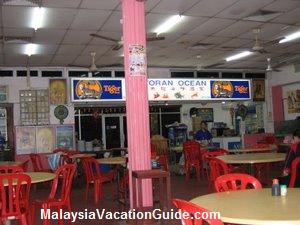 The spacious Ocean Restaurant which is located by the beach. You will be able to feel the breeze of the sea while having your dinner here during windy days.
You will have to look for KT Beach Resort which is located in the vicinity of the restaurants. If you are coming from Grand Continental Hotel along Jalan Zainal Abidin, slow down as you reach the MCIS building. Just before the MCIS buiding, you will see the MAA building. Turn left at the MAA building and go straight. You will see Tian Kee and Ocean restaurants the moment you turn in.
Ocean Restaurant
The Ocean restaurant serves the typical chinese food. You can eat rice or noodles together with some of their signature dishes. Dishes that you can order include prawns, fish, bean curb, vegetables, fried noodles and squid. Beers are allowed to be served here.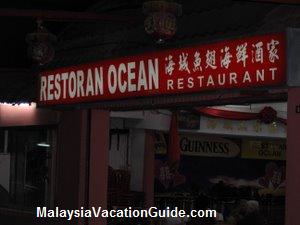 The picture of the restaurant taken during the night. If you are new, you may not be able to find this place without the aid of a map.
The address of the restaurant.
Restoran Ocean
Lot 2679
Jalan Zainal Abidin
20000 Kuala Terengganu
Terengganu

Tel: +6 09 623 9154

Opening Hours
11:30am to 2:30pm
5:30pm to 11:45pm

Tian Kee Restaurant
The Tian Kee restaurant is also a chinese restaurant similar to Ocean restaurant. However, you can have the option of taking steam boat here as well.
Tian Kee Restaurant.
The signage of the restaurant.
The address of the restaurant.
Restoran Tian Kee
No 136/2
Jalan Zainal Abidin
20000 Kuala Terengganu
Terengganu

Tel: +6 09 622 4375

Opening Hours
5:00pm to 12:00am