Ferry To Redang Island
If you are going to Redang Island, you have the option to travel by Berjaya Air directly to the island which is much more costly compared to taking a ferry or speedboat from the jetties. Most resorts have their own ferries that will take you directly to the resorts.
If you are plan to go to the island for a day's trip or getting there on your own, Express Sejahtera and Redang Island Ferry are the public ferries that you can take to the island from Syahbandar Jetty in Kuala Terengganu.
A two-way ticket will cost RM110/adult and RM50/child. The ferry will take you to Kampong Jetty or Pasir Panjang Jetty. It will take about 90 minutes to reach the island. The waiting room at the jetty is clean and air-conditioned to provide comfort to the tourists while waiting for the departure of the boat. However, the jetty can be crowded during peak seasons such as public holidays and weekends. 
If you are travelling from Kuala Lumpur, the journey by road to Kuala Terengganu will take about 4.5-5.0 hours. It is best to stay a night here before taking the ferry to the island.

The other jetty that is available for you to take is from Merang Jetty which is located north of Kuala Terengganu and is nearer to Redang Island. The cost is about the same but the journey will only take about 45 minutes to reach the island.
Syahbandar Jetty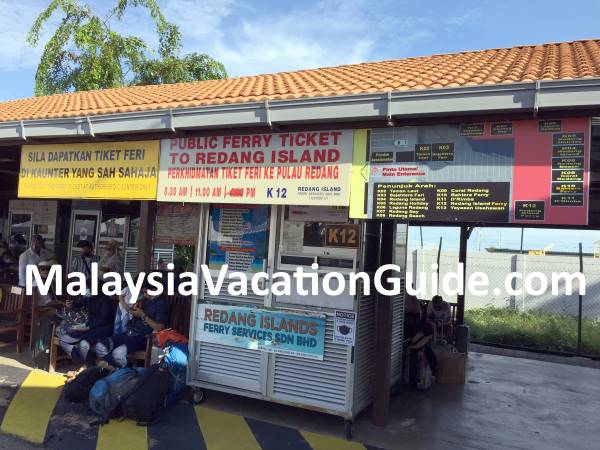 Syahbandar Jetty Ticket Counters to Redang Island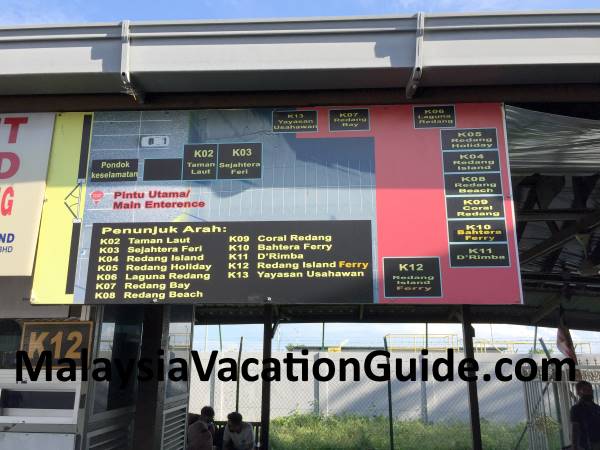 Ticketing counters guide at Syahbandar Jetty, Kuala Terengganu
Syahbandar Jetty - Laguna Redang Island Counter
Syahbandar Jetty - Redang Island Resort Counter

Marine Park Conservation Fees
As Redang Island is part of the marine park, the conservation fees to be paid before leaving the jetty at K02.

Malaysians: RM5/adult, RM2/child, RM2 for senior citizen, Free for disabled person
Non-Malaysians: RM30/adult, RM15/child, RM15 for senior citizen, Free for disabled person
Marine Park Conservation Fees to be paid at K02 counter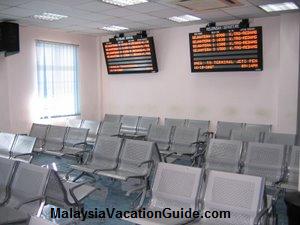 The spacious air conditioned waiting room at Syahbandar Jetty in Kuala Terengganu.
Syahbandar Jetty Address
Jeti Pelancongan Syahbandar

Jalan Sultan Zainal Abidin
20000 Kuala Terengganu
Terengganu Darul Iman

The jetty is located beside the Pasar Payang where you can purchase local food stuff and souvenirs.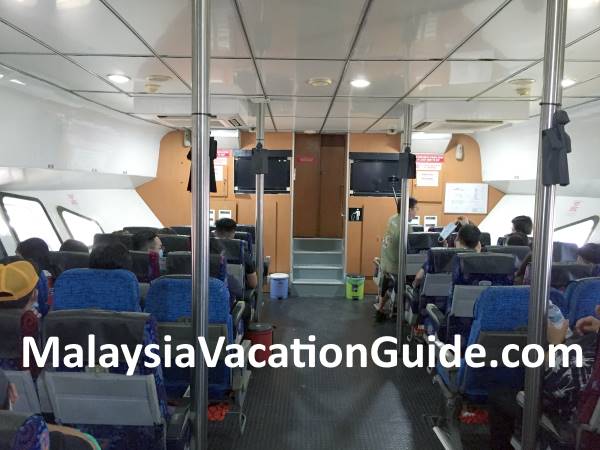 The comfortable and air conditioned ferry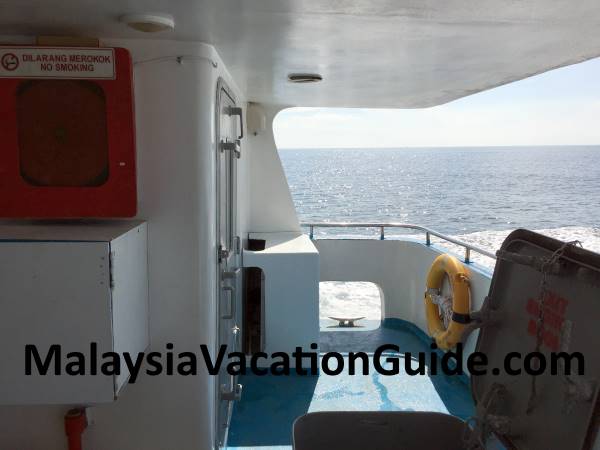 Ferry to Redang will take 90 mins to arrive
Ferry leaving Syahbandar Jetty


Video of the journey to Redang Island
See the video of the journey to the island. Notice the life boats at the deck of the boat. Most passengers will be sitting in the air-conditioned area below the upper deck.