Speedboat To Redang Island
Redang Island By Speedboat
If you are going to Redang, you will probably travel by Berjaya Air directly to the island or taking a speed boat from the jetties. Express Sejahtera is one of the more regular speed boat that will take you to and fro the island from Syahbandar Jetty in Kuala Terengganu.
The waiting room at the jetty is clean and air-conditioned to provide comfort to the tourists while waiting for the departure of the boat.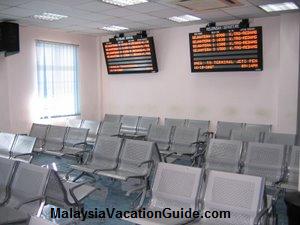 The spacious air conditioned waiting room at Syahbandar Jetty in Kuala Terengganu.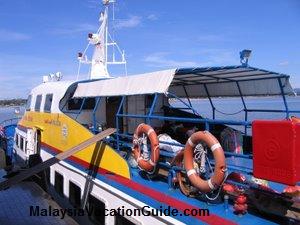 The speedboat that will take you to Pulau Redang.
Syahbandar Jetty Address
Address:
Jeti Pelancongan Syahbandar
Jalan Sultan Zainal Abidin
20000 Kuala Terengganu
Terengganu Darul Iman

The comfortable and air conditioned speed boat.
Video of speedboat to Pulau Redang
See the video of the journey by speedboat to the island. Notice the life boats at the deck of the boat. Most passengers were sitting in the air conditioned room below the upper deck.