Kuala Lumpur Chinese Food
Looking for Chinese food in Malaysia?
If you are new to Malaysia, you will soon realise that Malaysia offers a varieties of Oriental food, Malay food and Indian food that they can try while you are here. Some of the food stalls and restaurants have been around for over 60 years, the business being passed down from parents to their children.
Most of these restaurants are reasonably priced with tasty good food where ambient of dining is not the main priority. If you are in Kuala Lumpur and are visiting Central Market or Petaling Street, head for Soong Kee and Sang Kee Restaurants when you need to take your meals. Soong Kee is famous for beef noodles and Sang Kee for prawn noodles (sang har mee). Both of these restaurants have been around for over 60 years.
You can also try Lai Foong Beef Noodles, also within walking distance from Petaling Street.
Soong Kee Restaurant
This restaurant is located at Jalan Tun Tan Siew Sin and is usually packed during lunch hour. It is famous for the beef balls that are freshly made everyday.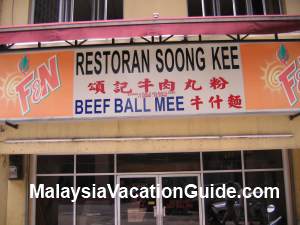 The two storey air conditioned Soong Kee Restaurant.
It costs about RM5.00 for a bowl that comes with soup and 15 beef balls. Make sure you eat together with the chilli sauce which many believe not to be missed when you are here. You can also eat together with a plate of Hakka dry noodles which is about RM4 per plate. The noodles are topped up with mince meat which has been fried in soya sauce and other ingredients.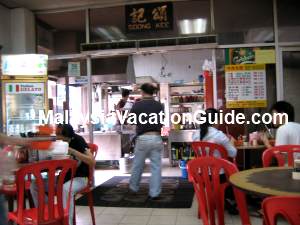 The typical setting of a small chinese family-owned restaurant.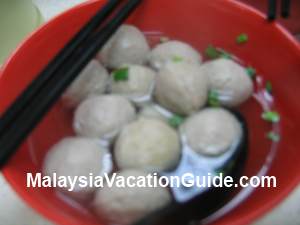 A bowl of tasty beef balls.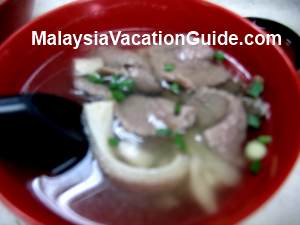 A bowl of beef soup that you can order and share.
Operating Hours:

11:00am to 12:00 midnight daily
Closed on Sundays and public holidays.
Address:

No.3, Jalan Tun Tan Siew Sin (Off Jalan Silang)
50050 Kuala Lumpur

Tel: +6 03 2078 1484
Sang Kee Restaurant
This restaurant is famous for its freshwater prawn noodles or "sang har mee" in Cantonese. This specialty dish is cooked with ginger, egg and big freshwater prawn together with the noodles. Be prepared to pay for this dish depending on how many prawns you choose to have. Typically, it costs about RM20 to RM30 per prawn depending on the weight. Other Chinese food include beef cooked with Kueh Teow, fish head mee hoon and fried noodles.
This place has been around for over 60 years and you will need to turn into a small lane after Jalan Silang to arrive here. This restaurant has another outlet at Jalan Metro Perdana 2, Kepong to cater for those who have moved away from Kuala Lumpur.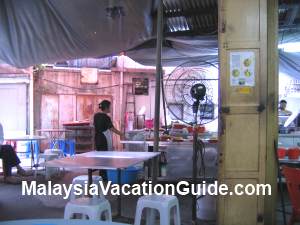 The non-airconditioned Sang Kee Restaurant.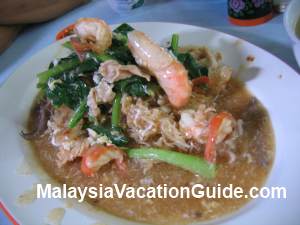 The normal fried noodles with prawns.
Operation Hours:
11:00am to 3:00pm
Days off are not fixed hence it will be a good idea to call them first before coming here. 

Address:
No. 5, Lorong Yap Ah Loy
50050 Kuala Lumpur

Tel: +6 019 373 9135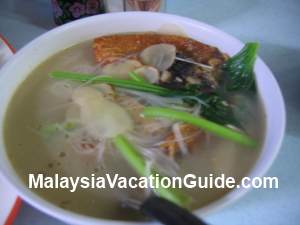 A bowl of fish head noodles.
Lai Foong Restaurant
This restaurant is located at the same row with Kotaraya Shopping Mall along Jalan Tun H.S. Lee, near Petaling Street. There are many small stalls that sell Chinese food such as fried kuey teow and noodles but of particular interest is the Lai Foong Beef Noodle stall that sell reasonably good beef noodles.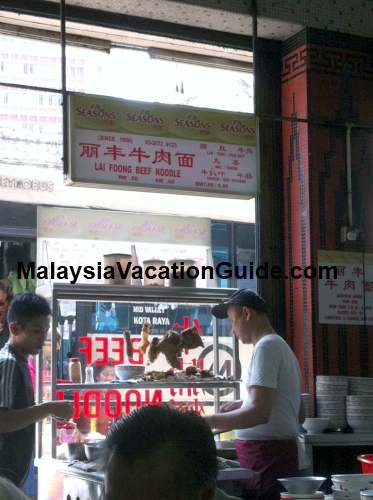 The famous Lai Foong Beef Noodle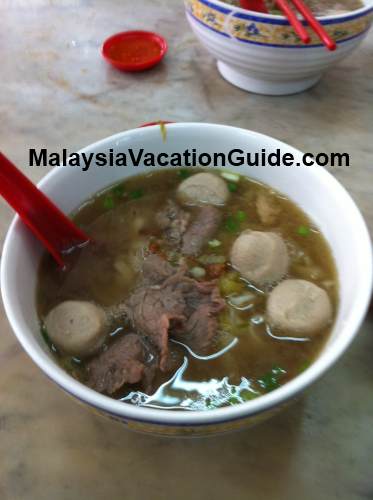 The beef noodles that looks good and appetizing.
You can request for "kuey teow" or "mee" noodles to be served together with the beef slices. Other ingredients used include preserved vegetables, beef balls, tripe and tendons. You can order a bowl only with beef excluding other internal parts if you want to.  The price a bowl used to be RM4 but today, a bowl will cost you RM7. 

Address:
Lai Foong Restaurant                                                                                             138 Jalan Tun HS Lee
Operation Hours: 7am to 3:30pm