Kuala Kubu Bharu Attractions
Kuala Kubu Bharu is the town you will pass by if you are on your way to Fraser's Hill, one of the least developed hill resort in Malaysia. Due to the lack of transportation to Fraser's Hill, there are not that many visitors compared to the more developed resorts such as Berjaya Hills, Genting Highlands and Cameron Highlands.
The historical town centre.
Hence, the number of visitors to this town has dropped too in recent years. This town is about 50km - 60km away from Kuala Lumpur and the town itself is about 80 years old. Driving here from Kuala Lumpur using the trunk road from Rawang will take approximately 1 hour.
The original town was known as Kuala Kubu and was well known for tin mining activities in Selangor. It used to be the fort of Raja Mahadi when he fought with Tengku Kudin during the Selangor civil war from 1867 to 1874.
Unfortunately, this town was destroyed when the Kuala Kubu dam burst in 1883 killing 33 people. Henceforth, this town was called "Ampang Pecah" or broken dam. Today, many residentials houses have been built here and a monument had been built to remember the lives that had been lost during the tragedy.
The British who was ruling the country at that time decided to build a new town a few kilometres away and named it Kuala Kubu Bharu i.e. the new Kuala Kubu. Today, the town centre is well-maintained with proper parking lots, well-kept trees and clean.
You can see the mountain range from this pleasant and quiet town. There are a few rows of shophouses which are about 80 years old, many of which had been renovated and re-painted. Try some of the food and go sight seeing within the vicinity. Here are some of them.

Teng Wun Bakery and Confectionery


This shop is located at Jalan Dato Muda Jaafar at the town centre and has been in operation since 1979. The kaya puffs are the most sell-able here and on weekends or public holidays, most of them will be snapped out by noon. Call up to pre-order if you do not want to be disappointed. The price per piece is RM1.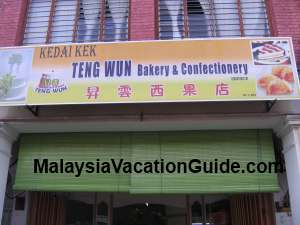 Get your kaya puffs, sponge cakes and cup cakes here.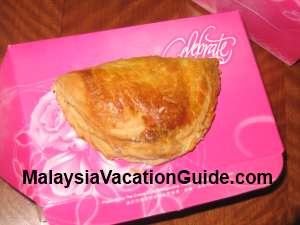 The kaya puffs.
Sponge cakes, cup cakes and butter cakes are also sold here. The cup cakes are also in high demand and a packet of 6 costs RM4. The sponge cake is about RM8. Birthday cakes can be pre-order as well. During the durian season, the owners also make durian cakes. The operation hours is from 8am to 8pm.
Address:

15, Jalan Dato Muda Jaafar
44000 Kuala Kubu Bharu
Selangor

Tel: +60 3 6064 1586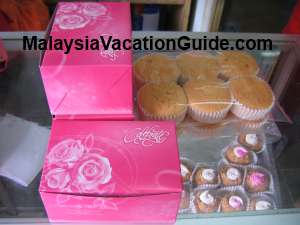 The cup cakes and peanut cakes.
The GPS coordinates of the town centre is N03° 33.855' E101° 39.565'.

Sun Sun Nam Cheong Eatery


This family run eatery was established in 1920 and has been in existence for over 80 years. Most travellers will drop by here and have their meals as they drive up to Fraser's Hill or on the way down. The Hailam noodles is one of the specialty here. Try also the Hainanese coffee with milk which is not too sweet. Others in the menu include toasted kaya and butter bread as well as half-boiled eggs.
The Sun Sun Nam Cheong Restaurant.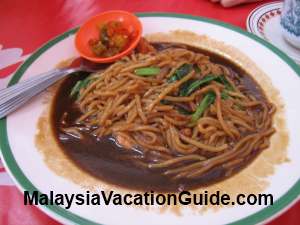 The famous Hailam mee.
Address:

8, Jalan Mat Kilau
44000, Kuala Kubu Bharu
Selangor

Tel: +60 3 6064 1168 or Mobile: +60 12 918 1003

Short Video Of The Town
Sungai Selangor Dam


Drive towards Fraser's Hill road and about 6km from the town, you will see the Sungai Selangor Dam. Lush greeneries and hills surround this huge dam. Many visitors stop to take photos of this scenic water catchment plant.
It covers an area of over 600 heactares and storage capacity of over 235 million cubic metres. You can park your car further down the road and take some great pictures. There is also a well maintained park as you go further the road. Benches are available for your use if you need to take a break from your journey or simply having picnic with your family.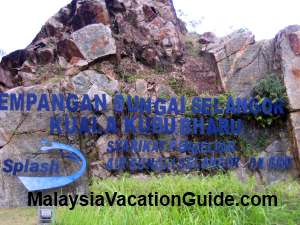 Sungai Selangor Dam Signage.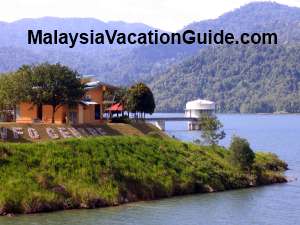 The scenic dam.
The GPS coordinates of the dam is N03° 34.058' E101° 42.854'.
Video Of The Dam
Within the vicinity of the dam along the main road towards town, you may notice cars stopping by at the side of the road and getting big containers to store water that come down from the hill. Many believe that this hill water is good for health. Stop by and you will discover that the water is indeed clear and refreshing by just washing your face with it.
Storing spring Water from the mountain.
Other Landmarks


The stadium is one of the landmark here with the GPS coordinates of N03° 33.673' E101° 39.424'.
There is also a catholic church known as St. Paul Catholic Church.
The bus station is currently used by buses that go to Rawang and Tanjung Malim. The buses to Fraser's Hill had been suspended since 2008. There are private taxis that will take you up the hill for a one way price of RM50. You can negotiate with the driver before agreeing with the price.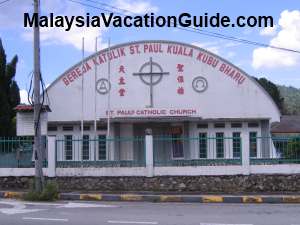 St. Paul Catholic Church.
Kuala Kubu Bharu Bus Station.
Other Activities


White water rafting is one of the main acitivities here at Sungai Selangor. Chilling waterfalls can also be visited but care must be taken at all times especially during raining season. Golfers will be glad to know that KKB Golf and Country Club is available for your use.

Getting Here


Take a bus to Rawang or Tanjung Malim. From there, there are buses that come here. The other better alternative is by taking the KTM Komuter train and stop at KKB Station. Having your own vehicle is the best mode of transport to go around this scenic town.