Kuala Lumpur Central Market
Brief History
Central Market is located in Kuala Lumpur and is one of the heritage building that has been adapted for a different use. It was built in late 1920s and used to be the city's wholesale and retail wet market for fresh produce. As Kuala Lumpur developed into a vibrant city, the need to renovate and refurbish its image became a pressing need.
Hence, in the early 1980s, it was renovated and reopened for use in year 1986. Instead of being used as a wet market, it has since then became a leading arts and crafts centre in the city.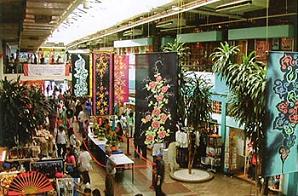 Arts and Crafts items for sale.
Souvenir
In recent years, this building has been the main tourist attractions for those who want to purchase souvenirs to be brought home for friends, family members or for ones own keeping. You will be able to find many arts and crafts shops with varieties of design to suit your taste. T-shirts with customised pictures can be embossed according to the preference of the customers.
Antique clocks are available for those of you who have a flair for old things. Woodcarvings and jewellery of various shapes and sizes are on sale as well. Apart from that, stocks of pewterwares and batik clothes with pictures and patterns of the uniqueness of Malaysia in them are readily available.

Night Performances
During the weekends and at about 7:45pm, cultural performance are shown to reflect the multicultural society of Malaysia. There are the Malay Traditional Theatre, The Shadow Play, Chinese Opera and Indian Traditional Theatre. This open air stage performance is shown free of charge for all to know more about the cultural settings of Malaysia.

Getting to Central Market
The Market is opened daily from 10am to 10pm. It is located at the junction of Jalan Benteng and Lebuh Pasar Besar. One can easily find this place as many taxis, buses and LRT stop by this place. It is within walking distance from Chinatown Kuala Lumpur.
If you need any help, the contact number to call is : +603 2272 9966.