Chinatown Kuala Lumpur
As a cosmopolitan city, Chinatown Kuala Lumpur is a must for any visitor who is here in Malaysia for the very first time. This is an exciting place where one will experience what the early Chinese business community in the heart of Kuala Lumpur do to make a living. It is also known as Petaling Street as the majority of the stalls are located on this street.
This place is a popular destination for both the locals and tourists as it is ideally located in the centre of the city. The early city of Kuala Lumpur evolved here and this is the place where business started to flourish.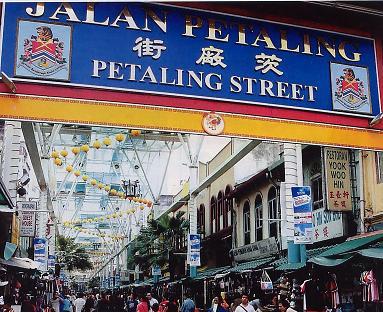 The entrance to Chinatown Kuala Lumpur.
Open Air Bazaar
As it is an open air bazaar, many prefer to go at night when the sun has set to avoid the heat of the day. The stalls and shops are stocked up with many kinds of goods and souvenirs. The place was recently renovated where a big awning had been erected along the street to shelter the people from rain and the heat of the day.
Unlike the shopping malls where the prices of the goods are fixed, one must make it a point to bargain and negotiate the bestdeal for the goods. The varieties of goods sold here include medicinal herbs, plenty of hawker drinks and food, CDs, VCDs,belts, shirts, shoes, toys, clothes, souvenirs, paintings, jewelery, watches, clocks, handbags, wallets etc.
Unlike the big cosy and spacious shopping complexes, the place is narrow and congested. One will experience the bustling atmosphere of customers bargaining for the best price with the shopkeepers. In some stalls, one can see promoters busy promoting their goods and the music that echos throughout the night make it a memorable night to remember.
Chinese food is abundant in this place and many restaurants offer a varieties of good and delicious food at an affordable price. Many of these shops have been operated by the same family for generations. If you see people queing up for food, you can be assured that the food served is good and reasonably priced.
This is the place to go at night when all the modern shopping complexes have closed for the day, usually by 10pm. This isone attraction in Kuala Lumpur where many will not want to miss...