Ampang Yong Tau Foo
If you are looking for authentic yong tau foo in the city of Kuala Lumpur, head for Ampang Baru which is within 10-15km away from the city centre and try the famous fish paste stuffing in a varieties of vegetables such as bitter gourd, brinjals, tofu, chilli and ladies fingers to name a few. These are usually serve in a bowl of soup. The "sui kow" or dumplings can be served in soup or deep fried. They are made from vegetables, shrimp and minced meat.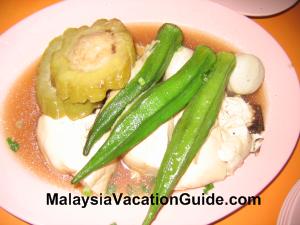 Bitter gourds, ladies fingers, white bean curb and fish balls are some of the items you can order.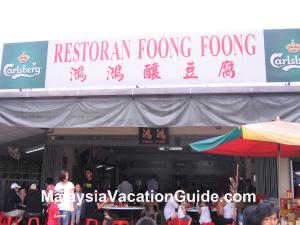 The Foong Foong Restaurant has been around since 1973 and can be considered a specialist in yong tau fo.
Yong tau foo is a Chinese cuisine and originates from the Hakka clans. The fish paste is made from wolf herring and mackeral. They are usually dipped in the sweet or spicy sauce before being eaten.
The dumplings that can be served fried or in soup.
Restaurants
There are three shops which are located in a stretch along Jalan Merdeka (Jalan Besar). They all serve yong tau foo and these shops are usually packed especially during the weekends and public holidays. The price per piece is about RM0.80.
Foong Foong Restaurant is opened from 9am to 4:30pm and closed on Tuesdays. There are about 8 to 10 varieties of selection at this corner lot shop.

Tel : +6 012 209 5529

Orchard View Yong Tau Foo is opened from 8am to 5pm and closed on alternate Wednesdays. Besides the yong tau fu, it also serves other Hakka dishes such as stewed pork, chicken cooked in wine, chicken cooked with herbs, trotters(pork legs) cooked in vinegar and paperbag chicken.

Tel : +6 03 4291 7808

Ampng Homeland Yong Tau Foo is opened from 8am to 5pmand closed on alternate Mondays. Besides the yong tau fu, it also serves other Hakka dishes such as trotters in vineger, pandan chicken and asam fish.

Tel : +6 03 4292 4712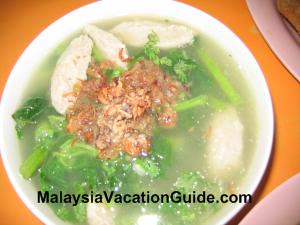 The fish paste cooked with vegetable, a side dish that you can order.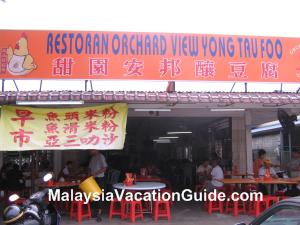 This restaurant is located in between the other two restaurants.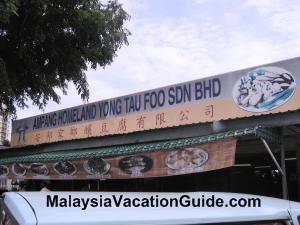 Another alternative restaurant that you can go to.
Getting Here

This place can be crowded especially during lunch hours. Try to come early to get a good parking spot.

The GPS Coordinates: N 03.14393°    E 101.76339°
Address:
Jalan Merdeka(used to be known as Jalan Besar)
68000 Ampang Baru
Selangor Darul Ehsan