Ulu Yam Bahru - Aik Khoon Restaurant
Where is Ulu Yam Bahru? If you are thinking of going for lunch or dinner outing, try Aik Khoon Restaurant which is located in this small town of Selangor. This town is located near Rawang, Batang Kali and Batu Caves. If you are coming from Petaling Jaya or Kuala Lumpur, try using the Batu Caves way as this route is scenic in nature with stalls selling seasonal fruits by the shoulder of the road. You will pass by Batu Dam Reservoir which supplies water to the people living within the vicinity.
The other way to come here is by using Rawang way but the traffic at Rawang town can be heavy during the morning rush or after office hours. The advantage of using Rawang way is that you can stop by some of the shops and do your shopping if you want to. If you are using this way, plan to use it during off peak hours. Avoid peak hours such as 8-9am, 12-2pm and 5-7pm.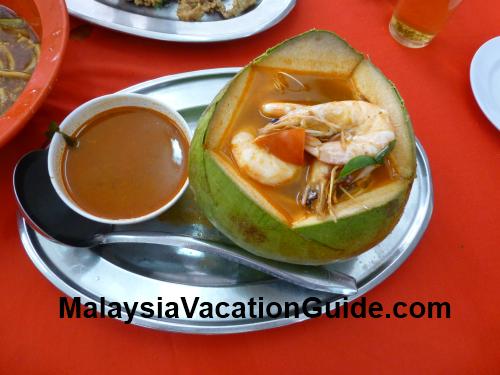 Prawns in coconut dish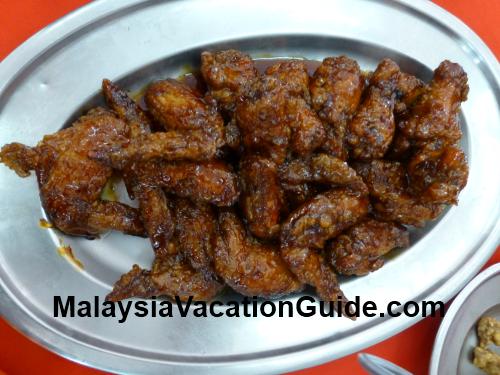 Guinness Stout Chicken Wings
Aik Khoon Restaurant is located near the Police Station and opposite 99 Speedmart convenience shop. This family restaurant serves Chinese food for lunch and dinner. One of the specialties of this shop is spicy prawns fresh coconut which is close to tom yam in taste but not as spicy. It is cooked using the coconut juice from young coconut fruit and is served in the coconut itself. Most customers will order this dish. 
Fresh coconut juice is also served here. Get one coconut per person and enjoy the fresh juice as well as its tender white flesh. 
The other dish you can try is fish cake and loh mee(noodles cooked with black sauce) which are the specialties of most restaurants here. The fish cake is fresh and serves as appetizer. The loh mee is best taken with vineger that will be provided. The amount to put in depends on your taste.

Guinness Stout chicken wings is another dish that you can order. This dish is cooked with Guinness Stout beer and is brownish in nature. Try it as you will not get this type of cooking in normal restaurants. 
If you have 10 people per table, budget about RM20-25 per person.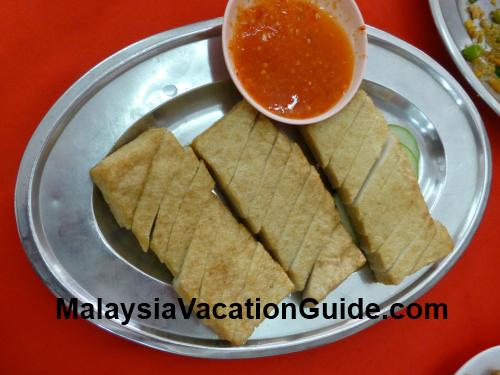 Fish Cake with Chili Sauce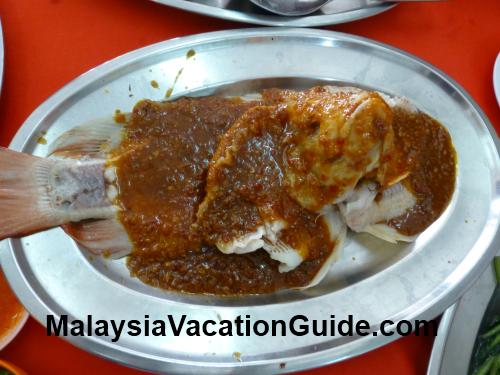 Spicy Sauce Tilapia Fish
Getting To Ulu Yam Bahru-Aik Khoon Restaurant
Use the Rawang, Batang Kali or Batu Caves way to come here depending on your location.
Address:
Lot 2&3, Seksyen 2
Jalan Besar, Ulu Yam Bahru
44300 Selangor
Tel: +603-6075 2377
GPS coordinates of this restaurant is
N03&deg 21.258' E101&deg 49.689'
.