Sunway Pyramid
Sunway Pyramid Mall was established in July 1997 and is one of the popular mall that residents and visitors go to for their shopping and entertainment especially during the weekends. It is located in the township of Bandar Sunway, Petaling Jaya. Sunway Lagoon Theme Park is located just beside this mall.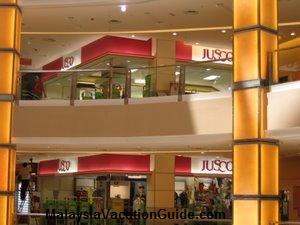 The Jaya Jusco Departmental Store occupies 4 floors of the expanded Sunway Pyramid Mall.
If you are looking for a different shopping experience, this mall is worth visiting. The design of the mall include the Egyptian Pyramid and the lion standing at the entrance to the mall. This mall was recently re-modeled and expanded with new outlets and is expected to have more than 800 retail outlets.
The new wing was opened in September, 2007 with Jaya Jusco as one of the main tenant, taking 4 floors. Other fashion and lifestyle outlets include Principles, Marks & Spencer, California Fitness, Harvey Norman, Ace Hardware, Lorenzo, Lacoste, Gap and Raoul to name a few. The 10-screen Tanjong Golden Village Cineplex is also located here for your entertainment needs.

Jaya Jusco
Jaya Jusco departmental store has expanded its wing to this part of the town. The other departmental store that has been around for some time is Parkson.
Popular Bookstore
Those who are into books will be glad to know that Popular Bookstore has also set up a new outlet here. Other storesthat are located here include MPH Bookstore, New Globe Com, Mag@zing and M.K. Mini Market.
The new Popular Bookstore addition to the mall.
Ice Skating Rink
Known as Sunway Pyramid Ice, this is the largest indoor ice-skating rink in Malaysia. This rink has been used to host many prestigious ice-skating competition and international tournaments. The rates and operation hours of the ice skating rink are:
Weekday: 9am to 10pm (RM13, no time limit)
Saturday: 9am to 10pm (RM16, no time limit)
Sunday: 9am to 9pm (RM16, no time limit)

Public/School Holidays: 9am to 9pm (RM19, no time limit)

On top of the entrance ticket, you will need to purchase glove and socks at a price of RM5/pair. There is also a one time visitor pass charge of RM2 for the public to use the facility.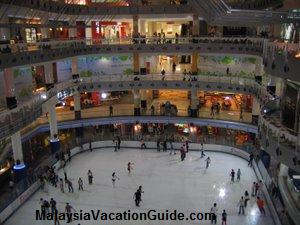 The Sunway Pyramid Ice-Skating Rink.
Bowling and Snooker
If you are into bowling, head for Pyramid Mega Lanes which is located at the First Floor. You will be able to use one of the 48-lane facility here. This centre has been the venue of many international championships.
Operation hours
Monday to Thursday & Sunday : 9.00am-1.00am
Friday, Saturday & Public Holiday : 9.00am-2.00am

Game Fees (Weekdays & Weekends):
RM 8.00 per person per game
RM 48.00 per hour per lane
Student Rate
Weekdays (before 8pm) : RM 3.30 per person per game
Weekends (before 2pm) : RM 3.30 per person per game

Shoe Rental : RM 2.50 per pair
The student rates will be lower from 9:30am to 8pm during the weekdays and 9:30am to 2pm during the weekends.
The Snooker Centre is opened daily from 10am to 10pm. The normal rate is RM10/hour. Students under 21 get a special rateof RM6/hour during the weekdays.
The 48-lane Pyramid Bowling Centre.
Getting Here
The mall is about 45 minutes drive from the city of Kuala Lumpur on the Federal Highway. You can also take the KTM Komuter train and stop at Subang Jaya Station. From here, take a taxi to Sunway Pyramid.
Alternatively, take the PUTRA Kelana Jaya LRT and stop at Kelana Jaya station. From here, take the Rapid KL bus T 623 that will take you to Sunway Pyramid.
The outside view of the mall.
The address of the mall:
Sunway Pyramid Shopping Mall
No 3, Jalan PJS 11/15, Bandar Sunway
46150 Petaling Jaya
Selangor Darul Ehsan

Tel: +6 03 7494 3100


Other attractions in the vicinity

Sunway Lagoon Theme Park 
This theme park which is located just beside the shopping mall is a must if you want to have a fun time with your family and friends. Remember to bring extra clothing to change as you will definitely get wet. 

1 Utama Shopping Mall 
This is another top shopping mall in the city of Petaling Jaya. It will take you approximately 25 minutes drive using LDP Highway to reach this mall. 

IOI Mall 
IOI mall is located in Puchong. You can reach this mall by using the LDP highway. A smaller mall compared to 1 Utama and Sunway Pyramaid.