Mid Valley Megamall
Mid Valley Megamall is one of the largest shopping mall in the city of Kuala Lumpur with over 430 retail shops. It was awarded the Best Shopping Complex Award 2000 by Tourism Malaysia and Best Retail Development Award 2001 by FIABCI Malaysia. A visit to Malaysia would not be complete without visiting this mall. It is easily accessible as there are KTM Komuter trains, buses and taxis that ply this route regularly.
The Gardens cater for higher end stores with anchor tenants such as Isetan and Robinson.
The Gardens, a new wing was opened to the public on October 2007. This new wing is connected to the mall through a bridge.As this mall is huge, it is always a good idea to take a look and study the directory of the various shops that are located in both Mid Valley Megamall and The Gardens at Mid Valley City.
Jusco, Metrojaya and Carrefour

Jusco departmental store is one of the anchor tenants of this mall. It is located in 4 floors i.e. LG (Lower Ground Floor),G (Ground Floor), 1F (First Floor) and 2F (Second Floor). You can get most of your household needs here.
Metrojaya is located at G (Ground Floor), 1F (First Floor) and 2F (Second Floor) at the opposite end of Jusco.
Carrefour hypermarket occupies a huge part of LG (Lower Ground). Foodstuff and household items are sold here.
The bridge that connects The Gardens and Megamall.
MPH Bookstore
The MPH bookstore over here is one of the biggest outlet with over 100,000 books titles available for you to choose from.It even have a cafeteria for you to take a break while spending your time here. This bookstore is located at G (Ground Floor).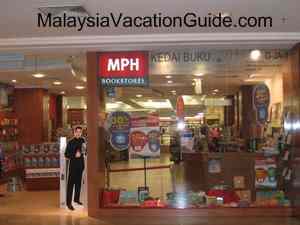 The huge MPH Bookstore at Midvalley Megamall.
Food Court
Eateries are plenty here and most of them are located at Lower Ground and First Floor. Fast food outlets such as Burger King,McDonald's, Pizza Hut, KFC, Sushi King, and Long John Silver's are all located at LG level. A whole range of international cuisines featuring American, Chinese, Irish, Italian, Japanese, Korean, Malaysian, Thais and Vietnamese are all available here for you to savour.
For those who prefer budget meals, the food courts that you can go to include Food Junction, Oasis Food Court and Makan Place.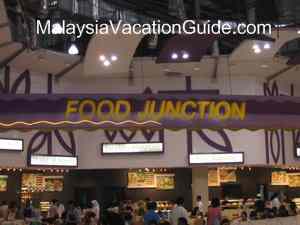 Food Junction is located at Third Floor, Mid Valley Megamall.
Pets World
Those with children will be glad to know that they can spend some time visiting Pets World where animals such as cats, dogs and others are on display here. You can also purchase one as pet if you want to.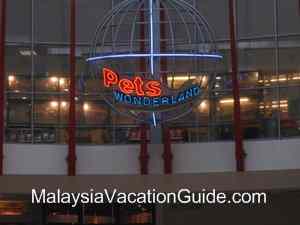 The Pets World.
Getting Here
There are more than 11,000 parking bays available at this mall.
If you prefer to take public transport, the best option is to take KTM Komuter train. The only problem with KTM Komuter is that the trains may not be punctual. If you are not in a hurry, this is a good option to take as it stops at the First Floor of the mall. Remember to get off at Mid valley KTM Komuter station.
The other option is to take the LRT Kelana Jaya Line. Stop at Bangsar LRT station. Free shuttle bus service is provided daily from the station to the mall from 8am to 11pm. The interval is about 30 minutes depending on the traffic condition of the city. Call Customer Service Hotline at Tel: +6 03 2938 3333 for more information. 


The address of the mall:
Mid Valley City, Lingkaran Syed Putra
59200 Kuala Lumpur

Information Counter Tel: +6 03 2938 3333

Open Daily : 10am - 10pm